A heavy, mellow ballad full of sorrow and searching, Lindsay Kay's poignant "Sunday" exposes her struggle with faith.
— —
What are you searching for? What do you need for your life to have meaning and purpose? For Lindsay Kay, faith is a five-letter word she's familiar with yet a stranger to at the same time. The artist exposes her struggle with faith in her poignant new song "Sunday," a heavy, mellow ballad full of sorrow and searching.
I waited in line
and when I got to the front
I bowed my head and crossed my arms
no blood no body; I'm a sinner
and everyone could see
my lovers would be proud of me
Listen: "Sunday" – Lindsay Kay
[soundcloud url="https://api.soundcloud.com/tracks/466371708?secret_token=s-hegUf" params="color=ff5500&auto_play=true&hide_related=false&show_comments=true&show_user=true&show_reposts=false" width="100%" height="166″ iframe="true" /]
---
Atwood Magazine is proud to be premiering "Sunday," off Lindsay Kay's upcoming debut album For the Feminine, by the Feminine (out October 5, 2018). Based in Los Angeles by way of Canada, singer/songwriter and producer Lindsay Kay prides herself on crafting "quiet, melancholy music centering around themes of femininity and womanhood." (SoundCloud) Kay's third song release of 2018 comes on the heels of February's "Invited" and August's "Too," which epitomize her aforementioned self-descriptions. A purveyor of Intimate, raw lullabyes, Lindsay Kay has a distinct ear for the melancholic, and she knows exactly how to evoke heartfelt emotion in her audience.
He touched my forehead
whispered words into his hands
he blessed me there instead
I was there to seek
but I still felt so far from God
when I took my seat
"Sunday" carries the intimate and intense weight of Lindsay Kay's previous material as the artist recounts, in vivid detail, a particularly emotional experience during her artist residency in rural France in early 2016. "'Sunday' was inspired after attending Catholic Mass in a very small, somewhat conservative French town," Kay tells Atwood Magazine. "It came fully formed, a true gift which doesn't happen often. At the time, I was feeling sad, angry, and frustrated. This feminine pain was beginning to stir within me, and I was looking for faith and explanations as to why things are the way they are. These questions led to all of the other thoughts and themes I explore on the album – they were the catalyst. It's track one because it was that initial spark that started the journey that culminated in this album."
The artist brings us into her mind's eye as she wrestles with the meaning of her personal experience, softly and subtly exposing her raw feelings toward this affair:
Sunday, Sunday
the congregation sings their songs
I don't know the words
I pray, I pray
for selfish things
for selfish things
Kay explains, "Sunday is about the desire I had for faith at a certain time of confusion and questioning. I have always been, unconsciously or consciously, very drawn to and have found myself surrounded by people who have some kind of faith or belief system or deep spirituality in their life. But I haven't ever been able to find that faith for myself, though not for lack of trying. In moments of pain or suffering or injustice in life, I have felt as though I am missing that relationship with a higher power to help comfort me and show me the way, but these things can't be forced."
I should have confessed
I had my sins
I had my chance
but I was scared to death
I've done foolish things
their burden is so heavy
and I want them off of me
"Sunday" captures the burden of the individual longing to find her place. She is an outsider to many communities – communities which could and would likely welcome her with open arms. Yet as enticing as they offer is to join them and be one amongst their ranks, Kay knows she is not one of them; she is not meant to be one of them. Were she to submit herself fully, it would be motion without meaning – a lie, to herself and those around her.
How far are we willing to go, to feel comfortable and have satisfaction? To what lengths shall we resign ourselves in order to meet this inner need; what will we sacrifice of ourselves to get there?
"Sunday" is so much more than the recounting of a single moving ritual; it is the stark, brooding reflection of our own nuances, limitations, differences, desires, and needs. "The experience was very uncomfortable for me and left me feeling unsettled and kind of sad for reasons I didn't understand," Kay recalls of the Mass. "I felt so deeply like an outsider, and like I hadn't gotten what I came for… I left feeling like I had somehow failed a test, a feeling of my own making, certainly."
A song of searching, "Sunday" leaves us to ponder our own comfort and discomfort zones. We're all searching for the right home, and that search will never be easy – but it is universal nevertheless, and in enshrining a piece of her quest in song, Lindsay Kay has offered a deeper glance into her soul. Stream "Sunday" exclusively on Atwood Magazine!
Sunday, Sunday
gazing out the painted glass
sitting in my pew
I pray, I pray
but I don't know to who
For the Feminine, by the Feminine is out October 5, 2018!
— — — —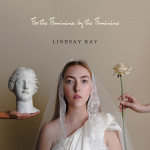 ? © Anastasia Lebedeva
:: Stream Lindsay Kay ::