Every Friday, Atwood Magazine's staff share what they've been listening to that week – a song, an album, an artist – whatever's been having an impact on them, in the moment.
This week's weekly roundup features music by Knife Girl, Waiting for Smith, Rosemary & Garlic, Plasmic, Blue Water Highway, Eloise, Pinkfiz, Black Lilys, Late Nite Laundry, & Urban Heat!
•• •• •• ••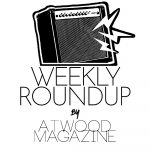 :: "On the Line" – Knife Girl  ::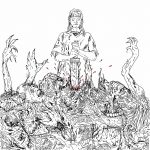 "Right now, the only thing I'm focused on is getting fat and drunk," Knife Girl sings on her new song, "On The Line." Well, hey, she's just wrapped up work on her second LP, Uniform, so a little bit of leisure time and junk food may indeed be well-deserved. "On The Line" is being promoted as the song that "[sets] the tone for the rest of the album," given its mixture of traditional and electric guitars, as well as its themes of "[exploring] the uncertainty of being young and the pressure of solidifying your identity."
Originally from Helsinki, Finland, Knife Girl spent the year in Japan in 2018 and there gained much of the lyrical inspiration that has informed her musical output over the years since. She has difficulty confronting depression both at home and abroad, and has channeled those emotions into much of "On The Line" and the rest of Uniform. Despite the various hardships she has faced in her life, Knife Girl ultimately promotes a positive message in her lyrics: "You should enjoy your youth while it lasts. You shouldn't try to grow up so fast."
:: "Skylight Dawn" – Waiting for Smith ::
In a never-ending exploration into what it truly means to be human, emerging singer-songwriter Harry Lloyd, A.K.A Waiting for Smith, brings his dedication for joy and self-belief into every second of his repertoire, and his new single "Skylight Dawn" is no exception. Taking listeners on a voyage of connection, his latest tune explores the union of two souls dancing with their darkness, as they make their way towards a brighter future. He confides, "My dream is to help people forget about their troubles in life, even if it's just for half an hour. I love making people feel good."
Amongst his simply striking melodies and flowing choruses, Waiting for Smith consolidates his reputation as an exceptional storyteller. His passion for people, purpose and perfection set him apart, as his lyricism explores the momentum of love. He continues, "However challenging it can be to be with someone you love, it's arguably one of the best feelings you get during this experience on earth. When you realise you're healing together – you see the beauty in the struggle."
His intoxicating vocal energy envelops rising choruses, energy and melancholy alike, as "Skylight Dawn" erupts into a song fueled with euphony. With the hope to open minds, Waiting For Smith proves that there is strength in togetherness. Ahead of his EP Trying Not To Try, it's evident that he's got plenty more on the horizon. We can't wait to see what's next.
:: "Television" – Rosemary & Garlic ::
Rosemary & Garlic's achingly intimate and stirringly tender "Television" is, at its heart, a reminder of how precious life truly is. Released September 30 via Nettwerk Music Group, the Dutch indie folk artist's first single of 2022 employs spellbinding piano balladry to tell a story of her own late grandmother, who spent her last years in a nursing home.
These words
Spilled on the paper
Build my way from home
"She would just sit by the window there in a very chaotic room with all different kinds of people with their own problems and needs," Rosemary & Garlic's Anne van den Hoogen explains. "The only way for her to escape was to sit by the window, to read poetry, and think. She once told me that she didn't want to be a part of the common room – a part of watching TV, which was always on and way too loud – because she said, 'I have my whole life; I have 80 years to remember, so why would I watch tv? Just give me my space at the window so I can think about things that happened in my life.' I found that kind of escapism very touching. Even though she didn't want to be a part of the common room, or present anywhere, I still wanted to give her a song, and to have seen her with this song."
They tell me how poorly
I am at understanding
They tell me to wither and to watch tv
I wonder when will they decide
To close the curtains of my window life
Or will they keep me
Silently a waiting
As enchanting as it is breathtaking, "Television" offers a refreshing perspective on memory, where and how we find meaning in our everyday, and the special moments that make up a lifetime.
:: "Ghosted You" – Plasmic ::
Plasmic's intense and hunting new release "Ghosted You" hits with piercing, eerie vibes just in time for spooky season. With sinister soundscapes of dark synths, vibrant keytar and passionate, warm vocals listeners are instantly pulled into this evocative piece. Ghosting is when you sever communication with someone without any clarification. It can seem harsh and heartless, but there are two sides to every story. "Ghosted You" showcases both sides, being ghosted and ghosting someone. It is fascinating to hear the lyrical examination of each view.
From Plasmic's colorful pink esthetic to her raw, organic sound, she is genuinely herself. All the emotions she exudes from her mesmerizing music allows her songs to profoundly resonate with fans. She has been producing songs since as young as 15. That musical proficiency comes through in this pungent offering detailing unrequited queer love.
:: "Pretend" – Eloise ::
Nowadays, it's nearly impossible to come by songs that emit that nostalgic, late-2000s romcom vibe that's lighthearted as much as it's melodramatic. As contradictory as it sounds, 23-year-old Eloise seems to have channeled this perfectly into her most recent venture, and just like that, "Pretend" has transported me to a movie scene wearing marigold silk pajamas under loosely tangled strings of fairy lights.
Nearing the final stretch of 2022, the English singer-songwriter released her first single of the year, and it is equal parts heartbreaking and heart-fluttering. In Eloise's words, specifically, her work portrays "a romantic spin on heartbreak." With painful lyrics disguised by light, warm melodies and the artist's charming vocals, the folk-pop track is a nostalgic recollection of her fondest and darkest memories. As Eloise muses over the good times and reluctantly acknowledges the not-so-good times, she finds herself in the middle of a tug-of-war between the past and the present. With her innocent hope at odds with suffocating maturity, she finds herself stuck in the limbo of love and love lost.
Being Eloise's first release since June 2021's Somewhere In-Between EP, many had hoped that "Pretend" would come hand-in-hand with a new album announcement, but news of such is yet to be shared. As she continues on her North American tour, it's not unrealistic to believe that she has a few surprises similar to this up her sleeve; even if there aren't, for now at least, it doesn't hurt to just pretend.
:: "318" – Pinkfiz ::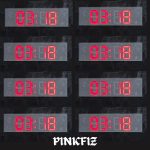 Packing the perfect punch with her next offering, emerging alt-rock artist Pinkfiz has returned with her new single "318." Amongst the adrenaline-fueled choruses and gripping melodies, listeners can expect an overload of honesty in her latest endeavor. Turning unjust experiences into resilient riffs, Pinkfiz proves that she has, and will never, be a two-dimensional artist.
Blending her vast musical influences with her unique fables, "318" as the name suggests, came to be at 3:18 AM. As resonance meets reverb, Pinkfiz's latest tune soars with gripping riffs, grungy basslines and enthralling energy. She explains, "It's also about the risk, excitement and adrenaline that comes with having those feelings about someone already so close to you. It covers the fantasies that unravel in your head and the uncontrollable desire to make them come true."
Needless to say, Pinkfiz sets the tone with an outburst of emotion and soaring capability alike. She ignites liberation, rebellion and connection in a way that has never been heard before. As she continues to pave the way into the scene, we're reminded that Pinkfiz is only just getting started!
:: "New Era" – Black Lilys ::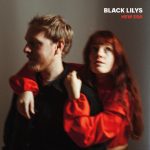 Alt-pop sibling duo Black Lilys really have entered a New Era this year, and nowhere is that made clearer than on their brand new, aptly-titled sophomore album's title track. Searing and soaring, urgent and immediate, "New Era" (released in late September) is nothing, if not intimately intense: Camille and Robin Faure establish a fresh foundation while immersing their audience in a dark, dramatic, minimalist soundscape reminiscent of The xx, London Grammar, and Angus & Julia Stone.
Pulsing guitars, haunting vocals, and churning percussion wash over the ears in waves of raw energy and intent as Black Lilys dive headfirst into their next chapter:
Wild wild is my heart
In my mother womb, I was preparing to fight
No matter the world, I will change it
(Era, era, era)
I can hear over the din, what is love, what is a lie,
Hum melodies of this brand new (Era)
The penultimate track off New Era (released in full on October 14 via French indie La Ruche • Le Label), "New Era" not only captures the spirit of Black Lilys' evolution, but it also proves a mesmerizing, hypnotic, standout experience in its own right.
"Our album New Era is about dealing with our personal struggles, like being hypersensitive in our song 'Party' or surviving a toxic relationship in our song 'Störm,' in a world that is shaken every day by its own struggles," the French/Scottish band tell Atwood Magazine. "New Era is about hope to remember that where despair grows, hope grows too. It's about the strength, light and creativity humans draw within when they engage in a battle. This album was born between different mountains, written in Scotland, recorded in the French Alps, and mixed in Norway. The mountains inspired us to create very particular sounds, like ancestral drums and taikos. The funny thing is that we didn't realise it at first, but the title New Era reflects the journey it took us to produce this album after our first one Boxes, which allowed us to reveal our own flaws. New Era lets the light shine through."
New Era, as a whole, is perfect for all fans of that minimalist alternative sound The xx so effortlessly popularized nearly twenty years ago. Its title track is soul-stirring, rousing, and simply stunning.
Wild wild is my heart
In my mother womb, I was preparing to fight
No matter the world, I will change it
:: "Have You Ever?" – Urban Heat ::
Post punk trio Urban Heat definitely lives up to their name with new single and video "Have You Ever" ft. indie pop artist Party Nails. There is so much scorching passion that emits from the track. The release possesses a retro radiance while also remaining contemporary and fresh. The daring dark wave arrangements and 80s-esque vocals create a piece of sparkling nostalgia. Party Nails' bright, bubbly voice pushes through providing the perfect pairing to Urban Heat's intensity. The visuals fit the vibe with flashing lights and glowing hues of blue and pink.
Austin, Texas-based Urban Heat's bold fusion of new wave sounds and dark pop is wholly intoxicating. Influenced by the musical style of the 80s, their explosive, colorful quality has gained them a loyal and dedicated fan base. The three-piece consists of Jonathan Horstmann, Kevin Naquin and Paxel Foley. Together they have crafted the ultimate elevated industrial sonic paradise.
:: "Year of the Dragon" – Blue Water Highway ::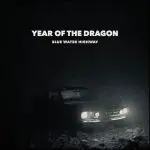 Blue Water Highway's third single of the year is heartland rock at its finest: Released September 30, "Year of the Dragon" is as charming as it is locked in an endless search – for meaning; for purpose; for understanding; for connection. The Austin, Texas-based indie folk band immerse us in a wave of enchanting, warm guitar tones and driving drums as lead vocalist and guitarist Zack Kibodeaux regales us in poignant, colorful lyrics enveloped in nostalgia
I remember the sound of your momma's voice
She said "there ain't no spell hotter than a young desire"
So we fell hard, never had a choice
Just went up like a house fire
The king of the lost boys, playing soldier
With the queen of hearts laid on his shoulder
"'Year of the Dragon' is the title track to our upcoming album," the band tell Atwood Magazine. "It's one of a handful of songs that deal with the darker, more chaotic side of life, the nature of evil, and what happens when the dragon comes to town. It's a modern take on the early spirit of rock and roll, a story of outsiders, fast cars, teenage angst, and a rebel without a cause that finally finds a tragic purpose in becoming the "one knight standing in the year of the dragon."
Where are we going? Who are we, and who do we want to be? "Year of the Dragon" implores us to look inward, enchanting us with soul-stirring three-part harmonies and lush, stirring melodies along the way.
I'd slam a screen door, hop in the war wagon
Grab the keys to your heart and turn the engine on
Oh baby, I'm your one knight standing in the year of the dragon
So don't wake up asking to leave the porch light on
:: "Floating" – Late Nite Laundry ::
Late Nite Laundry's second single of the year: Released October 12, "Floating" whisks us up, up, into the clouds on gently soothing wings of sweet n' smoldering psych-infused soul. The second single off the Chicago band's forthcoming self-titled EP (out November 4 via Acrophrase Records) finds the group basking in a brooding, bruised love-soaked haze.
"'Floating' is about the euphoric high of a first love," frontman Ari Lindo (who just released his own solo debut album as well!) tells Atwood Magazine. "Along with the pitfalls of realizing the twisted co-dependency and fear that existed within that relationship. It touches on the extreme ups and down that one feels when in a turbulent and passionate entanglement as it reaches its end."
Sky, sky-lit view, I'm floating high on this mood
Never come down to the ground
Sink, sinking blue, I never felt safe next to you
Painful to see a fading memory
Love stronger than fear
It's clear that love brought us here
Never can doubt the future's sound
"I wrote 'Floating' back in early 2017 in my first Chicago apartment in Rogers Park," Lindo recalls. "'Floating' was about my first real relationship that lasted through most of high school. The first line is actually about my ex-partner's room. The first line 'Sky Lit View / Floating high on this mood' refers to their loft window and my memories looking through, and feeling as if I were floating as I laid in their bed and watched the clouds roll by."
Despite the melancholic ache behind Late Nite Laundry's musical elation, "Floating" never brings our feet back to the ground. Rather, it keeps us entrenched and entranced in its charming nostalgic reverie right through to its jazzy end.
— — — —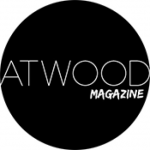 :: Weekly Roundup ::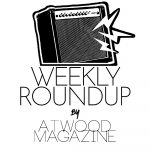 ---
:: This Week's Features ::
---