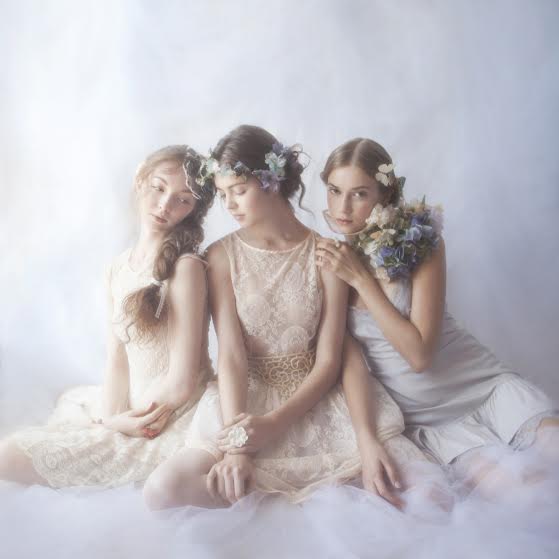 Currently residing in Paris, Vivienne Mok is a freelance photographer who captures ethereal, dreamy photographs that are personal and gentle; they tell stories filled with exquisite emotions. Vivienne's passion for fashion design led her to pursue photography, which quickly became a new and liberating outlook for creativity. She was born in New York City and raised in Hong Kong and Paris. We are full of anticipation to see where Vivienne Mok's work will guide her and what potential aspects it will bring out from herself that she has yet to discover.
TELL US ABOUT YOURSELF.
My name is Vivienne Mok and I like to create dreamy images.
WHAT LED YOU TO PURSUE PHOTOGRAPHY? WAS THERE ONE PARTICULAR MOMENT OR WAS IT SOMETHING THAT ORGANICALLY HAPPENED?
In school, I studied Fashion Design. After that I worked as a designer in a parisian fashion house for a couple of years. During that time, my interest in photography started to grow and eventually I decided to pursue that path. It all happened very naturally.
WHAT INSPIRES YOU?
Most importantly faces (the person in front of the lens) but also things from my daily environment, beautiful landscapes, moody movies, pretty old things that have a tell a story, and nature.
YOUR WORK IS VERY BREATHTAKING. YOUR PHOTOS ARE FEMININE AND DREAMLIKE. HOW DID YOUR AESTHETIC EVOLVE TO WHAT IT IS TODAY? WHAT WOULD YOU CALL YOUR GENRE OF PHOTOGRAPHY?
I found my style really quickly during the early stages while I was experimenting. A lot of it is a result from having very little equipment and being creative with just what I had. I am self-taught and this allowed me to have a lot of freedom in my search for beauty. For instance, my pictures are very personal, and I spend a lot of time creating sets or preparing the outfits on each shoot; this is also very important to create the mood, the atmosphere. I have always been a flower lover since my early childhood. I also like to create or collect clothes for my shoots and these are very feminine too. I would say that my photography evolves quite naturally; it grows at the same time as I do. I don't really know how to call my genre of photography though.
YOUR WORK IS IMPRESSIVE. I CANNOT BELIEVE YOU ARE SELF-TAUGHT. CAN YOU TELL US A BIT MORE ABOUT THAT?
I used to make clothes (still do once in a while) and this is one of the reasons why I started photography also. I wanted to see my clothes in pictures, something that could tell a story, or have a certain mood. In the beginning, I made every single garment on my shoots. After a while, I couldn't carry on a that pace. I have no official training in photography and this allowed me to feel free to try things out and to just create what I like unlike in fashion. When I was studying fashion, I went to school and worked in the industry. It made me feel like you don't know how to not work within certain "frames" anymore and that is extremely frustrating. And with photography, I didn't have that concern anymore. I could combine that with my experience in fashion. I also learned to be creative with what I could find, such as props from the streets and remains of fabrics from my previous jobs. I was also very lucky to have worked with experienced models from an early stage on, which made the whole development process much easier.
WHAT DO YOU HOPE VIEWERS TAKE AWAY FROM YOUR PHOTOGRAPHY?
Emotions, that they tell a story.
YOU MENTIONED THAT YOU HOPE YOUR PHOTOGRAPHS LEAVE THE VIEWERS WITH A STORY. WHILE SHOOTING, DO YOU KNOW WHAT TYPE OF STORY YOU ARE TRYING TO CONVEY?
I'm more trying to convey a mood or an atmosphere. It also depends on the model, her gaze or style. After that, it is up to the viewer. A picture can tell many stories because each person can interpret it in a different way.
HOW DO YOU KEEP YOUR CREATIVITY FLOWING ON A DAILY BASIS?
I guess it just flows and when I feel stuck I take a break, that really helps.
TAKING A BREAK IS ALWAYS AN EXCELLENT BREATHER FOR THE MIND. WHAT DO YOU USUALLY DO DURING YOUR BREAKS WHEN YOU ARE STUCK?
In that situation I know I need to take some distance from what I am doing so I travel, go visit my family, spend time with the people I love, take walks in the nature, take some time for myself, or I read.
FINISH THIS SENTENCE FOR ME: I BELIEVE HUMAN BEINGS...
I believe human beings have a lot to learn.
WHAT DO YOU WISH TO ACCOMPLISH WITH YOUR PHOTOGRAPHY THAT YOU FEEL YOU HAVE YET TO CONQUER?
I do not really know where this is going to take me, but I would just love to keep on learning and also work with people that would like to contribute to making this world a better place, respect nature, and one another.
WHAT ADVICE WOULD YOU GIVE TO ASPIRING, YOUNG ARTISTS?
Believe in what you do. Don't try to compare yourself with others. Listen to yourself and stay true to yourself. Be patient because there is time and place for everything.