There's something about risk that lends it a timeless allure: Reward. Sweet, beautiful and wondrous, the temptation for that "pot of gold" at the end of the rainbow is utterly magnetic – making gambling a subject matter we continue coming back to, time and glorious time again. Yet there's something different about Murder Murder's "I've Always Been a Gambler." Channeling the best of bluegrass and outlaw country, Murder Murder's latest single taps into the deeper human elements of risk, reward, and all that in-between.
I've always been a gambler,
I always play to win
I kissed the lips of Harlem queens,
shook hands with crooked kings
You may not know me now son,
but it's time that we begin
Cause I can tell that you've been 'round too long
"I've Always Been a Gambler" – Murder Murder
---
Atwood Magazine is proud to be premiering "I've Always Been a Gambler," the lead single off Northern Ontario-based Murder Murder's upcoming album, Wicked Lines and Veins (exp. September 2017). A full string band with suitcase percussion, this Canadian Americana group has performed their unique blend of bluegrass and outlaw country in 13 different countries, making their own moonshine to take on tour as they perform what they call "a wealth of original and traditional murder ballads." Though Murder Murder's latest may not inherently strike a killing chord in name, it certainly has its own murderous qualities.
I've broken hearts in England,
and I killed a man in Spain
That posse chased me off them shores
and sent me home again
But not without the parting words
a lonely bullet said
Well I can tell that you've been 'round too long
For first timers to the outlaw country genre, "I've Always Been a Gambler" may be best understood in parallel with such hits as The Charlie Daniels Band's "The Devil Went Down to Georgia": A self-serving gambler with a mean winning streak engages a fellow high-stakes player, and it's all-or-nothing. The song references two classic gambling folk songs, "Jack of Diamonds" and "The Cuckoo," while telling its own fantastic, devious tale.
I've always been a gambler
but I never can recall
If I ever shed my wicked ways
or worn them, thorns and all
'Til your very image slighted me,
the blood boiled in my veins
You play the part of Abel,
now it's time I raise the Cain
I've always been a gambler,
I always play to win
And I'll be sure to cut your throat
if I see you again
Won't you lay your money down, now
won't you make peace with your sins
Cause I can tell that you've been 'round too long
Murder Murder describe "I've Always Been a Gambler" as "a fast-paced, dobro-driven song about an angry drifter who can't stand the sight of the man across the table from him at a card game." Outlaw tales are classic and thrilling: We can experience the adrenaline rush first-hand, without putting ourselves in immediate danger – which is exactly what we get through listening to this song, and even more so through watching its video.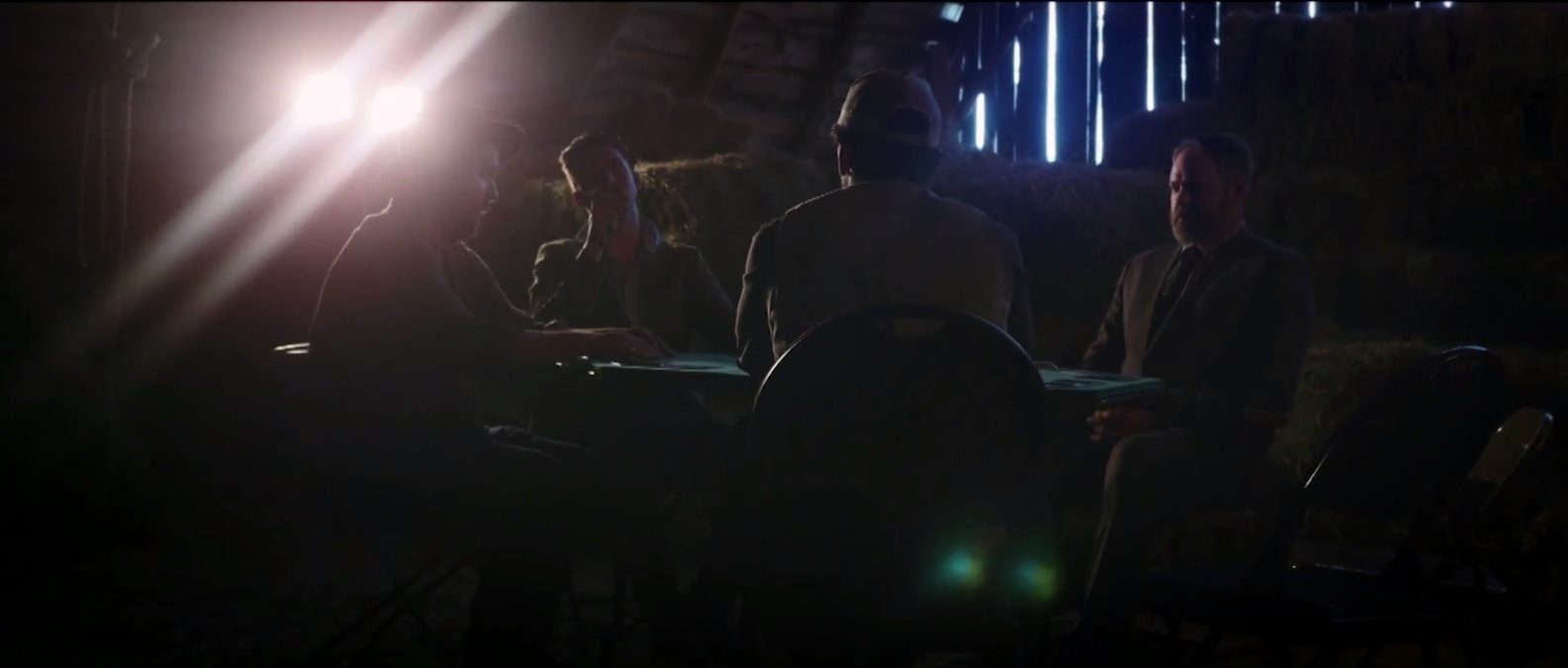 Directed by Shawn Kosmerly of Here Kitty Kitty Productions, the music video "tells the tale of a high-stakes blackjack game where the players put their life on the line," describes the band. We see a set of players, portrayed by the band, playing poker in a rural barn, with no other houses in sight. Shot on the outskirts of Sudbury, ON at a charming and rustic farm, the scene could not be more appropriate for "mysterious disappearances" and sketchy goings-on. As one by one players find themselves hauled away from the table, our senses fill with the rush of possibility: Who will win this game? Can anyone make it out of here alive?
Perhaps the best part of Murder Murder's music is how obviously amused they are by their own antics: They love the music they make, and that passion shines bright on this incredible folk-inspired jam. Through careening verses and tingling choruses, "I've Always Been a Gambler" gives us a walk on the wild side: Where the risk is great, but the reward is even greater.
— — — —
photo © David Wiewel