Not all who wonder are lost. Follow your heart. Do what you love and you'll never have to work a day in your life. These are all phrases we've heard time and time again, but as most know, they're easier said than done. Volunteer's "In the Unknown" is a visual representation of liberation. It's about leaving a life of comfort and committing to following your dreams.
Watch: "In The Unknown" – Volunteer
---
Atwood Magazine is proud to be premiering the music video for "In the Unknown," the latest single off Nashville alt-rock artist Volunteer's forthcoming EP, The World Is Ours (independently out 4/7/2017). Of the video, singer Cory Quintard says, "It's about making unconventional commitments to paths that lead you to a place of uncertainty. Life is more exciting when you commit to the thing that adults tell you not to commit to: art, relationships, dreams, where your heart leads you, etc. You won't get anywhere by just following where the wind blows."
Directed by Dunlap Brothers, the "In the Unknown" video starts with the female lead, played by Quintard's fiancée (who has taken this unconventional path with him), putting on her jacket, strapping on her backpack, and leaving her home to clearly start a new journey. "I wanted to convey by having her leave a physical home, and journeying towards this kind of abstract light that represents the intangible self-discovery that only happens when you get out of the shadow of what people expect of you." Says Quintard. This opening scene is accompanied by a dreamy guitar lick and Quintard's clear vocals as he sings,
Beneath the train tracks
There's an old familiar sound
The rumble of adventure
As people are whisked from town to town
The music video continuously breaks between Quintard singing in a very low-lit space, allowing us only to see his face, and the female lead journeying towards the abstract light. In the first verse we see the female lead as she leaves her house and looks hopeful out into a forest; or into the "unknown" of where she's about to go. The hues of the video are soft and calming, perfectly matching the feel of what it's like when you begin to follow your heart. The female lead portrays that feeling flawlessly. Her facial expressions reveal a sense of relief, hope, anxiety and excitement all at the same time. The latter half of the first verse picks up with a pulsing drumbeat, creating a soundtrack for our female lead to march along with.
I wanna be one
One of the free and the unbound
Can we forget all that we've left
And be surprised by what we've found
I'm packing up the suitcase
Whether you're ready or not
The chorus reveals the true message of the song. It's also almost a welcomed rallying cry. Quintard and his female lead are choosing a life that is uncertain and uncomfortable, because for them, following your heart is more important than knowing what's coming next. Quintard explains that "There's a movement of liberation with people my age understanding that contentment in life doesn't come with getting comfortable, but comes with a continued exposure to uncomfortable environments." The chorus is a contribution to that movement of liberation. In the video during the chorus we see a continual flash of Quintard singing with every bit of emotion he has to offer while the female lead walks slowly, but ever-so-surely, along.
I'm not gonna sit and wait for life to come and find me on it's own
I'm not gonna sit and wait for fire to burn a passion in my bones
I'm not gonna search for safety, sitting on my hands til I have grown
If you're looking for me, I'll be deep in the unknown
As soon as the word "unknown" is sung, the band comes into dim light in the video, breaking out into a loud and strong jam with a high steady rhythmic guitar, a snapping snare drum, and a clashing high hat. The female lead curiously walking foreword towards the ambiguous light accompanies the slightly chaotic, yet uplifting explosion in music. The combination of music and the video in this moment perfectly wraps of the hopeful, anxious, and chaotic feeling that goes along with liberation. The song then doubles down into the beat as the second verse begins,
Across the ocean
There's a land we've never seen
We can hold each other's hands
And make a b-line for our dreams
We'll live forever
In the moments in between
All the highs and lows of life
That make us all that we could be
The visual representation of this verse truly brings the life. It turns to night in the video as the female continues her journey. The lighting on screen between her and Quintard is now similar. She continues to crunch through the leaves of the forest before finally stumbling close to those obscure lights. Could this be the land she's never seen? She begins walking towards the lights. When the song reaches the bridge, she reaches the lights. It breaks down into a single peaceful piano and Quintard singing,
Life is waiting to be lived so jump on
Blink for just a second and it's gone
I don't wanna see your song unsung
The bridge harmonizes with ghostly vocals and an enchanting piano that has that uplifting feel similar to The Fray or even Dashboard Confessional. The hopeful piano comes to its peak as the female comes to a stop in the middle of the lights. Her face relaxes and her palms open, embracing the unknown. The band then breaks back into their alt/pop/rock sound as the song finishes out with one final and strong chorus.
Volunteer's music video for "In The Unknown" perfectly represents what it's like to follow your dreams. The path may not always be clear, and you may not always know what's next, but just taking that leap of faith makes it all worth it. This is wonderful song, with a beautiful message, and a compelling visual. For all you dreamers out there – take note, and take action.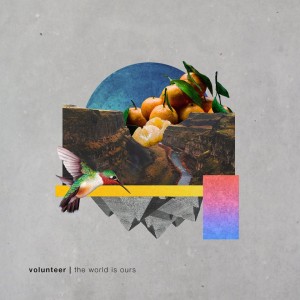 :: "In The Unknown" by Volunteer ::
---
:: More from  Volunteer::
cover © Ryan Alexander