Singer/songwriter Leona Naess dives into her bold and beautiful new album 'Brood X,' a moving record of personal growth and self-discovery, reflection and inner reckoning.
Stream: "The Beginning" – Leona Naess
---
Fans of early 2000s indie rock music may recognize the name Leona Naess from a series of dynamic records in the early aughts, but for all intents and purposes, the British singer/songwriter's latest LP is both a revival and a rebirth: Arriving nearly fifteen years after her last LP, Brood X is a bold and beautiful record of personal growth and self-discovery, reflection and inner reckoning – all set to a stunning soundtrack brimming with energy, charisma, and unbridled passion.
And the night came creeping in
Circling like a sharks Fin
Not sure what moon it was
But I'm leaning towards just because
And you fought the greatest odds
Slaying dragons and all the drugs
Racing through my bodies caves
Jump into my blood like honey waves
I'm not gonna be the one
that stops all her feelings
That's got no meaning
Falling from the ceiling
When your heart stops beating
for anything, anyone, but the one
It's gotta be more then a life begun
– "The Beginning," Leona Naess
Released June 3, 2022 via ​​MessyNaess Records / AWAL, Brood X is truly years in the making: After putting out four studio albums in the 2000s, enjoying a modicum of success during that time, and finding her own meaningful place in New York's local music scene, Naess was ready to leave the music world behind – and she did just that.
"Being in New York at that time was wild," she recalls. "I lived through those years that everyone seems to be so nostalgic for. They were incredible and there was inspiration everywhere, but I also found it extremely destructive and chaotic, and I'm happy I got out in one piece."
After releasing her fourth LP, the resounding Thirteens in 2008, Naess bid a fond farewell to the music industry, turning her attention toward "preparing for motherhood and growing her family." She got married, had kids, and lived her life – but as is the case for many, once a songwriter, always a songwriter.
"For a few years now, I've been thinking about making a record, but I just didn't have that kind of desire to put myself on a stage or in that kind of scrutiny," Naess tells Atwood Magazine. "But I love being in the studio and writing songs. In my head I had decided I would be a songwriter and just be in the rooms with these younger artists that would be so happy to have me there. The truth is that I needed to make new music to make this happen. In my search I just happened to find a person that made me want to make my own record. I didn't even think about the outcome. And of course I had so many years of lyrics. I had so much living in me that needed to be expressed – for me, at least."
"I didn't have a vision," she continues. "It was all a happy accident. But it was the easiest record to make because I knew exactly what I wanted. And I also had a much braver voice inside of me. I knew that when I hit a wall, that a little door would appear if I just stayed with it and didn't give up or settle."
"I didn't have a name for the record and I knew it needed to be relaxant and had an idea to call it Put Your Weapons Down, which is a lyric in a song. Then I read a Times article last spring about the cicadas called Brood X that stay underground for 17 years until they come out and sing for a mate and then go back under for another 17 years. The last time I made a record was in 2004. So it just made perfect sense that it would be Brood X. Plus, I am Gen X."
---
Calling the record an honest, bittersweet collage of all the music she ever loved, Naess injects Brood X with a considerable degree of lyrical vulnerability and musical verve. This is evident from the moment album opener "Call You by Your Name" hits the ground running, with a driving beat and radiant vocal melody that swells and soars to great, stirring heights. Naess sings of letting go of a loved one; of relinquishing your place in someone else's world, and accepting that in order to let someone grow, you need to let them experience life for themselves. "At 10 the cracks begin to show, becoming someone you don't know," she sings, "... So crawl back inside that space, before you're too old for my embrace. Now begins another chase: Me to you and you to them."
Little feet they kicked me so
Now you're raging like a tornado
I'm not willing to let you go
Can I call you by your name
Twinkle twinkle little star
I think you're lovely as you are
But who am I to understand
I'll always reach out for your hand
I don't want to be the one who says your dreams are not allowed here
I don't want to be the one who's in your way
I want to be the one who shines her golden light around you
Can I, can I, just call you by your name
– "Call You By Your Name," Leona Naess
Thus begins a dynamic, enchanting record built on stunning indie rock instrumentation and lilting pop melodicism. "I always try to choose love over anger," Naess confesses in "Name Across the Sky," a churning bass guitar line melding with shuffling drums underfoot. On "If a Song," Naess explores the beauty and power of music, building up and out from a poignant piano ballad into a rousing, spirited moment of human connection.
Undeniably contemplative and achingly intimate, Brood X rises and falls with gentle grace and a delicate warmth throughout its 30-minute run.
Throughout it, Naess explores the highs of life's joys and the lows of its most painful and trying moments. She explores the loss of her parents, her own journey of motherhood, her ever-changing relationship with herself, and more through nine songs that bring us closer to her as a person than ever before. She is nothing, if not honest, throughout this record: And it is that honesty that hurts so good from end to end.
Personal highlights abound for her, but Naess is quick to highlight her album's final song. "The 'Kisses and Movies' outro makes me cry every time," she says. "My daughter wrote that chorus when she was 7. We hadn't seen any of our family for a year and COVID was just breaking these relationships apart. Talking to friends over zoom became the norm and then that just started to get hard. I  sent the outro to all my nephews and nieces and had them all sing into a phone and all those voices are of my family and loved ones."
Meanwhile, she cites standout single "The Beginning" as a lyrical favorite. "I don't want to give anything away, but there are so many little clues in these songs. It's for everyone and for just one person. Only they will know," she adds with a wink and a nod.
First you're hanging like a kite
Then you grabbed onto me tight
Butterflies all along my skin
Turns quicker than a meaningless friend
Spinning 'round like a well-oiled key
Come around like a good story
And I'm no longer in my world
What if I'm no longer your girl
And you're no longer in my world
What if I'm no longer your girl
And I'm not gonna be the one who stops all the feelings
You've gotten no meaning, we're falling from the ceiling
When your heart stops beating for anything, anyone, but the one
There's gotta be more
And I'm not gonna be the one that stops all the feelings
You can't find a meaning, it shoots from the ceiling
I'll keep my heart beating for everything, everyone, and the one
There's gotta be more, then our life begun
– "The Beginning," Leona Naess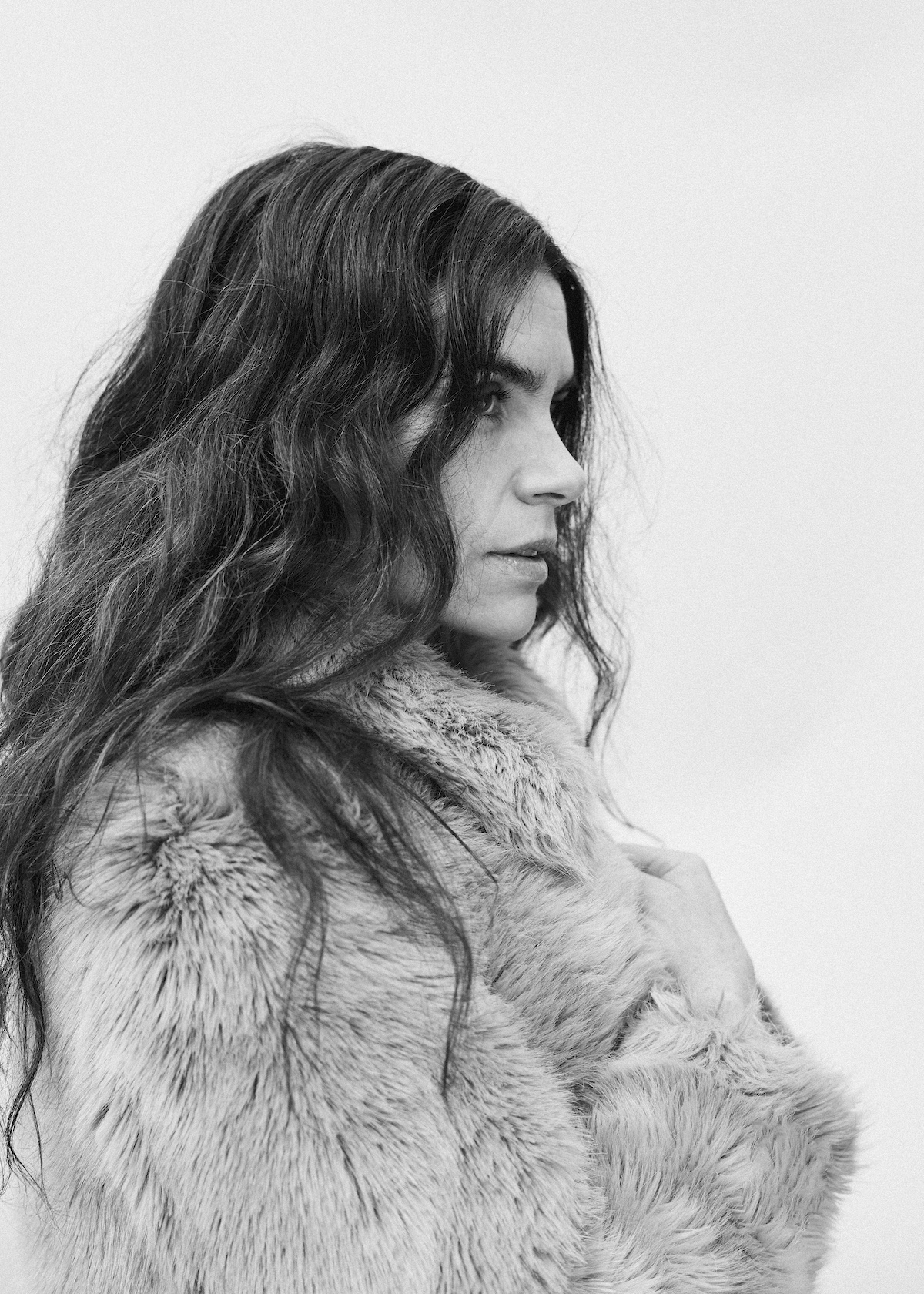 Ultimately, Brood X is so much more than a revival or a rebirth: It's a colorfully captivating expression of passion, perseverance, and the enduring heart of the human spirit.
Naess hopes these songs mean as much to her listeners as they did – and still do – for her. "I want this record to be the soundtrack to the best summer of their life," she shares. "But I just want it to do what Sinéad O'Connor's first record did for me. The Lion And The Cobra made me want to write songs that were brutally honest and direct from the heart. It changed my life. I want that."
Experience the full record via our below stream, and peek inside Leona Naess' Brood X with Atwood Magazine as she goes track-by-track through the music and lyrics of her new album!
— —
Stream: 'Brood X' – Leona Naess
:: Inside Brood X ::
— —
Call You By Your Name
I have always been a huge fan of Ennio Morricone. State of Grace is one of my favorite films and there is a piece of music in there that gets me every time. I was trying to take that and turn it into a song. I love the minor notes creeping into a sweet melody. I wrote it on piano in a studio in Basel. Its  like when you are happy but then you have this nagging thought that keeps breaking into your mood.   This song is maybe the most personal and I think it's mostly about losing your power or influence over someone you love. As hard as we try, we can't control anyones choices. True love means letting go? Anyway, I think anyone with kids can relate to this. Or anyone really that loves any human.
Name Across the Sky
I had been putting the word out there that I was ready to start showing up for music. I wanted to find someone that I trusted to help me and I had fallen in love with Rostam's first record and had reached out to him on Instagram. it turned out that he was a fan of my Ethan jones self titled record and  so I was in LA to meet him and other potential producers. I spent a day with rostam and we recorded one of my songs but he was in the middle of producing a Haim record and was too busy to give me the time I needed. The next day  I met Max Cooke and in 3 hours we wrote and recorded "name across the sky"
After that day I knew that he was going to be the one. I was hurting so bad when I wrote this song. I had not spoken to someone I had loved my whole life for over 6 months and the rift was destroying me. I guess it's about punching in the air and getting nowhere. Misunderstanding and anger but mostly love. Loving someone that keeps letting you down. But deciding that you need them around and it's not worth losing them. I was going to use the song to try to bring them back. Like an angry love letter, but also to try to stop feeling misunderstood.
If a Song
Before my mother died, she was sick for 8 years. I wrote this for her. I love the idea of a song being magic and healing someone. She couldn't move or talk for the last 3 years of her life and I couldn't really bear seeing her like that. I had my brother, who was caring for her, play her the song and she smiled. If that's not a good reason to write a song, then I don't know anymore.
CM
I lost my beloved dog Charlie a year ago and shortly after I was working  in the studio with  max. I was in the live room and max  had the mic on an in d this was one take and the lyrics were made up on the spot. The piano was made in 1870. It was just standing there in this studio. Unloved. My piano playing is pretty bad but I like that it gives me space to sing more melodies then guitar.
I was in the worst pain over losing my dog. My mother had died a few months before and I didn't really cry. And then when Charlie died I cried for all the years I couldn't connect to my pain about my mother and not seeing loved ones over Covid and just all the shit that was hurting. I still haven't been able to have a funeral for my mother and so I think that the denial is very strong in me.
Bring on the Lonely
This was recorded on garage band with my friend Willie breeding in an apartment on Washington Square. It's a totally abstract song that I will not explain because it's supposed to mean whatever you want it to mean. Also written in 2 hours. I was a huge Sinead O'Connor fan as a kid and also a Cure fan. This was my ode to them.
The Beginning
This was the first song that I wrote on the record but the last to finish. it only had the verses and I recorded it on garage band with my friend and band mate Jason Grisel, while I was pregnant with my first child.  We had a very cheap set up in my apartment at the time and I was growing this human inside of me and I knew that it was going to be the end of everything I knew and the beginning of something else. Being pregnant is like waiting to jump off a cliff into unknown waters. I had been touring around the US and Europe  and living alone on Mott Street,  living like a gypsy child for most of my " adult"  life and within 1 year, I had fallen in love and was about to have a baby. It was very fast and scary. For 10 years I had that recording on my phone and it was the only evidence I had, that I still had music in me. It was my tiny heart beat. My secret weapon.
I wanted to use the original recording for the record but it deserved a chorus and also maybe a conclusion. So the chorus was the last thing I wrote for the record. Which is funny. After 10 years of motherhood I had this answer to my question. "what if I am no longer your girl?" And the chorus is the answer I guess: "I'm going to keep my heart beating for everything, everyone and the one, there's got to be more then a life begun." But it took me 10 years to realize that I could be both things. An artist and a mother.
Collarbone
Only song I have written for my man. He is like a crazy child that spent his whole life being rebellious. "Put your weapons down" is also just a lesson for all of us. We come into this world and learn to not trust or be afraid and we build an army around us. Makes it hard to love when you have all these weapons. The weapon could be a drink, phones,  humor, money or your kids. Anything you use to not be present. But it's also just a love song.
100 Ghosts
I wrote this alone in my sister in law's house. She has a room with a beautiful piano and I have always struggled with being a glass half empty person. This song is about the power of your mind. Decide to be happy. Decide to believe. I am really just trying to convince myself to keep going
Kisses and Movies
I had a recording of my daughter singing this song on my phone. She was 7 years old when she wrote the words and it was so sweet and pure and I showed it to Max and wanted to build a song around it. We used the original recording of her singing it for the chorus. The verses are pretty dark about the state of the world and it was in the middle of the first lockdown of COVID. I was missing all my family and friends and was only seeing them on Zoom. I assume I will get shit for the sentiment of the chorus, but it was written by a 7 year old girl and so it's her fault, not mine. But also one of my other favorite films is the sound of music, and we have watched it so many times together. So it's her favorite things: Kisses, movies, and chocolate bars.
— —
Stream: 'Brood X' – Leona Naess
— — — —
? © Laura Bailey
:: Stream Leona Naess ::
---