Nashville Americana talent Cameron Hawthorn delivers a mesmerizing video detailing heartache and the road to an honest life in "To Break Hers."
Stream: "To Break Hers" – Cameron Hawthorn
---
Nashville based Americana talent Cameron Hawthorn knows all too well what it is like to have lived a lie.
His new single "To Break Hers" narrates a relationship where someone is not being truly honest with themselves and eventually leaves the other person hurt. This concept is one we can all relate to, as most of us at one time or another have lacked the courage to tell someone how we really feel.
Hawthorn is known for releases that erupt with stunning vocals fusing a unique style of country, Americana and folk. A Kansas native, his music stays true to his roots with detailed and candid storytelling paired with a dash of twang. His debut single "Dancing in the Living Room" exploded, going viral and fans were in awe of his bravery to come out so publicly. This raw authenticity is what listeners love about Hawthorn and what draws them into his dazzling music.
Atwood Magazine had the chance to speak with Cameron Hawthorn about his latest offering, coming out story, and musical influences.
A CONVERSATION WITH CAMERON HAWTHORN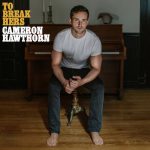 Atwood Magazine: Your latest single "To Break Hers" is a true and touching tale of being so afraid to hurt someone that you instead lie to yourself. If you could go back to that time in your life, what would you do differently?
Cameron Hawthorn: I don't regret being in that relationship because I definitely grew from it, but I definitely would have ended it sooner like the song says instead of getting in deeper and deeper. It's hard to say I would do things differently in life because I'm happy where I am today and I think everything happens for a reason and led me to exactly where I'm supposed to be. That's the silver lining of the song, I suppose.
The simplistic yet poignant visuals cut between you at the piano and your relationship with a girl that ultimately leads to heartbreak. What was the creative process like in constructing the video?
Cameron Hawthorn: When I sit down to play this song, the relationship comes back to me in flashes. Seeing her longing eyes and feeling how much she was invested. And then her uncontrollable tears because she was blindsided when I broke up with her. I wanted the video to be exactly that: me playing the song with quick flashbacks.
You previously went viral with your release "Dancing in the Living Room" which was a heartfelt release where you publicly came out in your video. Can share more about what that was like and your coming out story in general?
Cameron Hawthorn: I actually came out to my family and close friends long before I released this song and video. It was really important for me to do that because the people in my life mean so much to me. I'm really lucky to have so much love and support around me, including my parents and siblings. I think having that and also being inspired by other artists sharing their truths really pushed me to put my 100% full self into my music. Of course I initially feared what that would mean for my career. But once I chose not to care what others think, I never looked back. I remember the day the "Dancing in the Living Room" video came out and the feeling of being completely known by others. It was scary, yes, but incredibly freeing actually. And getting the support and kind, encouraging messages from people around the world was the icing on the cake and meant so much to me.
Your music fuses Americana with pop and rock. What drew you to this style of music and who are artists/bands who have influenced your sound along the way?
Cameron Hawthorn: I grew up on country music of the '90s, but my Mamma and Pappa would always have the radio playing with country classics. Recently, I've been going back to those classics like Johnny Cash, Glen Campbell, Elvis, and the Everly Brothers. In high school, I loved artists/bands like Gavin DeGraw, Missy Higgins, John Mayer, and The Fray. But when I embraced country music, it was Shania Twain, Eric Church, Dierks Bentley, and Kacey Musgraves that were big influences from today. I love me some Taylor Swift and she has always been an inspiration to me because she's incredibly driven and has a full vision for her art and career.
Speaking of influences, you grew up in a small town in Kansas. How has your upbringing shaped you as an artist?
Cameron Hawthorn: I grew up around family and friends in Kansas and Oklahoma that were just real, down to earth people. I think having these people in my life rooted me in who I am and when I left the Midwest and discovered more about myself, I had a strong foundation built upon honesty and authenticity to fall back on. I never want to lose that.
Your musical message of "love is love" rings true in your releases. How have you been an advocate for the LGBTQ community?
Cameron Hawthorn: I just try to be myself as much as possible and I'm always checking myself and making sure I'm doing that. I'm a part of the LGBTQ community as a gay man, and I hope that others will be inspired to be themselves by hearing my music and knowing my story. And any opportunity I get to support the LGBTQ community, I will happily take part in.
You recently relocated to Nashville from previously living in Los Angeles. How are the music scenes and life in general different in both cities?
Cameron Hawthorn: I love LA. It's where I moved to after growing up in Kansas to go to college at USC. It's where I moved back to after living in Dallas and also where I came out. I wouldn't have had the bravery to come out publicly if it weren't for living in LA. There's so much diversity there, so many characters and identities, and everyone feels free to be themselves. The music scene is obviously thriving there, especially in pop, but playing live as an indie artist can be difficult. Nashville feels slower-paced, yet still incredibly busy. I think people are looking to hear live music more in Nashville whereas LA is an entertainment city for many reasons aside from music. They're both special in their own way, but I knew I wanted to be inspired and influenced by the roots of country music. While there's lots of country music history in LA, I felt drawn to Nashville, so I made the move. It's definitely different from LA, but I'm from Kansas so it feels like returning home in a way.
Have you experienced any prejudices being an artist who happens to be gay in the country music industry?
Cameron Hawthorn: I really haven't. My experience has been really positive. I'm really thankful for that.
How have you stayed connected with your fans during quarantine?
Cameron Hawthorn: I hadn't started touring yet, so it's been through social media, just like it was before quarantine. I had plans to release new music earlier in the year and tour, but that got pushed back due to COVID. I'm really looking forward to playing shows with this new music and connecting with people in person. Who knows what that will look like, but I'm determined to make it happen in some form or fashion.
What are you currently listening to that you can recommend to our readers?
Cameron Hawthorn: Jim Reeves' "Nashville '78" album – some good throwback classic country. Anything Ricky Nelson – love that silky, smooth voice – listen to "Travelin' Man." Ray LaMontagne's new album "MONOVISION" – he has one of my favorite male voices of today and I love his songwriting. Lennon Stella's new album "Three. Two. One." – one of my favorite female voices of today; great pop music.
— —
— — — —
Stream: "To Break Hers" – Cameron Hawthorn
— — — —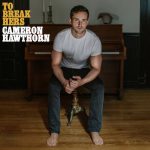 ? © 2020
:: Stream Cameron Hawthorn ::
---