Thin streams of colors weave through empty space as extensions of a dancer's limbs in Kate Duhamel's film, "Boy Wonder." This is just one example of the way Kate's videos may explicitly "paint moving images" of what dancers think and feel as they move. Kate's dance films are short, straight to the point, and entertaining. Although she lacks a background in dance, Kate has the eye for viewing dance from new, interesting perspectives and then capturing them on camera.  As founder of Fountain 3 Films, she aims to expand the target audience of dance short films by creating a fresh form of entertainment. She wants us to make a "mental switch" so that dance film can also become a "thing," and won't just be limited to dancers or dance fanatics.  We need to look beyond the effects of film or live dance performances alone and into the power of film combined with dance. "I want to create something very entertaining," she explains, "but still want to honor the integrity, discipline, and beauty of dance itself."
Tell us a bit about yourself and Fountain 3 Films.
I'm Kate Duhamel, founder of Fountain 3 Films ("Fountain" refers to "fountain of ideas or creativity" or "gathering around a fountain," and "3" refers to the three arts involved – dance, music, film) .  I am based in San Francisco, California and I've been making films for fifteen years – mostly narrative and documentaries.  I started to focus more on dance features about five years ago.  I direct and produce, but I don't shoot anything myself.  What I do is a collaborative process.
How did you come to focus on filming dance?
I started to film dance about five years ago, on a whim, and decided to do a project called "Kaleidoscope" with tap dancer, Jason Samuels Smith.  Besides being really fun to do, I realized that there isn't enough entertaining short dance content.  I decided to do a few more to see what happens, and now I've done a total of thirteen short films.  I continue to explore ways to make them better.  My dance films are like short music videos featuring dancers; they are not documentations of dance on stage.  It is dance made specifically for the screen.
Did you have a background in dance prior?
People always begin with that question (Kate laughs), but I am not a dancer or choreographer (she pauses)…and you will never see me dance on film myself!  I grew up in a small town in Iowa and I did take dance classes, but I didn't do it in college or go professional.  I have always loved dance, and  my kids skied competitively, and I think that dancing and sports are like two sides of the same coin – both are beautiful forms of human movement, strive for perfection, and require a lot of discipline.
You previously mentioned that your dance shorts are kind of like music videos, in what ways do the style of MVs influence your work? How do dance shorts set themselves apart from the more commercial forms of music videos?
What is similar is that they are both short in form, meant to be entertaining, and can be seen easily online or at festivals.  Music videos are for the musicians and focus on the music as a priority, then visuals are created to express that music.  But in dance videos, the dancers are first.  Visualizations are made through movement and extensions of the movement.  People know what a music video is, but I think the public needs to make the mental switch to see dance film as a "thing" also – as something they want to get into, and can access easily.  But right now, many don't know that this "thing" exists.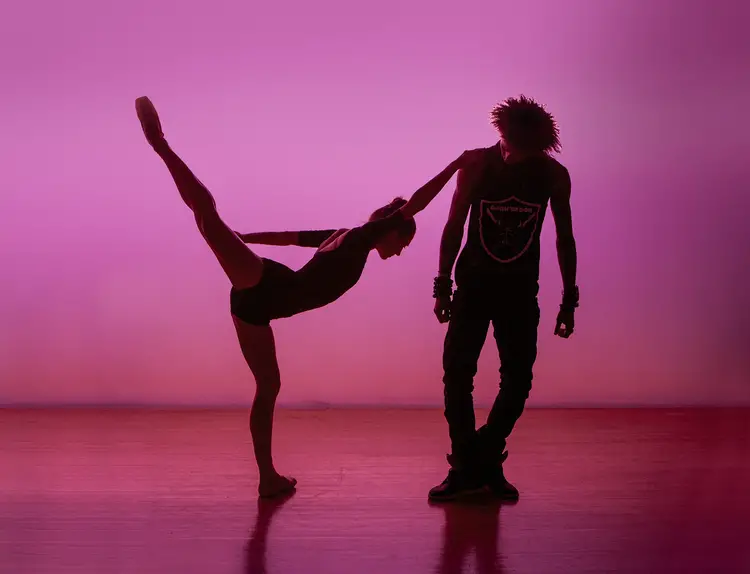 And along with that, you said that you want people to see this as a "thing," so do you have a target audience, and what are you goals in terms of creating dance videos and what you want to communicate to the audiences?
Not many people know about dance films, but I see an opportunity.  I think that there is a huge audience that would enjoy these films, but they don't know what to look for or that they might like forms of dance they've never seen live.   I want to reach across age groups, and not just dancers.   I want to expand the audience for dance; I want to create something very entertaining, but that honors the integrity, discipline, and beauty of dance itself.
What do you think makes screen dance unique?
I have a great respect for live performances and I love it, but this is a totally different thing.  Making dance films is like painting with moving images; you create new combinations, rhythms and ideas that can only be seen on screen.   It's a film.  It's not a replica of a live performance.  Also, videos allow us to get a much a closer look at the actual movement and the dancer, so you see their faces, their muscles and sweat – you see their individuality.  I embrace that because our uniqueness is what makes us beautiful.  Hopefully, in dance films, you feel what the dancer feels and its a more immediate way of reaching people.
I also noticed that you focus a lot on the effects of filmmaking, especially in films such as "Boy Wonder". Can you tell us a bit more about your aesthetics and the influences in your work?
I embrace filmmaking technique and enjoy working with green screen, layering and coloring effects.  In some films, we used particles to illustrate what the dancers were thinking and visualizing as they dance.  In the case of "Boy Wonder," the dancer was interested in adding those effects and described to me what he visualized while dancing, that he was moving the air, so we incorporated those expressions.  It is important to me that the dancers get what they want and what they like too.  I do some of the editing myself because it's what keeps my creativity and inspiration going.  But I usually work with other editors too who know After Effects, etc. and it is a very collaborative process.  Experimenting with these effects is expensive though, so we are looking for more resources.   I am working right now on projects with more focus on photographic elements and lighting.  Every experience and opportunity is a fun learning process to see what works and what doesn't.
Can you tell us more about what you are currently working on and what we should look forward to seeing?
I am currently working on several things.  There is an ongoing project that I started this year called the Dance Maps: it is a long-term project,that is an interactive documentary and community mapping project.  It aims to foster community for dancers, build audience and give people a "way in" to dance.  As a non-verbal art form, people often lack the context to understand, appreciate and enjoy dance so we're pairing commentary and human interest stories with dance videos so that the audience can better understand it.I am also working two films with Damien Smith, who is retiring principal dancer from San Francisco Ballet.  One film will have heavy photographic and lighting elements, and I also want to focus on sound design, because I believe that there is a potential for sound to make a film really pop.  The second film will focus on Damien exploring his family ties and Australian roots, and we're using Aboriginal music and body paint while he dances.
As for some projects to look out for…I am finishing up a film called "The Music is Moving," which will be uploaded to Vimeo first (you can contact Kate about viewing this piece in about two weeks, via her website).  It was shot last summer, which gives you an idea of how much editing and work went into it!  It will also premiere at the San Francisco Dance Film Festival in November (along with another one of our films, "Aloft").  I am also working on a set for San Francisco Ballet, which will premiere in April.
What has been one memorable, fun, crazy or interesting experience you've had in your process?
Well, it's actually always crazy running around the City with cameras and dancers. One memorable experience would have to be filming "Aloft" above the Golden Gate Bridge.  We had so much horsepower up there on our one possible shooting day, with 3D camera equipment, six dancers and a full crew.  When we showed up at 10:00 AM, it was pea-soup foggy and freezing.  I had a meteorologist checking  the weather forecast every half hour, and the sun finally came out at 3:00 pm.   We were left with only 3 hours to shoot, and it was so cold that the dancers would have to immediately jump into sleeping bags and down coats between takes.   We got it done because dancers are tough and positive, and  they know how to work, but it was a bit more stressful than I would have liked.
Wow! The courage and determination to get through that was so admirable! It's so interesting to be able to hear about the process and the hard work that goes behind each project. Thank you for sharing all of these experiences with us. Finally, if you could describe your work or style in three words, what would they be?
Energetic.  Colorful.  Immediate.