Marrying indie rock with pop punk influences, Commonwealth Choir hit with fierce finesse on their sophomore EP 'No End', a five-track outpouring of angsty energy and nuanced textures.
Stream: 'No End' – Commonwealth Choir
---
Commonwealth Choir's music makes me want to get up out of my seat and RUN. Marrying indie rock with pop punk influences, the Philadelphia/Doyleston-based four-piece hit with fierce finesse on their sophomore EP No End, a five-track outpouring of angsty energy and nuanced textures.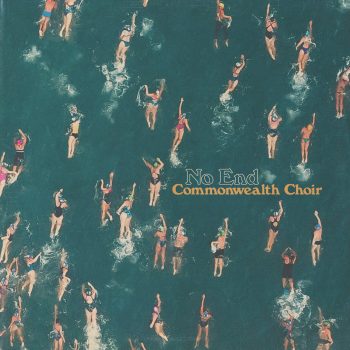 Teenage witness scrambling
Escaping dreams of consequence
Basic meanings meaningless
Open to the sea
I'm not the same as I was
Now it's years ago, I fear it in my heart
Just squeeze and let it go
I have to keep begging myself
Don't walk away
I don't care if you stay
I just don't want you to know
Everyone is gonna wait
You are not to blame
Life's different when you change
– "Palm Reader," Commonwealth Choir
Atwood Magazine is proud to be premiering No End, out June 19 via Know Hope Records. Consisting of Davis Howley, Nick Cislak, Maurizio Mazza, and Steve Rutt, Commonwealth Choir first emerged with a feverish sound with their 2013 debut EP Shirtless – a record that captured the raw essence of a group embracing the sounds of their youth. Seven years, "multiple lineup changes, and countless demos" later, Commonwealth Choir's sophomore EP engages the senses with the distinct confidence of a band who figured things out. They're not trying to be anyone else – and while we can pick out elements to past music and familiar nods here and there, No End feels like its own entity – a record born out of introspection and self-reflection, heavy emotion, and a persistent push forward.
It's hard hitting and fine-tuned; the garage band have figured out how to capture their unfiltered energy in the studio, adding fresh depth to their music while holding true to themselves.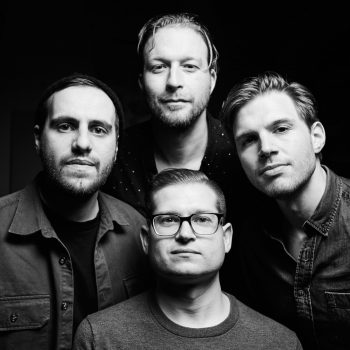 When you're discussing a five-song arc, the best way to appreciate the music is by simply listening to the offering in its entirety, but there's also no denying the exquisite passion displayed on the EP's lead single, "Palm Reader." "Our goal for this song was to map out how we envision our lives playing out when we're young, and  how things actually evolve as you get older," Davis Howley tells Atwood Magazine. In addition to charting our 'course,' the track delivers the band's electrifying full-throttle presence with a catchy, firm mixture of harmonies and guitar grit. It's a well-executed expression whose thought and care is evident from the immediate offset.
Yet every track has its place on an EP. Opener "Light" is the perfect sort of explosive outburst that should serve as a record's introduction: Complete with heavy drum fills and fierce guitar riffs playing off the vocal melody, it's a feverish, fun singalong and an easy crowd favorite. Midway through the EP, "Treehouse" feels like an impassioned throwback to '00s alternative rock, telling a pained story that self-described 'outsiders' the world over can listen to and connect with:
I was young when they came
Fell in love just the same
Carried off into the sun
It was all mine, all mine
Walked around the city square
Fell asleep along the stairs
Leading up to everything
It was all mine, all mine
Said you love
But you're keeping me down
Said it was over
When the sun broke the clouds
Pushing toward nothing good
Replacing ground where I stood
Looking back I knew it was
All wrong, so wrong
Ultimately, No End is just the beginning for Commonwealth Choir, and we cannot wait to hear where the band go from here.
For now, they've given us plenty of reasons to get up off our seats and let loose, in whatever way works best for us. Experience the full record via our exclusive stream, and peek inside Commonwealth Choir's No End EP with Atwood Magazine as the band take us track-by-track through the music and lyrics of their sophomore extended player! No End is out Friday, June 19, 2020!
— —
Stream: 'No End' – Commonwealth Choir
:: Inside No End ::
— —
LIGHT
Davis: "Light" really was the first piece of momentum we had while working on the EP. From notebook to tracking, this was probably one of the quickest songs we've ever written. With that being said, once we brought this song to Dan it took on a whole new life.
Nick: The comfort of recording in our own studio/practice space allowed us to maintain the raw, garage-band DIY energy while still having a professional approach to production. Once the basic tracks were done , we ended up doing most of the vocal overdubs in a living room.
Davis: The lyrics follow the path of someone caught between two versions of themselves: one that is convinced the world doesn't need them anymore & the other realizing it's all a self-fulfilling prophecy. It's something that some people deal with more than others, but it's an essential part of the human experience. If we didn't constantly examine ourselves in some capacity, we would never grow. Sometimes this self-correction is small, but other times it's earth shattering. We tried to make the music as pointed & driving as possible to mirror this epiphany crashing down on you in one fell swoop.
PALM READER
Davis: Our goal for this song was to map out how we envision our lives playing out when we're young, and  how things actually evolve as you get older. There's constant pressure to never let go of our idealistic visions, but everyone has to make choices that don't perfectly line up. Sometimes that pressure is internally generated; sometimes that pressure comes from our friends, family, community, etc. Either way, it's important to know you can change your path & still wind up where you want to be.
Nick: We had really great demo of this song that we were almost ready to release as is. Dan heard it and very quickly sent us some additional ideas that he firmly believed would take it over the top. This one was really the catalyst for the whole EP as far as Dan's involvement and how the production process would go moving forward. We really learned to trust and embrace his input. The way we were able to reimagine the bridge/solo section together created a feeling of catharsis that matches the lyrical arch of the song.
TREEHOUSE
Davis: Treehouse follows someone living in the shadow of someone else's dream. Like a lot of kids, I constantly built forts & little hideaways when I was young. I remember seeing treehouses in movies & thinking: it can't get much better than that. It was a place far off in the middle of nowhere for you to call your own…where you could make the rules with no distractions or threats from the outside world.
Coincidentally & I suppose ironically – in the woods next to my childhood home – my friend & I found an old, decaying treehouse that had come down with the entire tree during a storm. It was probably 20 years old & sinking into the ground, but you could still make out some details. That image always stuck in my head. This pile of rotting wood used to be somebody's Shangri-La. All of the work it took to build & all of the memories that kept it standing were simply abandoned. But why?
In reality, we constantly go through cycles in life. We make friends; we lose friends. We fall in love; we fall out of love. We land the job; we quit the job. Occasionally we're on the "winning" side of this equation, but the reality is we don't often mean to hurt others: we're just doing what we think is right & trying to survive. The point of this song was to tell the story from the losing side – as someone who puts everything in to help build someone else's Shangri-La only to watch them destroy themselves before they can step foot inside.
DOWN
Davis: Down was born from an incredible story I heard about someone's grandfather who grew up in Italy during WWI. When he was 7, his parents were both killed because of their political affiliations. He came home from school that day & waited for almost a week. Eventually, he wound up living on the streets & doing whatever he could to stay alive – always hoping in the back of his mind that one day his parents would magically reappear.
Aside from how heartbreaking all of this is at face value, the twist for me was that he spent most of his life thinking they simply abandoned him. He was constantly trapped between his love for them & the thought that they left him for dead. It wasn't until his granddaughter found proof of their murders in a news archive that he realized he spent his entire life angry at something that never happened.
2010
Davis: It's probably fairly obvious, but this song is about the year 2010. The truth is we probably all have one we look back to and think…damn, that was the best & worst year of my life. For a long time, 2010 stood out to me for all of the negative reasons. I was constantly out of equilibrium & felt defeated by the unpredictability. In retrospect, I was breaking through a lot of the social barriers & dogma I held over myself for so long. And while the unraveling was brutal along the way, it was the best ride I could have asked for.
Nick: We went through so many different arrangements for this song trying to make it more "interesting". Dan ended up hearing the very first original acoustic demo and was like "Oh, yeah that's it. Let's just rock it like that". It was a great lesson learned – sometimes you just have to let the song be what it is and let it rip.
— —
— — — —
? © Ryan Boswell
:: Stream Commonwealth Choir ::
---