Social House's Scootie Anderson and Mikey Foster talk to Atwood Magazine about their debut EP Everything Changed, working with Ariana Grande, and how they hope their EP changes breakups.
— —
The story of a relationship. Breakup first. That's what you get as soon as you start listening to Everything Changed…, the debut EP from duo Social House. "At Least We Can Say That We Tried" is a smash opener for the project, introducing Mikey Foster and Scootie Anderson's uniquely chilled and optimistic look on life and love. There's no need for stressing out or heartbreak, we tried, it didn't work out, and that's fine. With this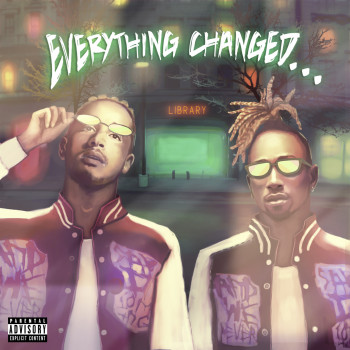 song, they take us down the rabbit hole of relationships, exploring themes like longing, lust, anger, crushing, and the temptation of getting back together with your ex.
Foster and Anderson have had a fantastic year so far, serving as producers on Ariana Grande's mega hits "thank u, next" and "7 Rings", as well as serving as supporting acts on her global Sweetener arena tour. The duo have also made their debut on the Lollapalooza and Coachella stages, and their single "boyfriend" debuted at #8 on the Hot 100 Billboard Chart. While all of this might be overwhelming for artists whose debut EP isn't even one week old, Foster and Anderson are adjusting better than most, taking in every moment and never forgetting to be grateful.
Everything Changed… is an eclectic and addictive body of work which shows the diverse nature of the duo's influences. From the acoustic "Haunt You", to the trap-influenced "Love Me Back", and the R&B-leaning "boyfriend", it seems like there's nothing Social House can't do – and everything they do, they do well. Scootie Anderson and Mikey Foster did a deep dive on Everything Changed with Atwood Magazine, and also talked about working with Ariana Grande and revealed how they hope their EP helps people break up.
Listen: Everything Changed… – Social House
A Conversation with Social House 
Atwood Magazine: Hi! How are you?
Scootie: Doing pretty well, no complaints, just a little hot and that's it.
How was Lollapalooza?
Scootie: Crazy. Absolutely crazy.
Mikey: It was honestly one of the most insane experiences ever. I've never seen that many people ever.
Scootie: It was a sea of pink.
First of all, congratulations on the EP, it's so cool and such a great introduction to the group. I hope you're proud, it's really awesome.
Scootie: Thank you.
Mikey: We're really glad you like it. Thank you.
How long have you been a group?
Mikey: We've been working together for four years, I think we've been a group maybe for two or three years.
Scootie: Three and a half.
Mikey: Let's just round it to four, whatever (laughs)
So you must have had several songs to choose from for your debut EP. Why did you choose these songs and to tell this story? How does it introduce you to the public?
Scootie: I feel like we kind of gravitated towards what we chose for this project only because it was a real representation of what we were going through and the thought processes we were having at the time, and it really illustrated who we were as people and our creativity.
Mikey: We actually do have a lot of types of songs and different styles, it was very easy for us to come up with this project because it was where we were at the time and we just wanted to document that part of our lives. So while we have made thousands of songs together because we've worked with so many people, this was the first story we wanted to tell. We wanted to tell the story of a relationship, one single relationship, front to back, but in reverse. So it starts obviously with a breakup song, we just wanted to keep it simple and have a nice narrative.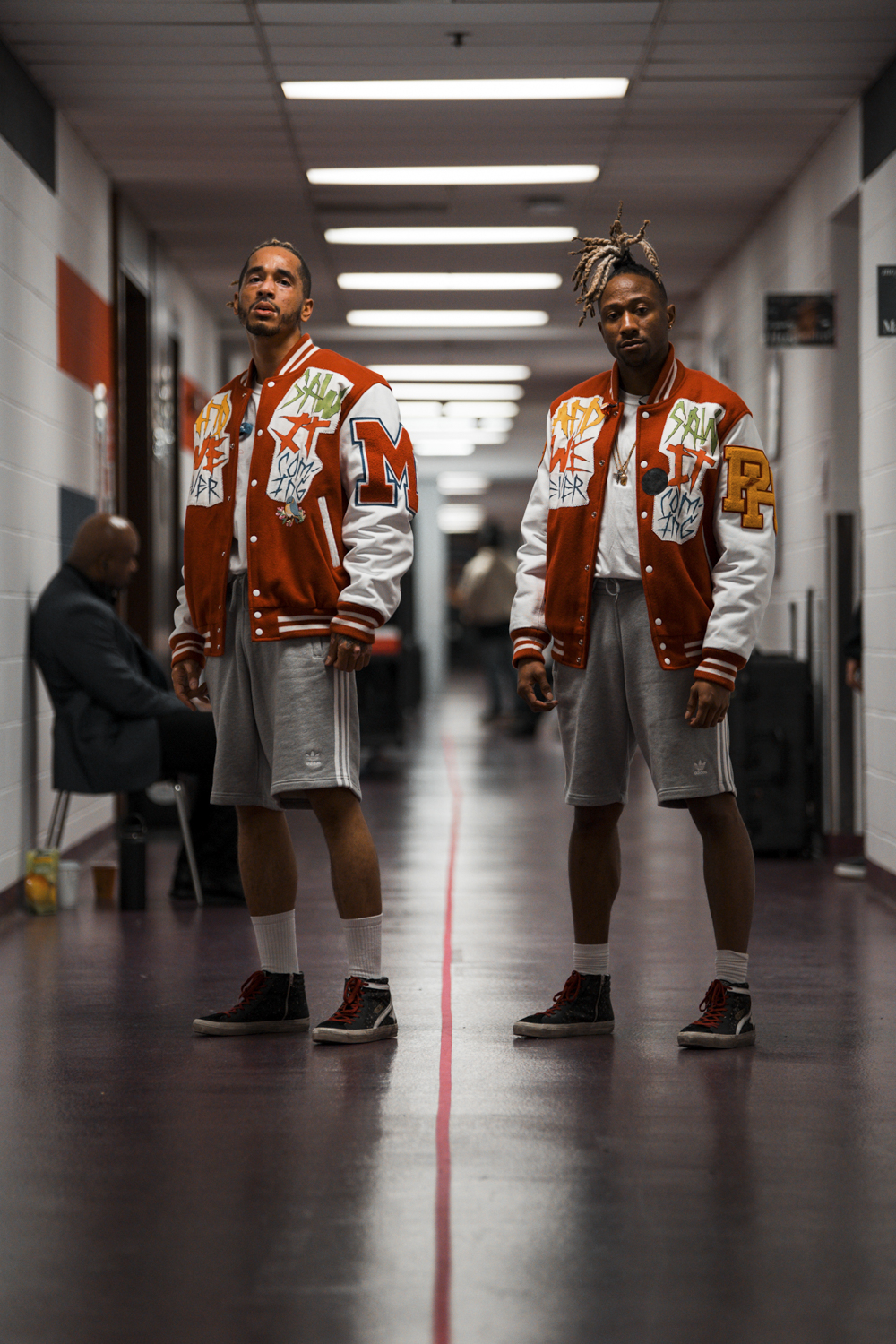 Yeah, so the journey the EP takes you on is very interesting - it starts with a breakup, then "Haunt You" is longing, "Why You Always Gotta Start Something" is like when you're annoyed with someone you love but you still care about them, "Love Me Back" is that temptation to get back into old habits, "boyfriend" is a crush, and "Tropical Rain" ends the project with lust. Why did you decide to reverse the storytelling?
Mikey: I think we really just wanted to end on a good note, and that's how we actually started – we started with the breakup song and we wanted to weave back through the relationship to figure out what went wrong and what happened. You know how when you reach the end of your relationship you kind of try to figure out what happened? So this is like going through your phone and scrolling through the pictures.
Scootie: It's an introspective look back into a relationship. Really see what faults you have, what faults they have, and see how exactly we got to this point where we feel like we don't see each other anymore, how everything changed.
Mikey: Exactly, we wanted to talk about how everything is changing, so you see the differences between the end of a relationship and the beginning. Everybody's stories are like, you're dating one person and by the end you almost don't know each other.
Something that I love is that "At Least We Can Say That We Tried" is such a chill, accepting, and optimistic breakup song. It's not the normal take on breakup songs, it's not bitter, or sad, or angry, it's just so mature. And it's such a nice way to get to know you as a duo as well because you're taking a horrible moment and just retelling it with so much ease. What made you want to approach a breakup song in that way?
Scootie: Part of it that really helped us, while we were making that song, was that we were both going through opposite things. I was in a relationship and Mikey was starting to talk with somebody and at one point he was happy with his relationship, I'd be on the other side like "Oh my God, this is annoying, getting on my nerves" and all that stuff, and halfway through that time things switched, and I was super happy, unicorns and rainbows, and he was going through it. It really helped us to tell a neutral story and take into consideration both sides of the spectrum.
Mikey: We really want people to break up, with this song, a lot more thoughtfully. We want people to break up like this from now on. Very considerate, very understanding, very emotional, still, but calm and collected. There's no need to be angry and mean to each other. It's okay, we tried.
Scootie: An epiphany.
Since each of you were going through very different moments in your own relationships while writing these songs. Did any of these turn out to be therapeutic or help the other one when you were going through stuff?
Scootie: I feel like every song did that, honestly. I don't really even look at them as songs now, I look them as documenting our growth and what we've gone through and help us move on from certain situations, feelings, and whatever.
"Haunt You" is such a beautiful song and it's the first one off the EP that you released. It also sounds quite different to the rest of your stuff. Why start with this one?
Mikey: "Haunt You" was the only song where we dug a little bit deeper in the storyline in the EP. It was very emotional for both me and Scootie because we connected to it because of my sister and his father. It was something we wanted to share with our families and let them enjoy that part of us because it was our most transparent moment, something that means a lot, that hurts a lot, and still is meaningful to us. We wanted to put that our first and bare it all immediately and then go back to the other stuff which is all fun. We connected with that song and wanted people to have that.
Watch: "Haunt You" – Social House
What was the process to create "Why You Always Gotta Start Something"? I love it because to me it reflects to opposite emotions, there's anger and annoyance at the start but then there's so much caring and love at the end.
Scootie: Well, like I was saying earlier, when we were writing these songs we were really going through it (laughs). It was really kind of us just getting out of our system what we would say and how we were feeling at the time.
Mikey: It was really cool for us because we didn't want to be mean, because we both felt opposite things, we just wanted to be understanding – most of the time when you love someone you don't want to prove them wrong to the point where you guys break up. You don't really fight like that, you don't want to be right to the point where you can't have the other person. The ending is that moment where you're like "Okay, you're not really that right, I'm not really that wrong, let's just let this go, let's be friends again, I really care about you".
"boyfriend" was just released and is just such a smash success. How do you feel about the way it's been received by people?
Mikey: We've never had a song this big with us, so there's nothing like this big. We've never performed at Lollapalooza, we've never had a chance at a top 5 with our name on it, it's all unbelievable. We've never had a song with such a big artist, it's wild, everything about it is insane. We're just really grateful to be a part of it and to relate to so many of our friends or people that we know, because this song is telling the story of how everybody is right now (laughs). I feel like there's so many people going through exactly this, we get to tell some of the stories of our generation, so it's kind of cool.
The music video is also so fun.
Scootie: It was fun. It was fun to shoot as well. We'd been coming off 45 minutes of sleep.
Mikey: We shot the entire day, we were delirious at the end.
Watch: "boyfriend" – Ariana Grande, Social House
You've worked with Ariana Grande on so many capacities: you were producers on her massive hits "thank u, next" and "7 rings", now are on a song with her on "boyfriend", and her vocals are featured on "Haunt You" as well. You clearly have this amazing relationship with the person who might be the world's biggest artist right now. What is it like working with her and playing so many roles - does it change when you're producing for her versus writing with her, for example?
Scootie: Not really because we don't see her like that. She's just our friend, and is our friend first. We've known each other for years and have been through so much together, we've seen each other at so many good and bad times, we're just all friends and literally hang out at the studio every day, so anything we do musically comes naturally to all of us. We love music so much that it's just, whatever we end up doing is what we did. It's easy to work with her.
Mikey: Yeah, we're very comfortable with each other.
You've worked with so many people - what's the best part about working with Ariana?
Mikey: She's one of the hardest working people I've ever met. That's a strength we hold as well, we'll be working all day, and she's always working, so it never feels like a challenge because it's just something we all do.
Scootie: Yeah, she always comes and has ideas. Some artists you work with, they kind of expect you to carry the load, but with her it's never like that, ever. It's like "Let's just throw some paint and create with each other. I have ideas, you have ideas, the person over there sitting down in the corner has ideas, come on over".
Mikey: And it's very easy to work with her because she has a vision for herself, she has a style, she's got character, she literally knows exactly who she is and what she wants so it's easy to help somebody paint a picture if they know exactly what they want it to look lie.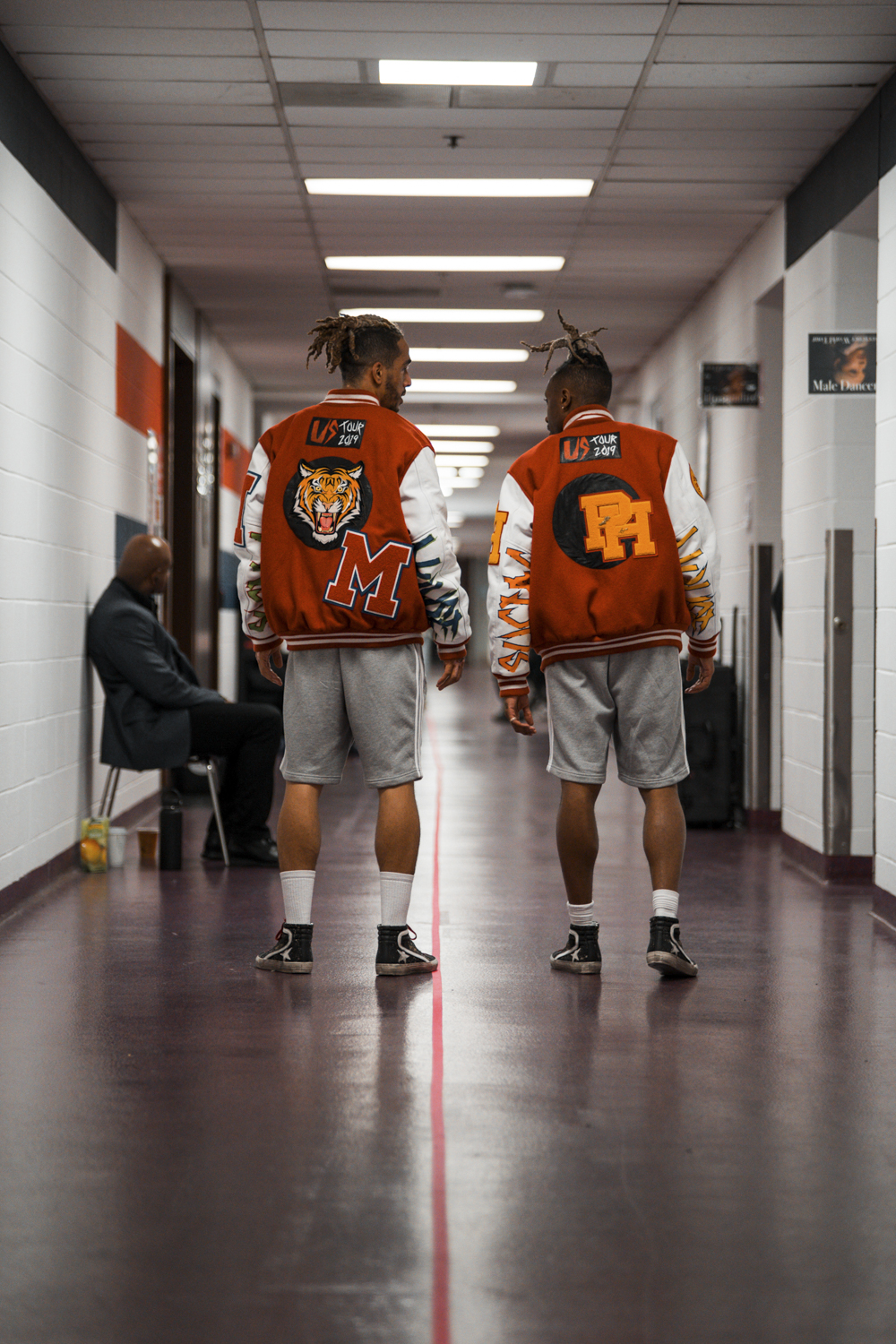 "Tropical Rain" closes the EP and is your next single. It's interesting because sexy songs aren't normally danceable, and this song is so different to all your other ones, I love what you've done with it. Why did you decide to go with this song as the next single?
Mikey: It's literally just a fun song. There are so many songs about love and making love that are just slow and boring, and we don't want that. We want people to move around and have some fun and enjoy their life, you know what I'm saying? Have a little spark, have a little sex, you know what I'm saying? (laughs)
Scootie: And I feel like it's so different from the other songs, it feels really good.
Mikey: And it's about the nastiest stuff ever.
You were on the North American leg of the Sweetener tour just now, and you'll go on the European leg this year as well. It was your first tour and I can't imagine what it was like. I went to the Philly show and I think it's rare for you to see so many people in a room collectively loving music and having fun for so long. How was it to go on your first tour and have it be such a huge event?
Mikey: It's honestly insane. Just like you said, it's the most scary and unbelievable thing in the world, and we have the most incredible artist to do it with. I don't know, it's an unbelievable moment. It was amazing, incredible.
Scootie: It was definitely a shock, bro. It was definitely a shock. It was like "What???". Being that this is our first tour, first shows really – because before tour we'd had like six or seven shows, and the last show that we had before tour there were 20 people there. So we went from 20 people to 10, 15 thousand. But literally, the best experience we could've ever had. And it's still going. I feel like every show we're like "Woah, this is real right now?"
To wrap things up: Since the EP is called Everything Changed, how do you hope the EP changes things for you?
Mikey: We just hope people love it.
Scootie: Yeah, I hope it changes things for other people. We hope people break up nicer, and are more loving.
Mikey: We hope things change for everybody else.
Scootie: We hope we can continue making music and having fun with our friends. That's all we like to do, really.
— —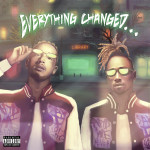 ?© Parsa Ara
:: Stream Social House ::