British newcomer EVER discusses new beginnings, embracing an alter ego, and the creative process behind her debut single "Bloom"!
Stream: "Bloom" – EVER
---
If you fully know yourself and your core values, everything you create will be authentic.
Every so often you can hear a song that completely blindsides you, totally removing you from your surroundings and submerging you into a completely new reality. Everything that you were previously thinking about is instantly vanished from your mind; with your new sole focus being purely fully immersing yourself into the music.
Never regret the feeling
Think I am lucid dreaming, oh…
Had me right there believing
Could've been my religion, oh…
All the falling leaves around me
Feel the rain on my skin tonight
Wash away my pride, oh…
It's hard to say whether it's the track's sensational lyricism, atmospheric production or spectacular vocals that makes "Bloom" so heavenly enthralling. But, it's safe to say the way in which those elements gorgeously coalesce with one another makes EVER's "Bloom" one of the most strikingly impactful debut songs in recent memory. The song, produced by kwassa and co-written by Jack Shepard, fittingly sees EVER chronicle a story of new beginnings in a truly awe-inspiring way.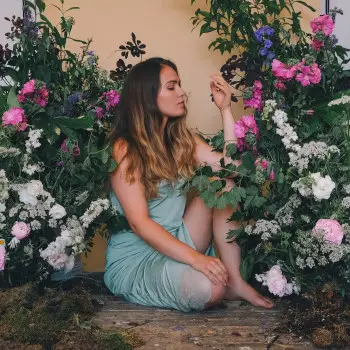 Both lyrically and through engrossing production, "Bloom" embodies that incomparable sense of freedom and exhilarated excitement that accompanies a new beginning. That weightlessness is perfectly accompanied by a captivating emotional sincerity, that feels firmly rooted in the sometimes-harsh realities of life. While, optimism practically floats through this track; there's also an unmistakable sense that achieving this forward-thinking, positive outlook hasn't always been as easy. But it's evident that experiencing those struggles has only served to make this new-found freedom feel even more boundless.
Although, a lot about this exciting artist isn't known at the moment; with a new song due for release every month until October, it's clear "Bloom" is the just start for EVER. With "Bloom" representing an exciting new beginning, in more than one sense, it'll be extremely exciting to what emotions EVER will embody within her next eagerly anticipated release.
Atwood Magazine caught a first glimpse of Ever's understated yet stunning video for "Bloom." Directed by videographer Marcus Rexford and taking place within the same setting as the single's stunning artwork, the visual sees Ever situated amongst of a beautiful array of flowers; delivering the track's radiant lyricism with a graceful ease. As the track's lyrics appear on-screen, close-up imagery of Ever herself and flawless flowers dominate the lo-fi video. It's that lo-fi approach that gives the video such a discernable sense of charm, with the low-key aesthetic perfectly complementing the track's sentiment of new beginnings.
Get to know EVER as she opens up about the creative process behind her debut single "Bloom", her journey thus far, and what the future holds for her. Watch our premiere of the "Bloom" video below, and read our interview below!
People choosing to listen to your music feels like the perfect finish to a cycle.
Watch: "Bloom" – EVER
MEET EVER
Atwood Magazine: "Bloom" is such a beautiful song; what was it about the track that made you know you wanted it to be the first track you'd release?
EVER: Thanks! So the message and imagery behind 'Bloom' are both inspired by the concept of rebirth and new beginnings. And it was also the first song I'd written after a few years away from making music, so it felt really natural for me to give away 'Bloom' first.
You worked with Kwassa and Jack Shepherd on "Bloom" - what was the creative process for the track like?
EVER: Creating "Bloom" with these guys was probably the most I've ever enjoyed making music. It started with a short poem I wrote, which I then took to Jack who found some chords and a feel to put around the poem. From there we played around with different melodies and established a rough chorus idea. I knew I wanted the sound to feel effortless and perfect for road-tripping. So who else better to go to than Kwassa to produce the song! His production on 'Bloom' transformed the song into exactly what I was hearing in my head – he's incredible.
At what point in the creative process did the integral idea of "Bloom" come to you? What does it signify to you?
EVER: "Bloom" was always the title and the theme from the beginning, it was actually the first word I put to paper. Yes I still use paper, I can't write lyrics on a laptop it feels so wrong! For me, 'Bloom' signifies hope. As well as moving with the seasons and knowing that nothing in nature is EVER rushed.
Were they any specific sonic inspirations for "Bloom"? Contemporary or otherwise?
EVER: During the time of creating 'Bloom' my musical tastes changed quite drastically from R&B and gospel, to alternative pop and indie music. I was hugely inspired by Tracy Chapman, Emily King, LANY, Andy McKee and loads of other incredible artists.
You only recently released "Bloom", but people are already listening in countries like Australia and Canada. How does it feel to know that your music has already travelled that far?
EVER: It makes me feel all warm and fuzzy inside. I think out of wanting to remain humble, a lot of creatives have the attitude of 'it doesn't matter if no one listens to it as long as you like it'. Which is very true. But to have people choosing to listen to your music feels like the perfect finish to a cycle. You're inspired by something in your reality, so you internalise it, make art with it and then give it back to the same place you found it – perfect! I'm an overly deep and emotional person, can you tell?
What was your musical journey that led you to releasing "Bloom" like? Was music something you always wanted to do?
EVER: I remember the day I discovered I could sing – I use sing very loosely. I was 4 years old and singing my heart out to the credits of the Disney film Mulan. From a young age I knew I wanted to be a singer but wasn't sure on how to go about being an artist. At 16 I went to music school, released an EP and gigged a bunch, probably tried to hard and ended up somewhere musically that I wasn't comfortable. It wasn't until I stopped music for a short period that I was able to really reflect on those years. Now I feel I've found a real healthy balance of making music whilst not sacrificing parts of myself for a better chance of 'success'. I'm also very lucky to have wonderful friends who are all creatives, so we completely understand each other.
What's the most important thing to you as an artist?
EVER: To have a strong sense of self. If you fully know yourself and your core values, everything you create will be authentic.
How did you settle upon EVER as a moniker?
EVER: It was a pretty slow process… With my name actually being Louise Smith, I didn't have much to play with!  'EVER' is a name that I can channel all different sides of myself into, to create anything and everything I feel like!
I feel I've found a real healthy balance of making music whilst not sacrificing parts of myself for a better chance of 'success'!
Finally, what can people expect from you in the near feature?
EVER: From July until October I will be releasing a song each month, as well as videos to go with each song. So lots of new things coming your way!
— —
Watch: "Bloom" – EVER
— — — —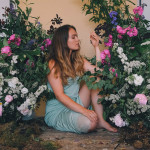 ? © 2019
:: Stream EVER ::
---