Florida's hidden gem flipturn premiere their ethereal "Glistening" music video.
Stream: "Glistening" – flipturn
---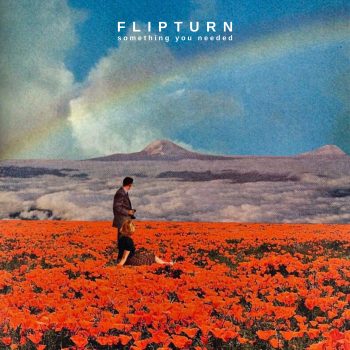 A four tier birthday cake with unlit candles sits in the dark between two portals. One is an old school television, brightened by speeding stars, and the other is a mirror showing the cake's future. Thus opens flipturn's latest video for "Glistening," offering a charming mystique to match the track's pure indie wonder. The bandmates sit in different rooms of an abandoned and dilapidated house, their expressions mostly blank as the atmosphere tells a story. Party decorations, glitter and TVs fizzing with old cartoons set the house aglow with nostalgia. Lyrically, "Glistening" makes sense of the space between people. The band credits cinematographer Mathew Pimental and director Shannon Mains for conveying their intentions with articulate subtlety.
"They ended up telling this story about perspectives that we really fell in love with" says lead guitarist Tristan Duncan. "These weren't the subconscious thoughts we shared when writing the song – they were even more than that. The video they created expressed something we didn't know needed to be told."
Audience interpretations are of great importance to flipturn. Their previous videos follow more conspicuous narratives, "Vanilla" following the band's friend group in and out of performances and "August" employing film-like effects to tell the story of a summer love gone sour. "One of the coolest parts about writing music and putting it out into the world is hearing about all the different ways people perceive the song," notes lead singer Dillon Basse. "When we write the songs, we always try to leave a little ambiguity in the lyrics for this very reason."
Sweet thing
I've been lost in the light
Every morning
Glistening's a state of the mind
I've been trying
To act on your social cues
But you know I need someone else to tell me what to do
So sweet thing tell me what to do
If I knew
"Glistening" is more ambient, understated, and wonderful. Flipturn has that visceral essence so many in their genre try to create. The latest video is where the three-piece band from Fernandina Beach, Florida, finds their stride visually, with indulgent colors and motifs that match the syrupy nature of the track. Mirrors gleam with fires, sparkling candles, and leaves listing in the breeze, all stark in contrast to what should be reflected. Some shots align Dillon with a pensive cartoon man, smoking on a bench. Some shots just show dust settling in the overflowing house.
I could be a better man
I could be an elephant
I'd never leave you
Not again
I'd be sweet like cinnamon and
If we had nothing to spend
We could always sell my skin
Maybe then the madness ends
Maybe I could love you then
Despite their seemingly close proximity, all three band members are in their own little worlds at this birthday party. Akin to the other tracks of their 2020 EP, Something You Needed, the varying perspectives speak to flipturn's fascination with fulfillment and self-actualization, and how it is ultimately a journey one takes alone. With three EPs and six years under their belts and little more than word-of-mouth promotion, flipturn sits on the precipice of enchanting thousands of new listeners with their dreamy performance. Now, almost a year to the day to the release of Something You Needed, fans will be delighted to hear their first studio album is already in the works.
— —
Stream: "Glistening" – flipturn
— — — —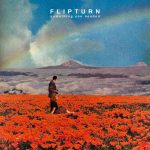 ? © Madison Steadman
:: flipturn ::
---