If you name your band Luxury Death, you'd better be ready to make music that lives up to your name's inherent contrast. Raw, but gilded; harsh, yet intimate; violent, but shining–you get the idea. Whatever clashing synonyms you come up with, you're in luck — Luxury Death's EP Glue (released 2/28/17 via PNKSLM Recordings) proves that the duo is capable of creating music that's just as enthralling as their name. 
Comprised of one half of Nai Harvest, Ben Thompson, on vocals and guitar and Meg Williams on vocals and keyboard, it's no surprise that the Manchester duo has excellent chemistry: they also double as a couple. And it's evident in every element of their songs, which (both vocally and instrumentally) flow together so naturally that they could match those of any indie powerhouse today (that's right, we're looking at you, The xx). 
Jarring imagery and real emotion collide in Luxury Death's lyrics and DIY pop sound–a contrast that's somehow perfectly fitting. Visually, perhaps nothing showcases Luxury Death better than Glue's album cover–the band's name looms in half black-and-white, half white-and-black, encased by a border of tiny chain links (which opens to a baby-pink record if you happen to snag a physical copy). Whether you take time to pick apart the visuals or not, one thing is certain: Glue shows Luxury Death reveling in their sometimes-gritty, often-contrasting, always-clever garage pop that has a spin all its own.
Listen: Glue – Luxury Death
---
Kicking off with "Radiator Face," it's immediately evident that Luxury Death have created a song that lives up to their name. Thompson's bleary guitar and Williams' more synthy keyboards mesh as well together as the duo's vocals, creating a world that's perfectly summed up in the lyric "it's not sweet, not sour/Just in between." The song reaches its zenith in the chorus, which aptly combines its darker lyricism and pop sensibilities:
I don't wanna wear your chemical straitjacket anymore
I hear your screaming under your breath
Baby, you deserve a luxury death
The accompanying music video also reflects Luxury Death's signature brand of fuzzy pop. Egg yolks drip down a golden skull, a burning tennis ball bounces along, and through it all, Williams and Thompson remain collected–even though they're the ones inciting the chaos. Again, the contrast proves that Luxury Death are working at something deeper with every controlled move they make.
Watch: "Radiator Face" – Luxury Death
---
With opening lyrics "Peeling glue off my hands/Fingers stretching elastic bands" the keyboard-driven "Glue" easily conjures up memories of grade-school experiments (or was it only the kids at my elementary school who continually made full casts of their palms with Elmer's glue? Never mind.). Williams and Thompson tag-team on vocals, ensuring that the sonic environment remains varied as they describe gluey messes, elastic, adrenaline, penicillin–the instrumentals fuse their imagery together. That is, until their voices join as one in the refrain:
You do it cuz it hurts,
You do it cuz it hurts
And I don't know what's worse
Which, as it's repeated, sounds almost sweeter every time. If that's possible.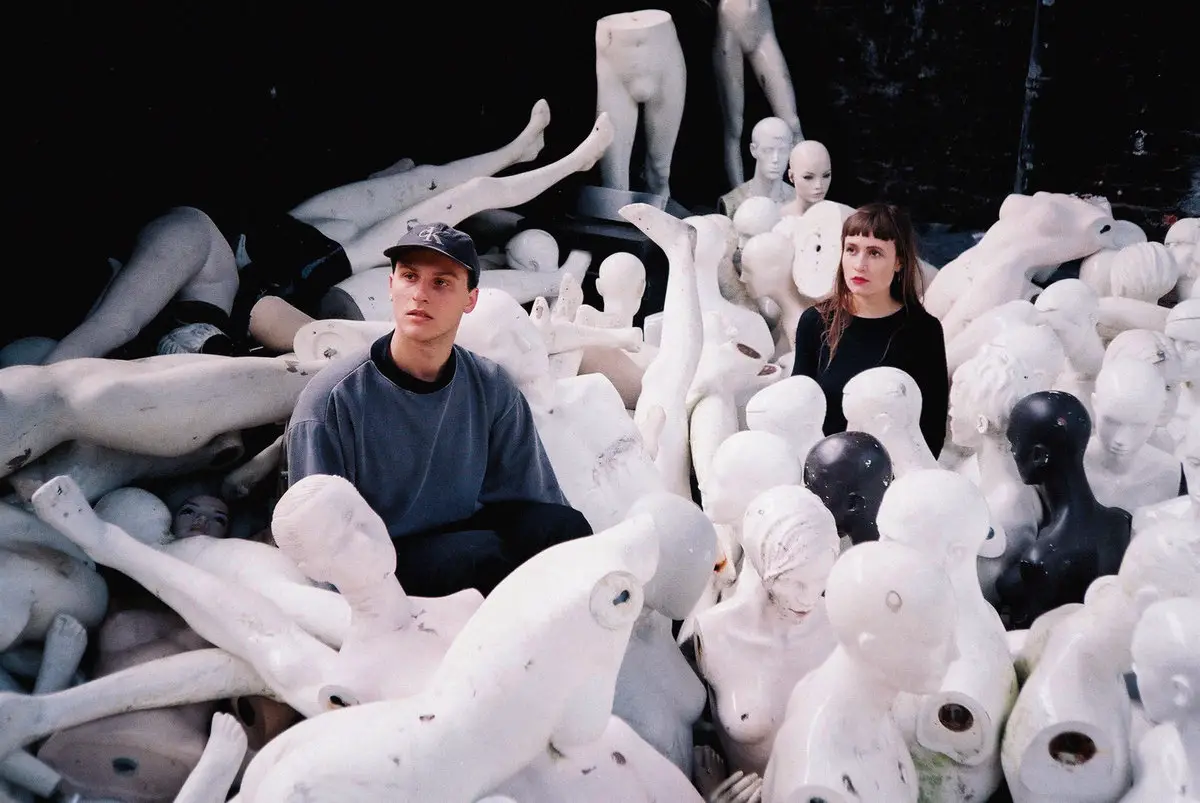 "Listerine" is hazy, synaesthetically mimicking the color of its namesake mouthwash. It's gentler, slower, and more intimate than any other song on the EP. Williams' and Thompson's voices run together, weaving a dreamy sonic landscape amid the more shoegazey, synth-laden track. However, the duo doesn't let listeners drift off–a well-placed stop a little halfway through the song jars, and forces us to focus on the word's they've just uttered. The song spins into more synth, and ends abruptly in much the same fashion as that stop, which places the final emphasis on their last words (which match the song's first):
Oh, it's a wonderful life
"Needle" raises the EP's tempo again, demanding to know more about just what the hell the opposite party means. Williams' and Thompson's measured vocals keep the frustration of trying to read between the lines understated, yet can't hide the sneer in their tone when complaining about all their oh-"so bohemian" friends tripped up on acid again. The frustration comes to a boiling point in the refrain as Thompson and Williams belt out, oh-so-calmly:
Did you hang me out the window just to dry?
And if you ever need to cry
Stick a needle in your eye
Stick a needle in your eye
If looking unaffected comes before actually showing emotion, Williams and Thompson are the first ones to call bull and, quite literally, tell you to shove it. While there aren't studies to show that stabbing a sharp object repeatedly into your eye will elicit feeling from even the most detached of ex-lovers, Williams and Thompson definitely make the picture clear–it's impossible not to feel any spark of emotion 100% of the time. With its brutally honest and underhanded lyrics,"Needle" shows the duo running at full snark capacity, as well as framing that mockery in their signature synthrock.
Glue is the kind of EP where balance is key. Luxury Death take that balance and, unsurprisingly, deliver far and above what listeners expect. The beauty's in the duality of the entire EP–juxtaposing images of needles in eyes and faces in radiators with hazy, sometimes-fuzzy rock that hits the sweet spot between emotional and detached. And living up to their name, operating comfortably in that balancing act is what Luxury Death does best, making Glue the perfect introduction to a duo who can only get bigger from here.
– – – –
cover: Luxury Death © 2016