Kevin Garrett sat down with Atwood Magazine on the night of his headline London show to discuss his astonishing debut album Hoax, delving into its lengthy creative process and emotional resonance.
— —
Kevin Garrett's sold-out show at London's Omeara serves as his first return to the city since 2016. In the time since, he's released his intoxicating False Hope EP (2017) and, of course, his brand new and eagerly anticipated debut album Hoax.
Debut albums always represent a significant place in an artist's discography, serving as both an important introduction to them as a recording artist, but also a person. With that being said, Hoax seems to have an extraordinary resonance for Kevin Garrett, with the songs occupying his headspace for as long as he's been putting out music – some for even longer.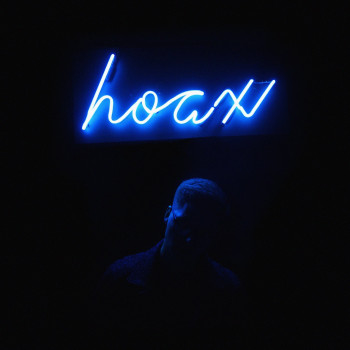 Streaming's dominance has, in some ways, eroded the importance of albums and made it even harder to get your music heard, but Kevin's distinct authenticity and vulnerabilities set him apart in an increasingly crowded field. Every single song on Hoax enchantingly intoxicates in its own stunning way, but as a whole, the album's thirteen tracks coalesce to form something that's much greater than any of the individual parts. While the lyricism is intricately introspectively, rooted in paralyzingly palpable emotion, the album is universally accessible in an ardently affecting manner. Furthermore, the beautiful intricacy of the meticulously crafted production means every single listen unravels a new untangled sense of affecting resonance.
Opening up the night at Omeara was Scott Quinn, who captivated the crowd with a set which interweaved previously released material like "From Afar" and "Fallible Creatures" with a sizeable number of unreleased tracks. With his affecting lyricism, Scott often delves deeply into seemingly insurmountable hardships to find a sense of life-affirming purpose and meaning, offering hopeful inspiration and calming comfort. While his vocal delivery remained self-assured as he captivated with his impeccable tone and his infectious passion for performing is blazingly evident beguiling the ever-growing crowd.
After a short half an hour wait, Kevin descended on Omeara's stage with a string of tracks from Hoax, entrancing with an enthralling emotional intensity. As the evening progressed, Kevin started to interweave more of his earlier material in his set, carefully placing songs to maximize their emotional resonance. One early highlight of his beautifully bewildering set was a stripped-back version of "Running From"; the absence of the recorded version's dominant drumbeat shifted the focus to the track's stirring lyricism. Another was an entrancingly beautiful performance of "Little Bit of You", which injected euphorically effervescent energy into the track.
---
On the night Kevin was joined by the astonishingly talented Jack Garratt and the incomparable James Bay as very special guests. Jack's impassioned guitar strums perfectly complemented Kevin's track "Telescopes," while James contributed both vocals and his astounding guitar playing to fan favourite, "Refuse." Even considering the sensational guest appearances, Kevin's stirring performances of his poignantly reflective songs lifted from Hoax, that evidently mean to the world to him, remained the indisputable highlight of the night.
His willingness to dissect her own flaws and vulnerabilities in a way that feels truly authentic stunningly feels even more ardently affecting in a live setting. The 350 fans crammed in London's Omeara were treated to a set which not only showcased Kevin's awe-inspiring talent but also his compelling candour, which serves as a fundamental part of all his tracks. Atwood Magazine was lucky enough to catch up with Kevin, before he took to the stage, to discuss his debut album Hoax, touring, and much more!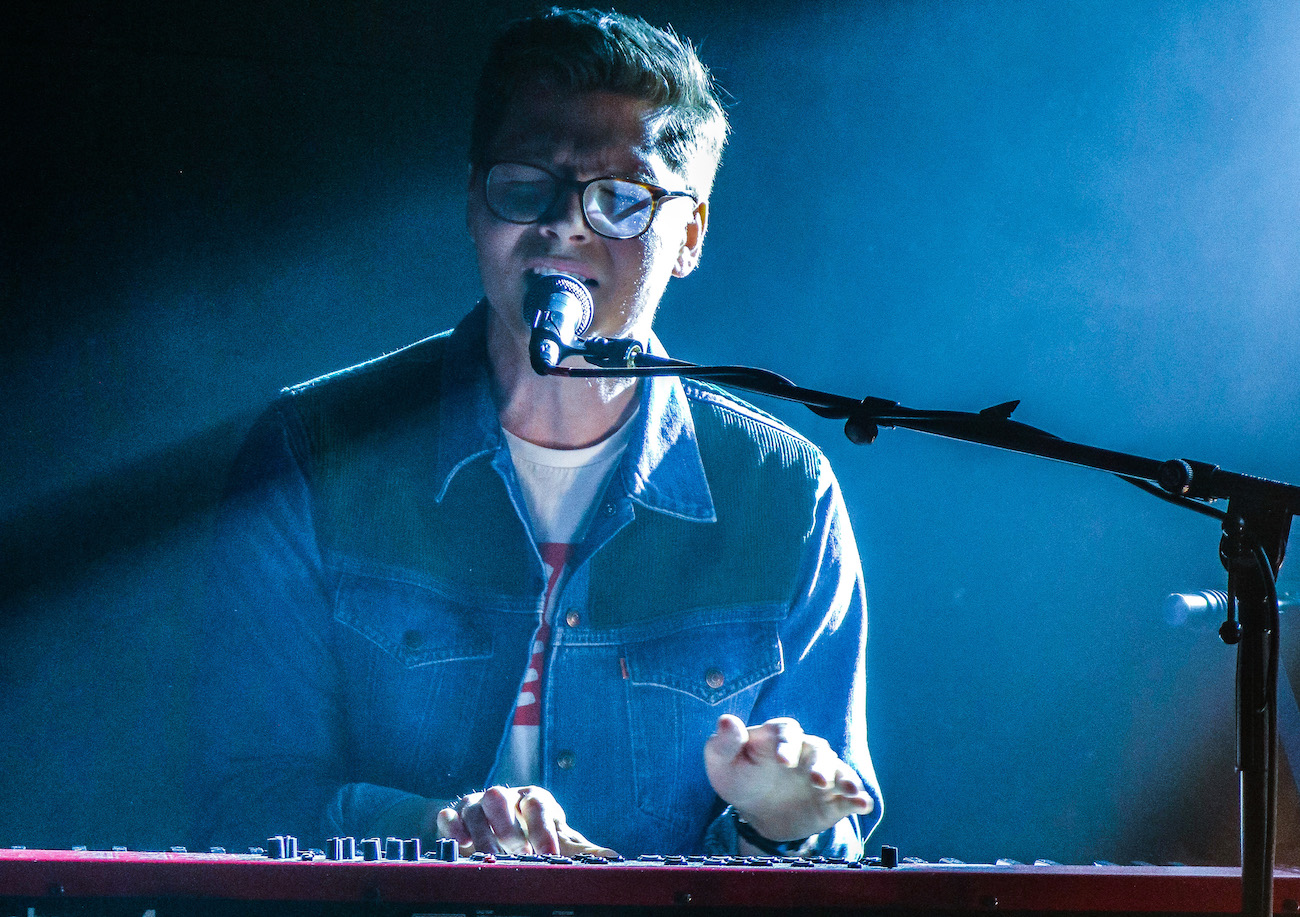 A CONVERSATION WITH KEVIN GARRETT
Atwood Magazine: Your debut album feels like it's been a long time coming; how does it feel to finally have Hoax out?
Kevin Garrett: It's a weight off of my shoulder. The record was like a very heavy thing in my life. It still is obviously but it's nice that I don't have to take as close care of it now that other people can, if they want to, and if they don't want to then it just exists, and I can now try and make new stuff.
What was the night of release like?
Garrett: The night before I was in my hometown of Pittsburgh and we did a little pop-up show. The sort of gathering afterwards was at this restaurant and I just had the people at the show come and eat, if they wanted to and I was sort there.
I remember my manager called me, while I was dealing with some other stuff, at midnight my time but he was in London, so it was like 5 AM his time, and he was just like congratulations it's done. And I like broke down. Like I couldn't keep it together and I cried alone in my car for 20 minutes, once he had hung up.
I don't know whether it was as much because of the album, or what you're going through or a combination of things, but this music definitely put me in a place where until it came out, it was a barrier and I'm glad I'm not the only one listening to it anymore.
My favourite song off of the album changes daily but I think "Love You Less" is my current favourite. What's the story behind that track?
Garrett: It's my favourite song on the album. You know, six days out of the week if you ask me that, I'll say that song and probably on the seventh day too. But I think out of all of them, it's the one to me personally that offers the most hope. It's about something very important and special to me. The goal for any of the songs is for you to listen to it and connect in your own way. But when people connect in a similar way to the way I connect to the music, it seems to be the most validating.
I love the line in that track - "You don't anyone, but I don't need anyone else," and it seems to connect with a lot of people. When you're writing do you ever get the sense that something is going to be especially resonate?
Garrett: That happens sometimes. Usually even before the song is being written, if I have sort of words in my head sometimes, they line up in a way that feels more resonant. With that line, and that song, I was singing to one person and, even when I'm singing now, I'm still doing that.
If I look top-down the lyrics and stuff, it's definitely a song where I think that kind of line and then some moments in each verse, I think, and even just the na-na-na section, feel resonant. Sometimes words just don't even need to be there. I think it's a universal song but, for me, it's still a very singular experience.
The album opens with "Warn" and ends with "Like We Used To." How did you decide to bookmark the album in this way?
Garrett: For the longest time, I've always wanted to open the record with Warn. Initially because of the first line ("it's been too long to keep hanging on now"), which is extensively where my head was at while I was remaking this album. There was like this unrelenting willingness to just get it done and I don't really like talking about the last song too much. But if there's any bookending sentiment to it, I think there's a point in "Like We Used To" where it talks about how we were both never warned and in the beginning day don't say I didn't warn you kind of gives the album, not necessarily me, if I'm treating that as its own entity, a pretty good circular sort of feel.
Going on from that, what was the track listing process like? Were the EP tracks never going to be on there?
Garrett: I never wanted to put out EPs in the first place. The first 12 songs that I released could have been their record and, to be honest with you, with the album that I just put out, a lot of songs were in the same folder as songs like Colouring, Refuse, Control and Precious.
I've had a whiteboard in my bedroom for years with the words Warn, Faith You Might, Running From and Title Track. Title Track was the first song I wrote for the album where I knew that this is what the album is, and I knew it was always going to be somewhere in the middle. I didn't want it to open or close the thing because I just felt with the bell curve that I wanted to articulate with the track listing, that needed to be at the peak. Sure there's like dynamic moments that get louder and softer than that, but that song fits the narrative the best.
Speaking of the EPs, you toured the EP's pretty heavily and you're about to tour America again with the album, how does it feel different?
Garrett: I feel like people think I died but it's really like kind of unexpected because I've put something out every year since I started putting stuff out. Even in the year, last year, that I took off I put the first song from the record, In Case I Don't Feel, out. It was the type where I think on both sides of the glass, in terms of the listener and the industry, people were kind of like oh what's this? And that's cool. It feels like I'm, not starting over, but just like kind of re-introducing everything and getting the gears turning again.
I think it's helpful and a blessing in disguise in a way because the album, sonically, has a lot of different elements than some of my older stuff. But at the same time, the common threads are still there. So it's very connected but I wanted this album to be its own thing for so long that there was never any intention of putting any of the old songs on. Getting through it, I knew it was going to be a struggle from a listening perspective, but we went into the studio with thirteen songs and we recorded all thirteen.
On the EPs you worked with a few different producers but on the album, you just worked with Brad Cook. Was working with just one producer on the album always something you felt necessary?
Garrett: Working with Brad Cook was a really healthy challenge, in a good way. Like challenge isn't a bad word. I think we got the best out of each other, which was a learning experience for both of us because in the past, I worked with some of my friends and some other producers just a song by song or I haven't worked with anyone.
It was a type of thing where we would be in the studio and it's a matter of trusting yourself enough to trust another person, with your child basically. Part of the challenge for me was letting go of certain things in demos that I'd been listening to the same way for five or six years, for some of those songs.
A song like Telescopes, which is 14 years old, and over time I'd been listening to it in 10 or 11 different ways. The way I first wrote it sounded like a singer-songwriter, shuffley kind of song and then the next demo was more like hip-hop. Then the next demo was like, sort of back into that singer-songwriter. Then we ended up with this very cinematic sound, which is, kind of, a theme for like the whole record.
You wrote the songs quite a long time ago but there's an intimate universality and relatability to them. Was it a challenge to make them sort feel fresh and how's it performing them with the perspective granted by time?
Garrett: To be honest, if I'm being totally upfront, the songs have lived with me for long, but I've been working on them in different capacities for so long that every iteration of each kind of put new air into everything. But definitely, when we picked the thirteen and went into the studio and started recording them, like properly from the ground up, that was a rejuvenating feeling, almost to a fault. Because, you know, I'm at the point now where, we'll see what happens at the show tonight and on tour, but there are some songs I can't play.
There's a song where we were in a meeting like pitching music for things, and we played one of the songs and I like broke down listening to it. It's circumstantial, obviously, because, you know, stuff happens but up until that point, it was a song that just had on my computer and I was like this is going to go on the album. And I was like chill about it because it was about something that happened a while ago.
I guess, long story short, I'm glad again that I'm not the only one that needs to listen to, and it'll be very helpful going on tour to express these songs in that I feel them now. A way I've never really felt them before, to see how people respond and how I respond.
"In Case I Don't Feel" was the first track you dropped, what was it about the track that made you know you wanted it to be first?
Garrett: There were two songs that we were torn between, Faith You Might and In Case I Don't Feel. I'm always on the side of like go darker. So I was like, this song is massive, it's five minutes long and it's tremendously sad and it's what I'm feeling right now, let's do this. Everyone was all about it.
There was no real rhyme or reason behind it other than that. I just liked that song at that time and the way we were mixing it, like all the strings and what my buddy Ross was doing on the Wurlitzer and everything that Michael Patterson was doing with the mix. It was just the song that made the most sense.
Hoax is much bigger than just one song, there's a message that's bigger than that. When you're recording and writing, do you do it with your audience in mind?
Garrett: When I'm writing a song, for myself, it's always been a very personal thing. Like with Love You Less and every song that I write is pointed at a very specific thing, not necessarily a person, but it's a one on one. Respectfully, with the audience, I can't visualize that in my head when I'm making something because I'm so geared into what I'm trying to express for myself.
The writing part of the song, and I think some other songwriters would agree, is specifically for you and the reason you release something is for everyone else. That's kind of like the adage, I guess, it's not for me anymore once it comes out. It's for whoever you want it to be for. It's very personal going in and very outward once it comes out.
"Running From" sounds sort sonically dissimilar to the rest of the album, what was the creative process for that?
Garrett: My friend who has drummed for me for a number of years is also a very talented producer and he sent me a beat that I kind of chopped up and made into like a more structured form. It's the only song on the record that was written that way, but his hard drive crashed, so we were never able to get the samples. So when I went into the studio with Brad, we kind of like repurposed it to sort of approach the line of everything else. It's definitely the brightest moment on the album, in terms of sonics. I think you can hear the most air on that one and it's the fastest, for better or worse. Hoax isn't a very high tempo album; it's definitely made to be listened to in the dark when you're trying to get through something.
"Running From" and "Just Because" are the two songs I wanted to keep in a different sort of world, and I wasn't necessarily able to do that because it would have been at the expense of the connectivity of the album so there were some compromises made on that. I think we managed to hit a really nice sort of middle ground with them, there are some cool Saxophone moments in "Running From", and it's the beat that kind of takes over in that song.
You said you had the concept of Hoax for a long time, how did that concept evolve and originate?
Garrett: I think it was 2012 or 2013 when I knew the album was called Hoax, I'd written "Title Track." Okay, so, the song I wrote for Beyoncé on her Lemonade album, I'd written in 2013 and that same night I'd written Title Track and another song that's not out yet, but I'm obsessed with, it's probably going to be on the next thing. It was a really prolific night for me, I don't typically write that much in one sitting but I must have had a lot of my mind.
With Hoax, I guess that sort of same period, I was starting to delve into the idea of singing to yourself. You can listen to the album and it's true that stuff happened to me that caused me to go through these things, but I think the real sign of growth in somebody is when you can look inward, instead of pointing the finger. Just, sort of, look yourself in the mirror and say, how did we get here?
I guess it's hybridization of the conversation of like self-love and everything but, you know, I'm perpetually sad and this sort of idea that you're singing to yourself is a very personal form of expression and self-awareness but the trick of it all is that the writing is very much geared at specific moments or specific feelings so that I'm still kind of pointing somewhere.
It's all meant to be received as a kind of like a self-analysis and my goal is, like with any other music I've put because that's kind of been my mantra, is how does this music affect you? Not how this music affects the way you think about something or someone else? That's how I listen to songs because you're the only thing you can really take care of.
The other meaning of it, because of the obvious subject matter of the record, I was writing the word Hoax out and messed up the x and it looked in the middle of the X there was a heart symbol so that sort of spelt itself out to stand for a hell of a heartbreak.
I think I'm going to keep making music, especially since there are songs that I still have from that original sort of era that I love that I want to on again, I'm going to keep working from that mindset for anything, the next project or album or whatever it is while just trying to be more honest with yourself and that translates to being honest with everyone around you.
— —
— — — —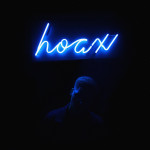 ? © Shervin Lainez
Hoax
an album by Kevin Garrett
---