When shit hits the fan, it's nice to know you'll have someone standing there beside you, still smiling in the midst of it all.
There are times in everyone's life that challenge him or her, mentally, physically, or emotionally. Every situation one faces is different, and there is not a set way to deal with it. There is not an online tutorial on YouTube, a 'how-to' guide, or a '10 Steps to Get Through' article either. This is what makes these challenges so difficult. Individuals have to find it in themselves to either make a situation better, or learn how to survive it.
There is a saying that only you can fix what is going on, or the only way to get through a hardship is by yourself. What if that isn't true? What if there is someone that inspires you to push through? The question comes at a time of self-fulfillment in today's society. The whole idea that you are born alone and you die alone is a popular way to reject feelings and come to terms with being independent. Tyler Sjöström's new single, "Holding On," is a description of the opposite, about having someone that makes life worth living, and having a shoulder to lean on.
Listen: "Holding On" – Tyler Sjöström
[soundcloud url="https://api.soundcloud.com/tracks/313689956?secret_token=s-IENz1″ params="color=ff5500&auto_play=true&hide_related=false&show_comments=true&show_user=true&show_reposts=false" width="100%" height="150″ iframe="true" /]
---
Atwood Magazine is proud to be premiering "Holding On," the lead single off Tyler Sjöström's upcoming EP Bones, Hold Me Up (independently out May 26). Sjöström wrote "Holding On" at a time in his life when "everything seemed to be fading and falling apart," he recalls. There were health issues in his family as well as "personal and spiritual doubt and unrest, coupled with just a very poor outlook on life in general." It was a time where it seemed things could only get worse. Looking for something to help take the sting away, even if only for a moment, he found his anchor. "A singular person seemed to be a rock in a seemingly unsteady place," he says. He found someone he could lean on – someone who was stable in a life that never felt like it. "Holding on to her as a firm foundation is really what allowed that time, and really the time now, to be a survival story." Thus, "Holding On" was born.
Sjöström's lyrics have an air of desperation: Without this specific person, he would not survive. The song's lyrics give the listener an intimate glimpse into the struggles that Sjöström was experiencing at the time. They are extremely relatable: We all know the pain and difficulty of going through something alone. When you have a person who will shamelessly be there as a form of guidance and strength, you will do anything to 'hold on' to that person for as long as possible.
We find hope in the healing process through Sjöström's instrumental. With upbeat guitar strumming, Sjöström creates a sound that seemingly contrasts the hardships he writes about. It is a way for him to believe that there are greater, happier things ahead of him.
I don't wanna go numb
But that's exactly what I've done
I wanna stay young but I've grown old
I wanna fly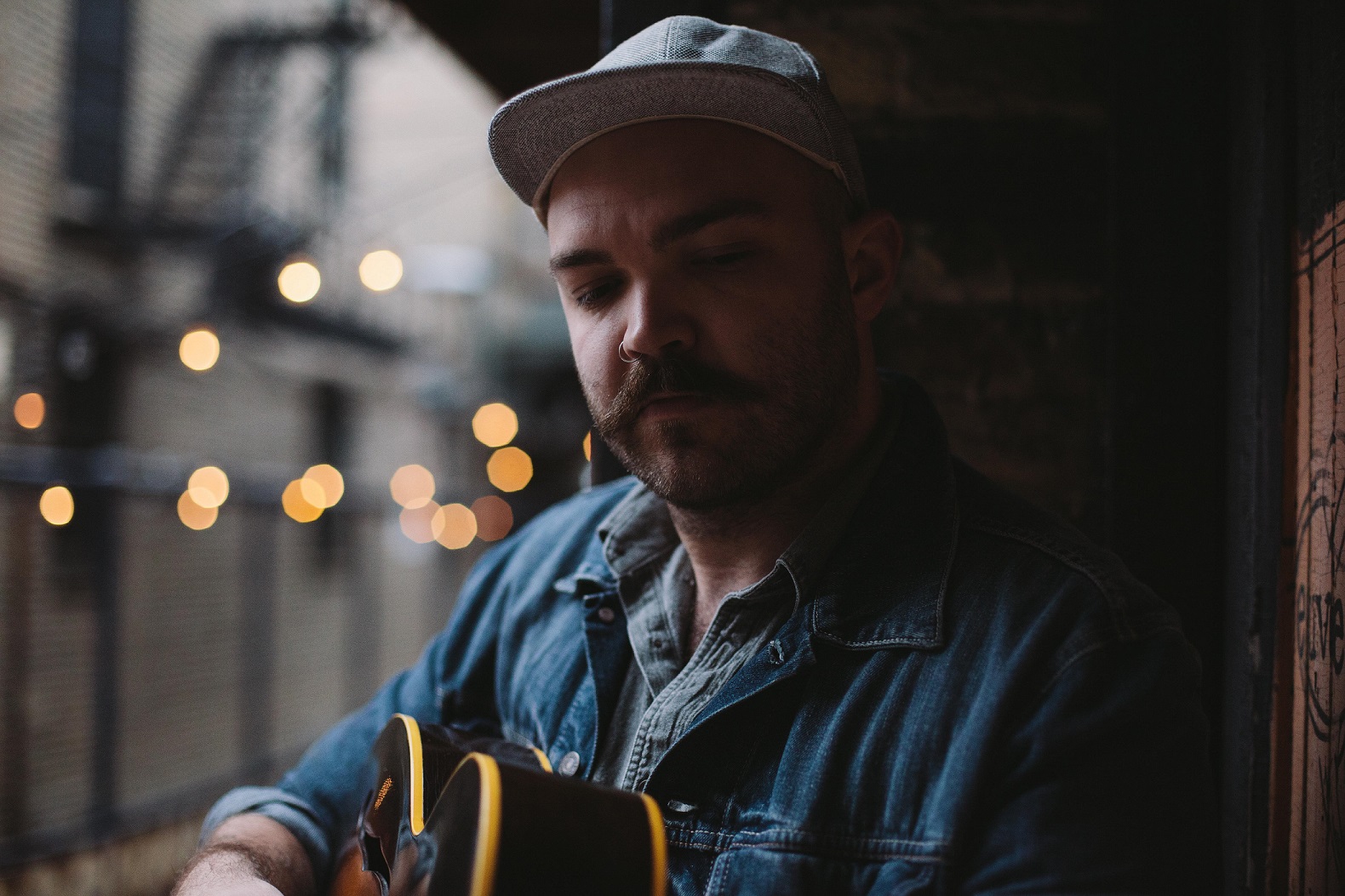 Through this song, Sjöström is able to throw his feelings into the wind and feel a bit better. "Holding On" is not only helping him, but it will also help anyone who is going through similarly tough times. Music is so cathartic: It truly is a form of recovery. Sjöström calls his song a "sort of a happy-go-lucky sounding tune, which is why the lyrical content, though somewhat dark and at times tragic, can be re-imagined as a normal Jane/Joe trying to put a happy face on what is often a difficult life. [It's about] getting by with that one person who cares enough to be that constant steadiness." Emotions paired with beautiful backing music can reach out to millions, and "Holding On" has the potential to be one of those songs.
Fans can catch Tyler Sjöström's EP, Bones, Hold Me Up, out on May 26th.  This heartfelt, passionate release is available for pre-order on his website, tylersjostrom.com
— — — —
all photos © Megan Cody
:: Listen to More from Tyler Sjöström ::
[soundcloud url="https://api.soundcloud.com/users/14347785″ params="color=ff5500&auto_play=false&hide_related=false&show_comments=true&show_user=true&show_reposts=false" width="100%" height="450″ iframe="true" /]