Summer comes with a lot of different excitements: sunny weather, a nice tan, and euphoric new music. Radio stations love to dub a recently released song as the "Song of the Summer." Bands write their songs just so they can be featured on the best hits of the summer playlist when the weather turns colder. "Feeling," the latest release from Nashville-based Atwood favorite COIN's new album How Will You Know If You Never Try, makes a strong case for the Song of the Summer title.
Well of course you're gonna call out my name
And watch my heart crawl up your sleeve
I let go and loosen my grip
From your fingertips
And quietly collapse into the pavement
Listen: "Feeling" – COIN
[youtube=https://youtu.be/YBBxQDxHt1E?t=0s]
---
"Feeling" combines everything that a beach-dweller could ever dream of. The dreamy guitar strings paired with the catchy percussion beats create a sound that keeps the listener begging for more, even after the last note is played. COIN expertly mash up the beach vibe with their musicianship, just like they do best. There are definitely many aspects of this song that are reminiscent to songs from their self-titled debut album, however, "Feeling" contains a bit more of a rock sound: Written primarily by the band's drummer Ryan Winnen, it is a departure from their synth-pop base, but not by much. The single gives fans a peak into what the band is capable of. COIN prove that they have many different sides to them, while still maintaining their unique spark.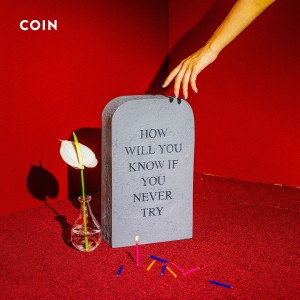 "This song was so instant and so real to me," describes lead singer Chase Lawrence. "It was a departure for us and very difficult to finish; but soon, Ryan's GarageBand demo would become our next single. We even kept his original vocal. Trying stuff is great."
This song is perfect for summer not only because of the instrumentals, but also because of the lyrics. COIN write about the feeling of moving on from a relationship, or really just a crush. "Feeling" is a song where the main character realizes he just isn't into the other person; they walk away and leave their feelings in the past. This is ideal for summer, since it is the start of a new season with new opportunities. Listeners can take a hint from "Feeling," whether it be leaving a semester in the past, a relationship, or just the rain and cold from spring. Last year, Atwood Magazine wrote that COIN's single "Talk Too Much" "captures that free-spirited nature of the summer." How fitting that a year later, we would say it again.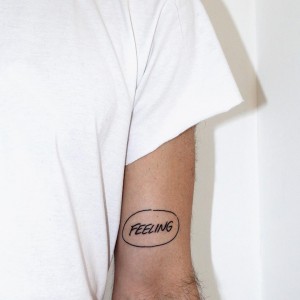 Winnen calls "Feeling" an example of creativity with limited resources: "I scribbled this sentence, along with 'trying stuff is great' into one of those tiny, wildly overpriced notebooks at 1:19am on July 15th of last year. With little know-how, it was my first real try at songwriting. Oblivious to what I'd created, I sent my work in progress to Chase."
COIN's highly anticipated sophomore album How Will You Know If You Never Try (abbreviated HWYKIYNT) is out April 21 on Columbia Records. This recently released single, "Feeling," is a great indicator of what this album will sound like. COIN take a little departure from the synth-driven beats, adding a hint more percussion and hard-hitting sounds. COIN have grown in the months since their 2015 debut, and the music sounds more confident and comfortable – more themselves. Coming into their own as a band is obvious when listening to these new tracks. "Feeling" will propel COIN into indie-pop royalty and be on summer playlists nationwide.
— — — —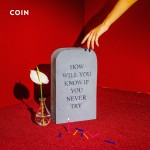 COIN © Zachary Gray
:: Read More COIN ::