Why Bonnie's Blair Howerton dives into the raw depths and inner reckonings of the "shoegazeicana" band's debut album '90 in November,' an intensely intimate and visceral coming-of-age journey through life's defining memories and little moments.
for fans of Phoebe Bridgers, Julien Baker, Laura Stevenson
Stream: "90 in November" – Why Bonnie
---
I can feel my heart setting a fire so big, it'd burn the city in the blink of an eye; we cleared away all of the rubble, above us there's a clear blue sky…
Why Bonnie's debut album opens in a sludge of raw, visceral feedback and unkempt, heavy energy, and ends in the throes of a sweetly seductive daydream. On paper, these two worlds appear separate and distinct, yet over the course of ten songs and thirty-three minutes, the New York by-way-of Texas indie rock band teach us how dark and light, heavy and soft, Texan and Brooklyn can, in fact, be one: Chaos and calm coalesce on 90 in November, an intensely intimate and visceral journey through memories and moments: The spaces and places, past and present, that define our identities and determine the course of our ephemeral and often unstable existence.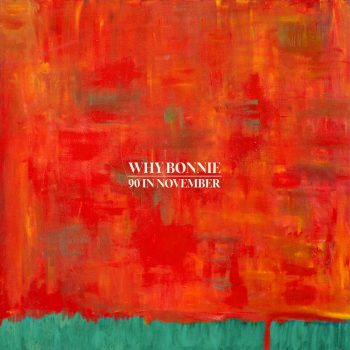 Candyland beaches, water too salty to swim
Passed all of the dancehalls and dive-ins
Looks just the same as it did back then
But we lost the pier to hurricane season
I remember how the clouds used to chase
The east Texas sunrise, making the face
Of a little fat baby just standing in place
Crying for the last time and on with the day
When I try to remember it, I can't
It's slipping like quicksand
When I try to remember it, I can't
It's slipping through my hand
– "Galveston," Why Bonnie
Released August 19, 2022 via Keeled Scales, 90 in November is a stunning record of inner reckoning, unpolished introspection, and acceptance. Arriving two years after Why Bonnie's well-received sophomore EP Voice Box, the band's first full-length effort sees the recent New York transplants diving even deeper into the "shoegazeicana" sound they first developed down in the great plains of Austin. Once the bedroom project of singer/songwriter Blair Howerton, Why Bonnie is today a dazzling five-piece with Sam Houdek on guitar, Kendall Powell on keys, Chance Williams on bass, and Josh Malett on drums.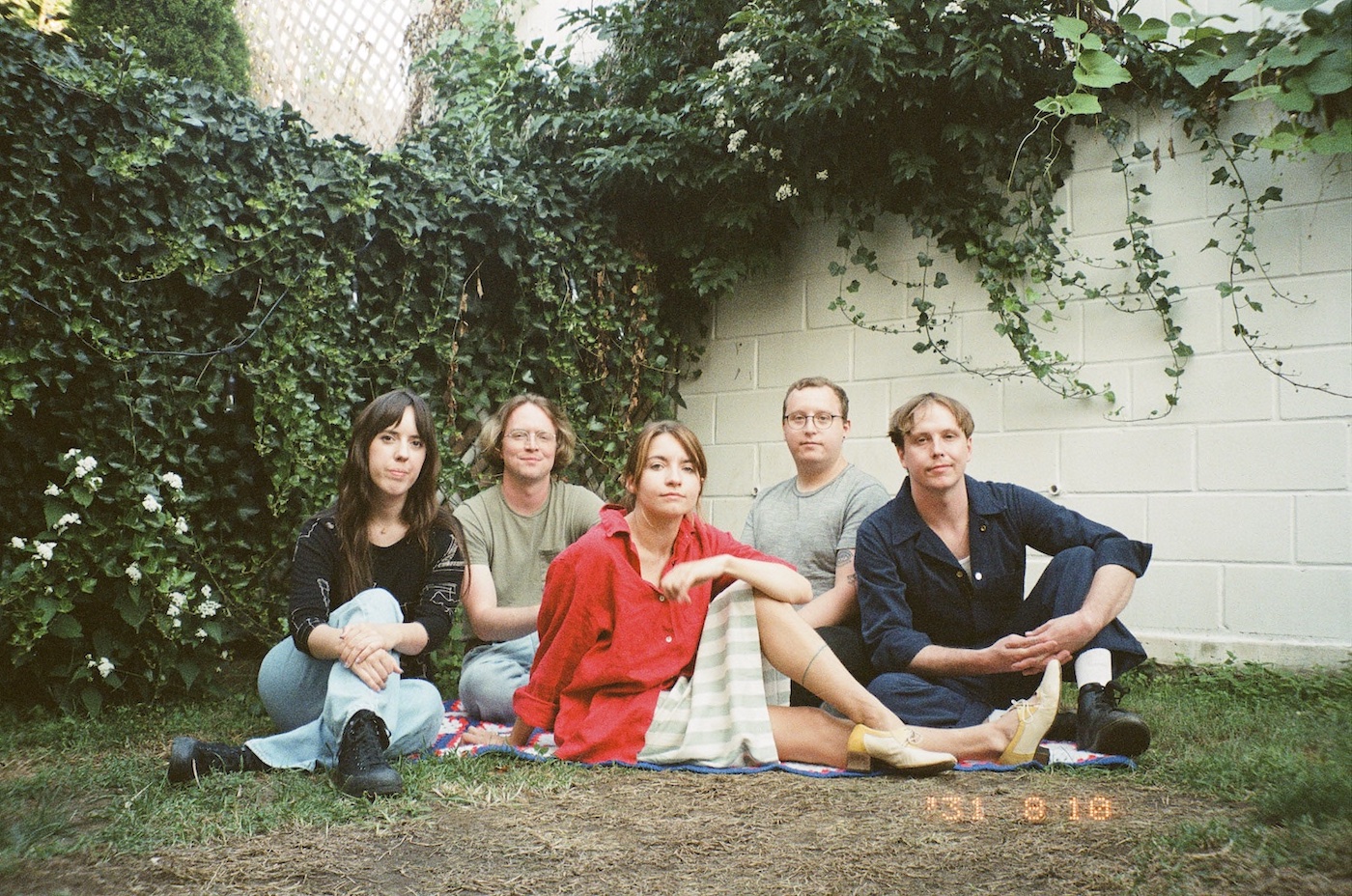 Still, there is no denying Howerton's place as the driving force of this driving force. She wrote most of this record during the early parts of the COVID-19 pandemic while sequestered to her Brooklyn apartment, which she had just moved into the previous August.  "I had moved to Brooklyn only five months before [lockdowns started], and found myself missing the wide open spaces of Texas," she tells Atwood Magazine. "The nostalgia led me to meditate on my relationship to the past and how those experiences informed my strange and unfamiliar present.
For Howerton, 90 in November is about "coming to terms with your past to accept all of the sweet and all of the bitter," a theme that crops up time and again as her dusty, soft, and emotionally charged vocals relive old memories, meticulously building these vast and vivid scenes from the ground up, only to poetically pick them apart piece by piece. "I didn't know what I was looking for until I wasn't even looking anymore," Howerton sings on "Sharp Turn," a song about life's unexpected pleasant outcomes. "…I was wrong when I thought that I needed something else, guess I was wrong when I thought that I knew myself. And it's only human to wonder where you're going; I'm cashing in all the time I would've spent just waiting for you to call."
---
There's an innate ache to Howerton's vocals that resonates throughout 90 in November, resulting in an emotionally complex record that is as musically intoxicating as it is lyrically captivating.
"A lot of the sounds are inspired by music that reminds me of home and childhood," she says. "Artists like Sheryl Crow and The Lemonheads were big influences. Going into the studio, we wanted to steer away from the gauzy tones of our prior releases and go for a more raw sound. We wanted to showcase our warmth and levity in these songs. A lot of thought went into finding that delicate balance between having nostalgic melodies while still keeping it fresh and true to our personal styles of playing."
Having established that this record "feels like home" to her, Howerton further explains how the album's title is an explicit tribute to her world within the Lone Star State. "90 in November is a reference to the intense heat of Texas and the average speed on a Texan highway," she says. The song of the same name goes even further in exploring her past. "I wanted to capture the feeling of barreling through a Texas highway with the windows down. A lot of the lyrics [on that song] are snapshots of happy childhood memories that have shaped me throughout the years."
Nostalgia always hits with a flash of disjointed memories – like speeding down the highway or sweating in the Texas heat…
Memory is often a brittle, delicate thing, and Why Bonnie bolster that inherent fragility with tremendous sonic strength. From the aforementioned bluster and bustle of opener "Sailor Mouth" to the charming churn of "Nowhere, LA" and the smoldering heat of "Hot Car" and "Healthy," 90 in November leans into hard and heavy-hitting moments with ease and delight. Yet equally notable are this album's softer moments – both the breathtaking tenderness of tracks like "Superhero" and "Silsbee," and the unbridled sun-kissed reverie of its standout title track, "90 in November."
"Restlessness, homesickness, waywardness, and more fill the air as Why Bonnie weave a captivating, compelling indie rock daydream," I wrote of "90 in November" earlier this year, adding the track to Atwood Magazine's 66th Editor's Picks. "Between the sheer depth of their lyrics and the vibrance of their music, Why Bonnie ensure we'll be coming back for more… "90 in November" is a dreamy masterpiece."
Smoking like a sinner, buzzing like a bee
90 in November keeping up the speed
Pick up trucks are working to pick up the pace
Lonely times are louder in the Lone Star State
Technicolored sun, like when I was a kid
90 in November heating up the grid
Fast times of getting way too high
Cardboard cut out cowboy waving my goodbye
---
Another indisputable highlight is the album's enchanting finale "Superhero," a chorus-less three-minute long slow-burn that sees Howerton basking in love's intoxicating glow. Poetic lyrics and Howerton's rather naked vocal performance ensure listeners leave this album stunned and stirred: "I can feel my heart setting a fire so big it'd burn the city in the blink of an eye," she sings toward the song's end. "We cleared away all of the rubble; above us there's a clear blue sky. That's what loving you feels like." After an epoch of upheaval and inner turmoil, Why Bonnie leave us with a relaxed exhale in a moment of stillness and peace – or the closest they can come to peace.
Foot through the mirror
Thought I could walk right through
You make me feel like
I could do anything that I wanna do
Like I'm a superhero'
With an unbreakable body
And every comic book varlet
Can't hold a candle to me
I stretch out on the carpet
Cut my hand open
Some loose staples laughing at me
And stitches aren't an option
Check out this hot rod vigilante
She thinks she can fly
That's what loving you feels like
– "Superhero," Why Bonnie
---
All of these songs hold an incredibly special place in Howerton's heart. "'Sailor Mouth' is probably my favorite to play live because we lock into the groove in a really satisfying way," she reflects. "I also love the way 'Superhero' came together. I wrote it two days before getting into the studio and didn't think it'd even be on the album. One night after a long day of recording, I asked if I could jump in the booth and Sam started improvising on the electric guitar with a violin bow. It was a pretty magical moment. [As a lyricist,] I'm really proud of the lyrics on the song '90 In November.' It was fun to play with the imagery that Texas has to offer. Another personal favorite is "looks like the second coming's going the other way" in 'Lot's Wife.'"
Ultimately, "I hope people feel comforted by these songs," Howerton shares. "There's a lot of healing power in music, and I feel very lucky to have the chance to give that to people. Writing these songs was a really therapeutic way for me to process my past joys and pains, and I hope it does the same for others."
Morning never came
Stayed night time all day
I don't trust the clock anymore
Dog's on a killing spree
Got an itch for killing fleas
Thought I could wait around, but soon I'll have to leave
Stopped for a photograph of a moment in the sun
Looked like we had just won
You'll turn all to salt if you ever look back
Look out kid, it's getting late
We can come back another day
Looks like the second coming's going the other way
And to make it all worth it
I leave one hand in the sun
Just to play with the light
Just to play
– "Lot's Wife," Why Bonnie
90 in November has that indelible coming-of-age quality that blends the innocent splendor of youth with the heartache of young adulthood.
Through darkness and light, heavy-hitting bangers and soft serenades, the expansive Texan terrain and a more intimate Brooklyn isolation, Why Bonnie have created a singular cathartic collection that hits hard, burns bright, and never fails to leave us breathless and amazed. Whether you're in it for the may walks down memory lane, or simply curious to know what "shoegazeicana" sounds like, 90 in November is sure to go down as one of 2022's best debuts.  Experience the full record via our below stream, and peek inside Why Bonnie's 90 in November with Atwood Magazine as Blair Howerton goes track-by-track through the music and lyrics of the band's debut album!
— —
Stream: '90 in November' – Why Bonnie
:: Inside 90 in November ::
— —
Sailor Mouth
"Sailor Mouth" went through multiple iterations before it evolved into its final form. First it was a love song, then a song about self discovery, until ultimately becoming a combination of the two. We learn so much about ourselves through our relationships with others, and sometimes those lessons are tough but necessary.
Galveston
An ode to Galveston, Texas — the capital of ghosts and good memories. One of the most literal recollections of growing up in Southeast Texas, "Galveston" is a snapshot of an old childhood haunt. It's about going back to a place after so many years and being flooded with memories you thought you had lost.
Nowhere, LA
Nowhere, LA, as in Louisiana, is about looking back on a bygone relationship with more clarity than you had before. Sometimes it's easier to leave some things left unsaid so that you can move on and grow from the experience.
Hot Car
"Hot Car" is a collection of memories of driving through the warm Texas nights. I wasn't trying to tell a story as much as evoke the feeling of being alone with your thoughts while the world buzzes on around you. The subtle euphoria of being safe and warm in your solitude while you simply observe and keep driving.
Silsbee
While most of the songs on 90 In November have an element of movement, "Silsbee" is a sedentary reflection. I wrote the lyrics while we were recording the album in Silsbee, Texas after having a few minutes of stillness out in the cow fields. Whenever I get these quiet and blissful moments, I often think about my brother who passed away in 2016. I wonder if a part of him is living them with me. When you lose someone you love, they never truly leave you whether that be literally or metaphorically – depending on what you believe.
90 in November
I wanted to write a song that would bring others joy – something that could shake off the days worries. I also wanted to capture the feeling of barreling through a Texas highway with the windows down. A lot of the lyrics are snapshots of happy childhood memories that have shaped me throughout the years.
Healthy
Written in the darkest moments of the pandemic, this song captures the anxiety of going outside. It's about wrestling with agoraphobia while trying to remain hopeful.
Sharp Turn
"Sharp Turn" is about being pleasantly surprised by where life takes you. Things don't often go the way we plan but sometimes the outcome is so much sweeter. There's beauty in going off course and finding something new and exciting.
Lot's Wife
I was inspired by a story from the Old Testament about a woman who looks back on the city she's fleeing and turns to a pillar of salt. I've always felt that the story was an apt metaphor for nostalgia. Sometimes if you look back for too long you'll turn into something else and crumble. This was also the first song that was written and really set the tone and theme for the whole album.
Superhero
Written two days prior to recording, I wasn't even sure that this song would make it onto the album. We had finished recording for the day and I asked our producer if I could hop in the booth just to play around. While I was playing the song, Sam jumped in and started improvising. He then added the violin bow on an electric guitar which has this really cool cello like effect. At the end of the night, we had finished the song and never touched it again. We were able to capture an organic and honest moment and I think that magic really comes through on the recording.
— —
— — — —
? © Alec Castillo
:: Stream Why Bonnie ::
---