This year's rendition of Hinterland Music Festival in St. Charles, Iowa featured a diverse lineup including Bon Iver, Zach Bryan, Maggie Rogers, Noah Kahan, Joy Oladokun, and Wallows!
---
Held August 4th through the 6th in the roomy Avenue of the Saints Amphitheater in St. Charles, Iowa, this year's Hinterland was one to remember!
Muddy, sunny, and a lot of big names. All weekend long, the acts were stellar. Even though the weather wasn't the most cooperating, it made for a more memorable experience. Camping festivals are always the most fun, there's a camaraderie that can't be recreated anywhere else.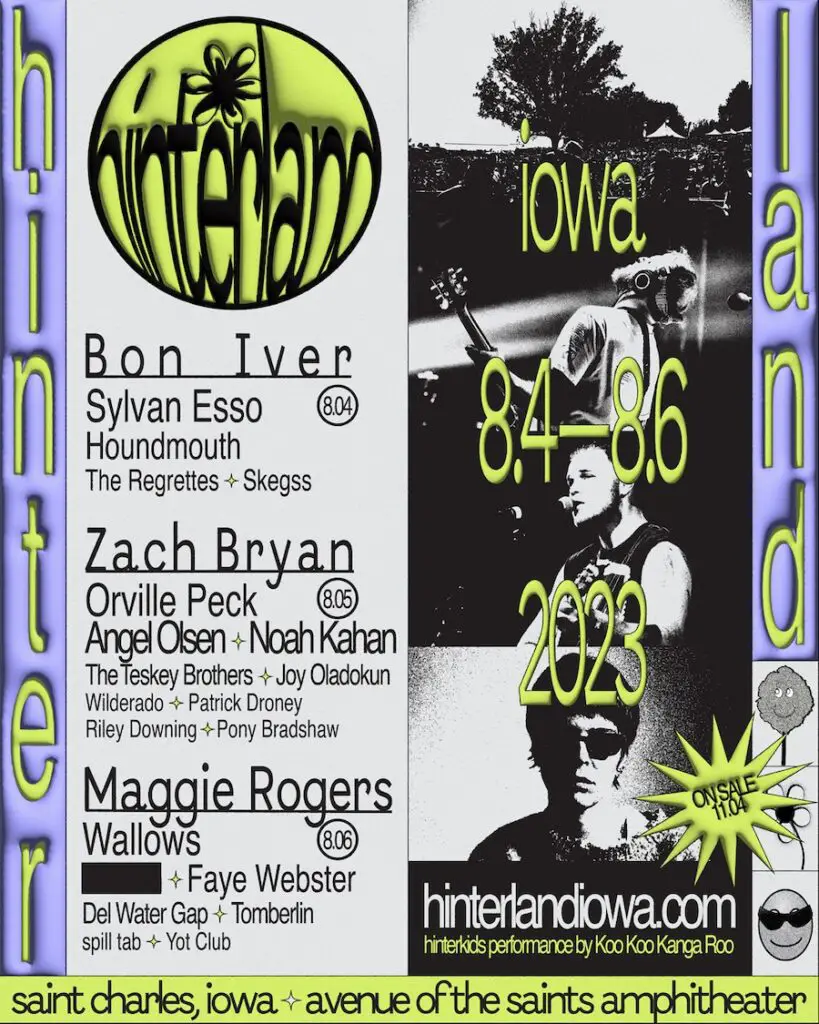 Friday showcased a lot of complimenting acts, ranging in style and genre.
Most notably: The Regrettes, Skeggs, Sylvan Esso, Houndmouth, and headliner Bon Iver.
The Regrettes are a fun indie-rock band to keep an eye out for. Their discography is long and tailored to different vibes. Sometimes you need to walk around in a sunny, care-free mood, and others you need to have a little kick in the ass to get out of bed. The Regrettes have you covered with both, and everything in between.
Skeggs is cool, they're an alt-psych-rock band made up of buddies having a lot of fun together. They jam out and have a great time when they play, simply a good time seeing them live. Fast paced and full of passion, these guys are fun.
Houndmouth is one of the best alt-rock (even a bit folk) bands out there. Their hit song, "Sedona", might be the perfect road trip song. They take you on a trip every time they play live. Some of their best, lesser known, songs include "Miracle Mile" and "Black Jaguar." Very different songs, and they are perfect examples of Houndmouth's range from folky-bluegrass to electric-rock.
Sylvan Esso has a unique synth-electro-pop kind of vibe. They make you feel comfortable with the subtle and soft voice of Amelia Meath, then they cannonball into a serious conversation. Their hit song, "Die Young," is a perfect case study with upbeat instrumentals and production, then they hit you with darker lyrics. To their credit, it works really well, and the song is so well put together.
---
Grammy-Award winning Bon Iver is one of the most unique and mythical bands of all time. Led by front man Justin Vernon, their live shows are always next level. Watching them manipulate such a unique sound through synths and sheer talent in a live setting is something that very few acts can do. Their live sets are other-wordly and a must see when in town.
Most notable on Saturday includes Richy Mitch and The Coal Miners, Wilderado, Joy Oladokun, Noah Kahan, and Zach Bryan.
Richy Mitch and The Coal Miners are a fantastic indie-folk band that is crafting unique tunes and creating a platform to lift others. They have a very easy-going sound to them, with flakes of depth and serious commentary. A great band to introduce people to the world of easy-strumming modern folk.
Wilderado always puts on a great live set. The indie-rockers are groovy and have a gift in their ability to paint a movie scene with their lyricism. Highly recommend Wilderado!
Joy Oladokun is one of those artists that takes the unspoken of the world and summarizes it into chorus and harmony. Her ability to narrate such emotionally powerful memories and feelings is her superpower, and she has been absolutely on the rise in the last couple of years, especially with her recent album, Proof of Life. 
Noah Kahan is the solidified leader in the world of folk music, with his masterpiece new album, Stick Season. Simply put, Kahan is a must watch any time he's in town. Just as 3 Michelin stars imply that a restaurant is worth traveling to a different country for, Kahan deserves the same categorization. His concerts are amazing and always worth the trip.
Zach Bryan focuses on the groove and melody, rather than the lyrics of mainstream country. He brings an entire generation of new fans into the genre by opening the door with deep guitar licks, and story-telling ability.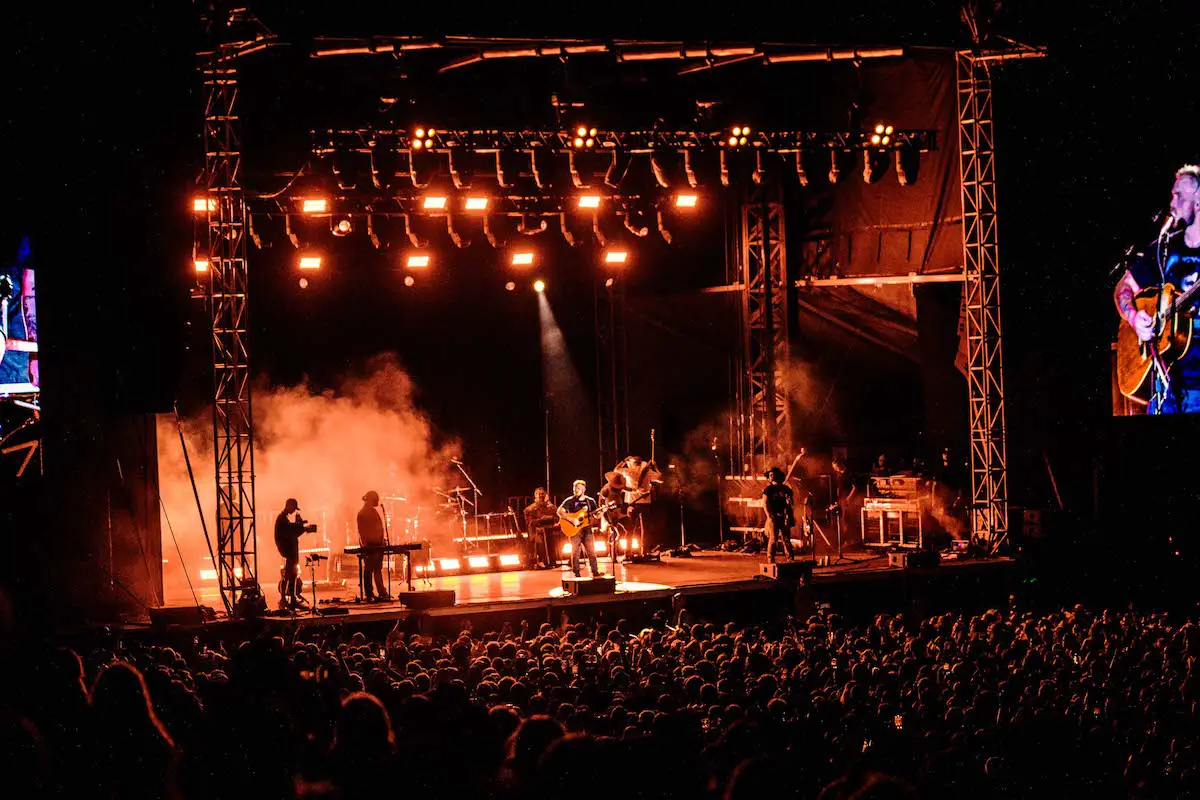 Our favorite acts on Sunday were: Del Water Gap, Faye Webster, Wallows, and Maggie Rogers.
Del Water Gap is a culmination of painful experiences, over varying musical styles. His songs are emotional and retrospective, but they are always backed by the prospect of hope and future looking. Worth a listen if you even need to look back with a foundation grounded in the present.
Faye Webster delivers emotionally charged lyrics in a dreamscape setting. She has as beautiful of a voice live as she does in the studio, a rarity in this world. Absolutely recommend listening to Faye Webster with a warm coffee by an open fire.
Wallows are as upbeat and fun as they come for alt-rock bands. Full of energy during live shows, and radiating positivity, the guys in Wallows have a magic to them. When we talk about the best of indie-storytelling, Wallows must be in the conversation.
Maggie Rogers closed out the weekend with a powerful expression of love and forward-looking. Backed by one of the most confident voices and writing pens in the music world, she has redefined the role of the singer-songwriter. Her voice will stop you in your tracks, and her wordplay will keep you coming back.
Hinterland 2023 was an amazing showcase of artists, and a cultivation of community and love for live music. It's a festival worth visiting for anyone in the Midwest!
— —
— — — —

 © Andrea Escobar
---