Hozier finds rapture in the rapture in his elegant sophomore album 'Wasteland, Baby!', an intense, irresistible dive into the depths of human emotion and experience.
— —
Love; death; hope; despair; creation; destruction; redemption: These massive themes have overwhelmed every generation, yet with all the chaos in our present time, every day has come to feel like the end of the days. It's like we're living in the end of the world, holding on for dear life as we juggle two ends of a volatile spectrum.
Hozier finds rapture in the rapture in his elegant sophomore album Wasteland, Baby!, an intense, irresistible dive into the depths of human emotion and experience. It's music for celebrating love, togetherness, and connection; for dwelling in the beauty of life's majesty and mystery. It's also music of isolation, separation, loss, and defeat; for accepting and seeing through darkness and hardship. Hozier manages to find clarity and balance whilst embracing polar opposites – finding inspiration in music while paying homage to his influences and heritage.
Through Wasteland, Baby!, Hozier delivers a raw, inspired sermon on modern life.
All the fear and the fire
of the end of the world
Happens each time a boy
falls in love with a girl
Happens great, happens sweet
Happily, I'm unfazed here, too
Wasteland, baby
I'm in love, I'm in love with you
– "Wasteland, Baby!," Hozier
Stream: 'Wasteland, Baby! – Hozier
---
Released March 1, 2019 via Rubyworks Records, Wasteland, Baby! is the long-awaited, highly-anticipated second album by Andrew Hozier-Byrne. Preceded last September by the four-track preview Nina Cried Power EP, Wasteland, Baby! comes four and a half long years after Hozier's self-titled debut and its world-shaking hit "Take Me to Church."
A welcome, exciting return from one of this generation's foremost musical voices, Wasteland, Baby! and its staggering fourteen tracks find Hozier embroiled in the turbulence and tumult of an existence on the brink.
Lyrical themes range from doom ("No Plan," "As It Was") and intimacy ("Movement," "Nobody") to honoring love ("Shrike") and facilitating ideological, political, and societal change ("Be").
Musically, Hozier has never sounded more sure of himself: Wasteland, Baby! expands upon the stirring blend of folk, blues, rock, R&B, and soul he established on his debut. The high moments are dynamic and explosive, sometimes built by guitar and big vocal harmonies, and other times built off strong keyboards and evocative choral chants. Hozier works up to for every release, defying pop edicts by developing songs and seeing them through – waiting patiently to reach the chorus, rather than jumping straight into the deep end. These crescendos are contrasted by calm moments of vulnerability and brooding serenity, where Hozier's Celtic roots and gentle acoustic guitar work shine.
Album opener "Nina Cried Power" (featuring Mavis Staples) is an anthem of hope for bleak times. Hozier's emphatic chorus rings out like a spark of light in the darkness as he and Staples sing:  "And I could cry power, power, power, Lord. Nina cried power, Billie cried power, Mavis cried power…" Hozier commemorates the movers and shakers who captured the zeitgeist of their time and, through music and activism, pushed the humanity in the right direction. As catchy as it is breathtakingly stunning, "Nina Cried Power" sets a high bar and a humbling tone.
---
Hozier's tribute to the past continues with "Almost (Sweet Music)," a cleverly-titled track littered with references to some of his favorite jazz songs. Speaking to an eager crowd at New York City's Gramercy Theater in late February, Hozier expressed "Almost (Sweet Music)" as "a song, I suppose, about what memory tends to do to our experience of music and vice versa – what music does to our experience of memory."
I came in from the outside
Burnt out from the joy ride
She likes to roll here in my ashes anyway
Played from the bedside
Is "Stella By Starlight"
"That Was My Heart"
The drums that start off "Night And Day"
The same kind of music haunts her bedroom
I'm almost me again, she's almost you
I wouldn't know where to start
"Sweet Music" playing "In The Dark"
Be still "My Foolish Heart, "
Don't ruin this on me
– "Almost (Sweet Music)," Hozier
---
From Ella Fitzgerald to Nat King Cole, Sam Cooke and John Coltrane, he celebrates those who came before him through subtle wordplay and sundry name-drops. "Almost (Sweet Music)" is also a touching testament to emotional attachment and the pain of moving on: Hozier sings like he's addressing a former paramour, describing some new sweetheart and the ways in which she reminds him of his ex. "I laugh like me again, she laughs like you." At once jovial and bittersweet, the song "Almost (Sweet Music)" speaks to the many sides and many faces of Wasteland, Baby!'s music.
Exactly how should one digest Hozier's sophomore album? While there is no one right way to hear a song (such is the beauty of art), there's a curious exclamation point in the album title that ought to inform our understanding of Hozier's music and its  easily overwhelming subject matter: Don't take everything too seriously. While the lyrics are not meant to deceive or mislead, Hozier's intent is more light-hearted and tender than his lyrics' gloomy, apocalyptic outlook. Let yourself loose! Dance  in the eye of a hurricane and scream into an empty, open space: Stare down the end of days with a declaration of love, as Hozier does in his sweetly lilting album closer "Wasteland, Baby!"
The title track truly says it all: "Wasteland, baby, I'm in love, I'm in love with you," Hozier sings softly, his voice delicate and no louder than a whisper. "I love too, that love soon might end; be known in its aching, shown in the shaking, lately of my wasteland, baby."
---
"Wasteland, Baby!" is a smile in the face of terror: A reminder, as Hozier lets go and bids farewell, that life can only be lived in the moment. Tomorrow may bring catastrophe, but we're alive and here today.
With this outlook in mind, one might go back through Wasteland, Baby! for a second listen to experience its tracks not as a push-and-pull between two juxtaposed positions (darkness and light, optimism and pessimism), but rather as an immersion in the fullness of each moment.
I couldn't utter my love when it counted
Ah, but I'm singing like a bird 'bout it now
And I couldn't whisper
when you needed it shouted
Ah, but I'm singing like a bird 'bout it now
Words hung above, but never would form
Like a cry at the final breath that is drawn
Remember me, love, when I'm reborn
As a shrike to your sharp and glorious thorn
– "Shrike," Hozier
In the outpouring "Shrike," there is submission to a higher cause and heartfelt surrender. In "To Noise Making (Sing)," there is that rush of warm, blissful euphoria we feel when we raise our voices and come together in song. In the foot-stomping good time "Would That I," we are blinded by the fire of new love and its fresh intimate connection. Wherever you look, Hozier is embedded not in this era or this "time in history," but rather, he's basking in the little things – capturing everything (the good, bad, and in-between) as it happens.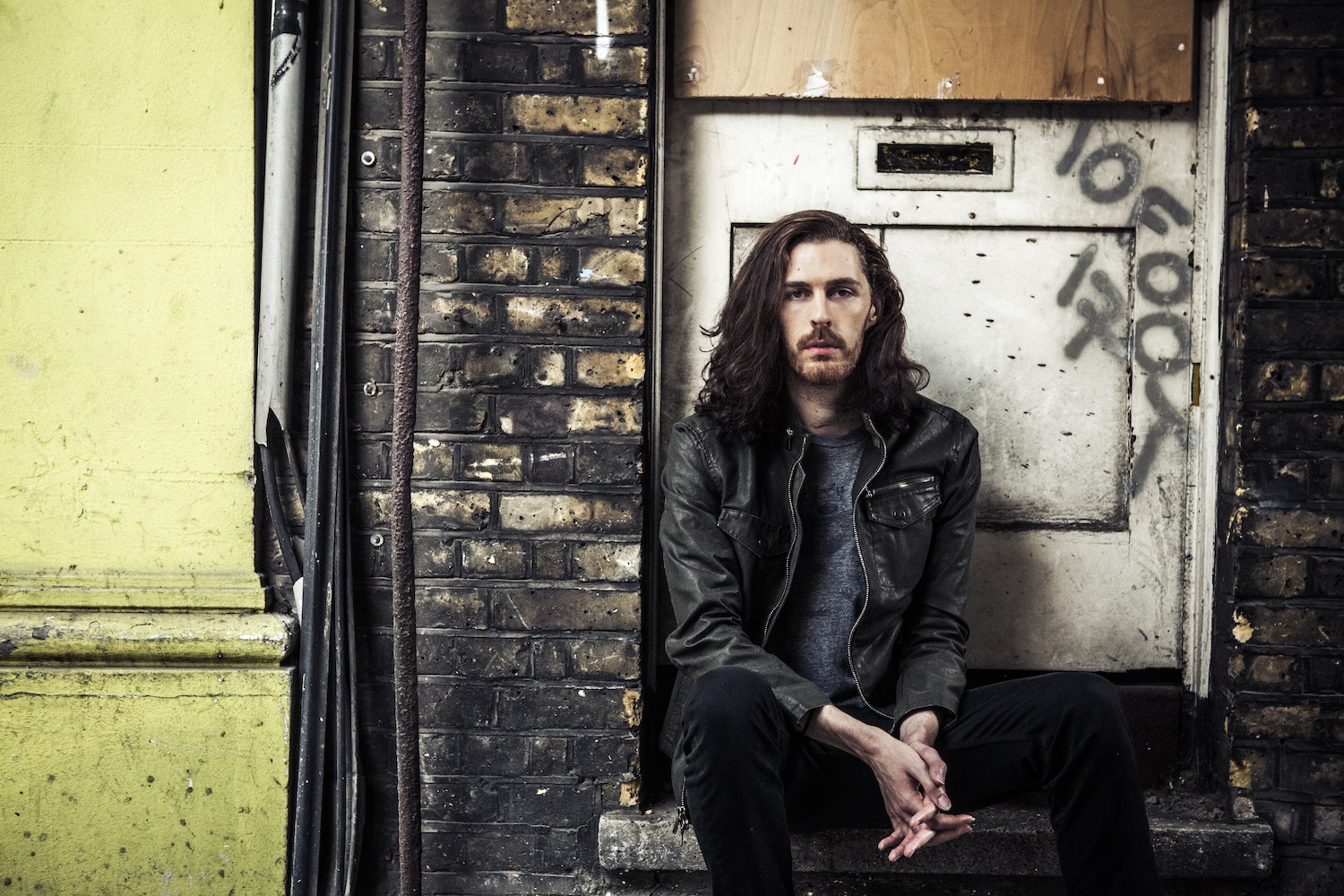 Thus, we see the album's cover art not as Hozier drowning in a bed of water, but rather as him soaking in life's immensity. A graceful, grandiose fourteen-track opus, Wasteland, Baby! is an incredible journey navigating the murky seas of daily life – a turbulent reckoning rife with moments of pleasure and pain, harmony and discord.
Wasteland, Baby! is a tempest: A glorious storm that will knock the wind out of us, and keep us coming back for more.
Back and better than ever, Hozier is here to guide us through trying and troubling times – whether we're living in the end of days, or just having a bad case of the Mondays.
Stream Wasteland, Baby! out now, and be sure to catch Hozier on tour throughout North America this year (dates below)!
— —
— — — —
📸 © Matthew Thompson
Wasteland, Baby!
an album by Hozier
---
THE WASTELAND, BABY! TOUR
** sold out
03/11 – Albany, NY – Palace Theatre**
03/13 – Baltimore, MD – Hippodrome Theatre**
03/14 – Norfolk, VA – Chrysler Hall**
03/16 – Raleigh, NC – Raleigh Memorial Auditorium**
03/17 – Charlotte, NC – Ovens Auditorium**
03/19 – Miami, FL – The Fillmore Miami Beach**
03/20 – Saint Petersburg, FL – Mahaffey Theater
03/21 – Orlando, FL – Walt Disney Theater**
03/23 – Atlanta, GA – Coca Cola Roxy Theatre**
03/24 – Nashville, TN – Grand Ole Opry House**
03/26 – Memphis, TN – Orpheum Theatre**
03/27 – New Orleans, LA – The Fillmore New Orleans**
03/29 – Dallas, TX – Southside Ballroom**
03/30 – Houston, TX – Revention Music Center**
03/31 – Austin, TX – ACL Live at the Moody Theater**
04/02 – Oklahoma City, OK – The Criterion
04/03 – Tulsa, OK – Brady Theater
04/05 – Denver, CO – Bellco Theatre**
04/06 – Salt Lake City, UT – The Union Event Center**
04/07 – Las Vegas, NV – The Pearl (Las Vegas)
04/09 – Los Angeles, CA – Hollywood Forever Cemetery**
04/10 – Santa Barbara, CA – Arlington Theatre**
04/12 – Reno, NV – Grand Sierra Resort & Casino**
04/13 – Boise, ID – Knitting Factory Concert House**
04/14 – Spokane, WA – First Interstate Center for the Arts**
05/19 – Gulf Shores, AL – Hangout Music Festival –
05/21 – Jacksonville, FL – Moran Theater
05/22 – Columbia, SC – Township Auditorium
05/23 – Richmond, VA – Altria Theater
05/25 – Boston, MA – Boston Calling
05/26 – Pittsburgh, PA – Benedum Center for the Performing Arts**
05/28 – Detroit, MI – The Fillmore Detroit**
05/29 – Grand Rapids, MI – 20 Monroe Live**
05/30 – Milwaukee, WI – Eagles Ballroom
06/01 – Madison, WI – The Sylvee**
06/02 – Minneapolis, MN – State Theatre**
06/04 – Kansas City, MO – Arvest Bank Theatre at The Midland**
06/06 – St. Louis, MO – Stifel Theatre (Saint Louis)**
06/07 – Cincinnati, OH – Taft Theatre**
06/08 – Russell Township, OH – LaureLive Music Festival
06/10 – Indianapolis, IN – Old National Centre – Murat Theatre**
06/11 – Fort Wayne, IN – Clyde Theatre
06/13 – Louisville, KY – Iroquois Amphitheater**
06/15 – Manchester, TN – Bonnaroo Music & Arts Festival
08/02 – St. Charles, IA – Hinterland Music Festival
10/17 – Portland, OR – Rose Garden Theater of the Clouds
10/18 – Vancouver, BC – Doug Mitchell Thunderbird Sports Centre
10/19 – Seattle, WA – WaMu Theater at CenturyLink Field Events Center
10/21 – Sacramento, CA – Memorial Auditorium
10/24 – Santa Barbara, CA – Santa Barbara Bowl
10/25 – Los Angeles, CA – Greek Theatre
10/26 – San Diego, CA – Cal Coast Credit Union Open Air Theatre
10/29 – Phoenix, AZ – Comerica Theatre
10/30 – Albuquerque, NM – Kiva Auditorium
10/31 – El Paso, TX – Abraham Chavez Theatre
11/21 – New York, NY – Hammerstein Ballroom**
11/22 – New York, NY – Hammerstein Ballroom**
11/23 – New York, NY – Hammerstein Ballroom**
11/25 – New York, NY – Hammerstein Ballroom
11/26 – New York, NY – Hammerstein Ballroom