Jazz Morley's "Parallel World" narrates the untold side of a love triangle from the perspective of the mistress, focusing on the struggles of being in that turbulent position.
Stream: "Parallel World" – Jazz Morley
---
Infidelity within a relationship is a no-win situation for all the parties involved. However, stories about dishonesty and unfaithfulness usually focus in the main victim, the person who gets betrayed, but there are two other people involved who are not in the most ideal position either. Being 'the other woman' is not easy: you don't choose who you fall in love with, or what their current status is. The 'other woman' gets led down a path of guilt, insecurity, unfulfillment, uncertainty, with nothing to hold on to. Singer/songwriter Jazz Morley encapsulates all those feelings in ardent new single "Parallel World," telling us the lesser known side of the story.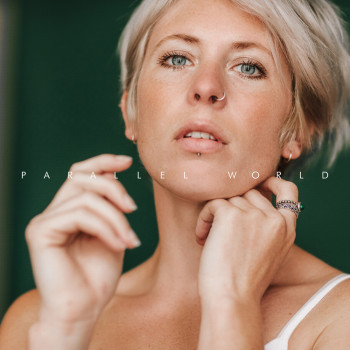 "Parallel World" is the first single taken from Jazz Morley's forthcoming EP of the same name. The track continues to showcase Morley's ability to create gripping ballads reminiscent of the likes of Adele, Alicia Keys or Jessie Ware. With substantial touring experience under her belt, Morley grew her fanbase through gigging before releasing her breakthrough singles 'Bad Love' and 'Take Me Down', a result of her collaboration with Lapsley's producer Draper.
"'Parallel World' is a song about infatuation. Being the 'other woman' is a tumultuous position to be in; desperately trying to prove yourself to the love interest in order to convince them you are the right option, whilst also battling with a compromised conscience and an aching heart. It's a song about vulnerability, but also power; the power of determination and the power of love", says Morley about the song.
The production on the track gives the listener the sensation of being the single recipient of Morley's confessions about an illegitimate love story, with the vocals sitting at the front, raw audible breaths and a transparent piano that allows the lyrics to resonate and constitute the essence of the piece.
Far from being a song about defeat, "Parallel World" serves as an opportunity for Morley to restate her value and strength as a woman. As the story unfolds, we see Morley developing from being in the vulnerable position of being at someone's disposal, to gaining the upper hand and realising her worth as person.
But I'm warning you baby
I won't be down for long
I never lose my battles; I'm far too strong
And eventually baby, I'm gonna
show you this is real
I'm not afraid to raise my voice
and tell you how I feel
 "This song is hugely important to me. I wrote it nearly 10 years ago, when I first started using songwriting as a kind of self-healing process. I was infatuated with a man who told me he wanted to be with me but was also in a relationship. He would pick me up, inviting me into a state of euphoria and then throw me away at a moment's notice. The song just came flooding out of me while I was living in my little room at the YMCA while I was at music college. It felt amazing, and utterly terrible, all at the same time. It's when I really realised that songwriting was a painful, but hugely cathartic process and when I first accepted that being an acutely emotional person chasing her wildest of dreams might not all be bad. I knew there would always be something to write about, and that felt powerful," explains the artist.
In "Parallel World," Morley discloses her personal experience of being the 'other woman', the forgotten one. She sings about the compromises she makes to cope with the secrecy, the feeling of being enchanted by someone's lies and broken promises, as well as being in the disjunctive of having to put herself first and let go of a situation that is leading her down a dead-end road.
'Cause even though you say
That I'm your perfect woman
You also say that you can't leave your girl
And even though you say
That you're happy with your woman
You'd love me in a parallel world
History is told by the winners, but in this instance, Morley tells the tale of the forgotten ones, she gives the collateral victims a voice. This results in a shameless account of what it is like to be the mistress, who has a name and a story to tell too, but has to hide in the shadows because of moral implications. Unusually sincere and touching, Morley gives the listener a piece of herself in "Parallel World," which you can now stream exclusively on Atwood Magazine!
Stream: "Parallel World" – Jazz Morley
— —

? © Jazz Morley 2019
:: Jazz Morley ::