Glowing with inner strength and self-love, WILSN's "Fight Like a Girl" is an impassioned positive female anthem ready to be felt and heard the world over.
You're not alone. Your experiences are valid. You are worthy.
Australia's WILSN has a strong message for women everywhere: Fight! Own your body, your identity, your mind, and your soul; embrace everything that makes you, you; and most importantly, never let anyone else tell you how to live your best life.
Glowing with inner strength and self-love, WILSN's new song "Fight Like a Girl" is an impassioned positive female anthem ready to be felt and heard the world over.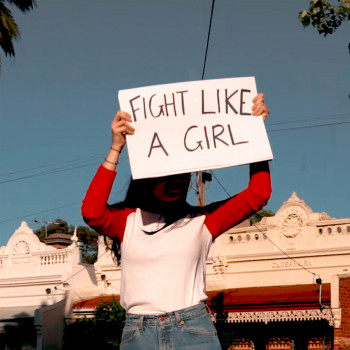 You can knock me down
but I know I will stand back up
You can tell me what I can't do,
but you know imma call your bluff
I don't care what you think I need
I'll never be what you want me to be
Atwood Magazine is proud to be premiering "Fight Like a Girl," the third single off WILSN's forthcoming sophomore EP, Self Titled (out June 2019). Active since 2015, Melbourne-based singer/songwriter WILSN has always been a fighter: Her debut EP Don't Give Up introduced her dynamic resolve with emotive, self-aware lyrics channeled through an alluring blend of rock, blues, and soul.
It's been a slow and steady climb ever since, and 2019 now finds WILSN poised to break into the mainstream. Last month's gospel-tinged single "Home" reintroduced the talented artist with dynamic fervor, finding her as activated as ever and immersed in an enriching wash of vivid, breathtaking harmonies. In retrospect, "Home" is truly a perfect lead-in to "Fight Like a Girl" (and its  outstanding acronym, FLAG): Out on all platforms May 3, WILSN's newest song provides a further escalation of that raw, organic energy she has spent so much time cultivating over these past five years. Inspired by her own experiences as well as an endless slew of stories, "Fight Like a Girl" rises out of intimate depths to become WILSN's biggest showstopper yet.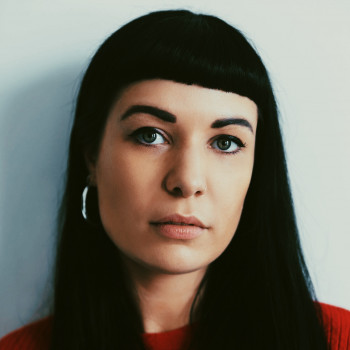 For WILSN, this represents so much more than personal redemption: "I wanted to write a song that myself and women around the world could use as a sort of fight song to ignite strength, courage and support when it's needed or when we're struggling to stand up for ourselves," she tells Atwood Magazine.
WILSN also calls on men everywhere to be allies in the daily fight for gender equality. "Listen. To. Women. And make sure you call out any bullshit from your male peers."
Thus we have a "Fight Like a Girl," an inspiring FLAG for people everywhere to wave, wear, and sing with pride. Written with Daniel Ellsworth (of Daniel Ellsworth & The Great Lakes), WILSN's latest is indisputably some of her best work yet – and there's plenty more where that came from: Self-Titled EP is out this June!
Dive deeper into "Fight Like a Girl" with WILSN in our feature interview, and stream this powerful song a day early exclusively on Atwood Magazine!
Stream: "Fight Like A Girl" – WILSN
A CONVERSATION WITH WILSN
Atwood Magazine: Thanks for chatting, WILSN! For starters, why did you write "Fight Like a Girl?"
WILSN: I felt compelled to write "Fight Like A Girl" after a spate of male-led songwriting sessions where I felt like my opinions and talents weren't being respected at all. It was like I was just the extra person in the room who wasn't worth listening to. I needed to work twice as hard to prove myself and I was put in the "too shy" and "untalented" box before I even had a chance to open my mouth and sing. But I've been singing since I was 5 and pride myself on being good at it. So to get into the vocal booth and have guys who couldn't really sing at all critique me, tell me they could do it better, even getting in there to "show me how it's done" was definitely a lesson in restraint for me. It was basically mansplaining at its finest. I know this experience is so relatable for all women in all walks of life and I wanted to write a song that myself and women around the world could use as a sort of fight song to ignite strength, courage and support when it's needed or when we're struggling to stand up for ourselves. I get shivers every time I sing it on stage thinking about all the different stories the lyrics could relate to and all the stories I've heard from other women.
What was your experience writing with Daniel Ellsworth, and how did the two of you work together to capture your voice in this song?
WILSN: It is pretty funny that I wrote a female empowerment anthem with a male co-writer, but Dan was incredibly humble, open and willing to hear my ideas. Completely opposite to the ego-filled songwriting experiences I'd had before. I met Dan for the first time when a friend of mine took me to a party at his house in Nashville. We organized a writing session that night and wrote another song off my upcoming EP, then "Fight Like A Girl" came out of our second songwriting session together. So we hadn't really known each other for long but Dan had such a good vibe and was super genuine so I felt really comfortable writing with him and being completely open about what I wanted to write about.
There are so many reasons to pen a reclamation female anthem, and I absolutely love the energy permeating this song. What inspired the lyrics, and how did you go about fleshing out the music?
WILSN: Dan is a crazy talented keys player so he started by playing around with some musical ideas and melodies. I'd been wanting to write a positive female anthem for a while but was waiting for the right vibe and sound. As soon as we settled on some uplifting sounding chords and melodies, I knew it was the right time to bring it up. I'd also been reading Clementine Ford's feminist book titled "Fight Like A Girl" and reading her fighting words made me want to jump into action! So I started with those chorus lyrics and went from there. The track was then produced by Stephen Mowat.
What do the words, "fight like a girl," mean to you?
WILSN: When people say "you fight/run/throw like a girl," it used to mean that you were bad at those things, insinuated that women are weaker and the standard is lower. But lately with all of the Women's Marches and protest signs we've been seeing that out-of-date saying has been flipped to mean the exact opposite. And for me it relates to music and singing. I know I can sing well, and I'm not just "good for a girl" or a good "female singer"… I'm good… full stop. All females are amazing! Just look at Beyonce, she's one of the biggest and most badass pop stars in the world whilst also giving birth to babies, breastfeeding and putting on two huge, physically and mentally exhausting Coachella performances. The same sentiment goes for tennis player and new mother Serena Williams. The strength and resilience of the female body and mind is absolutely mind-blowing!
You asked fans on Instagram the question, "What does being a woman mean to you?" How did their answers affect your perception of your female identity? Did it teach you anything new about yourself, or affect your mentality in any way?
WILSN: I loved reading all of those responses! I really wanted to know what it meant to all my female fans and it definitely broadened my mind to other female experiences because obviously not every one is the same. Some women aren't nurturing but others are, some women aren't as strong willed but others are, some women want to be mothers and some don't, some women want to be a CEO and some don't, some women are searching for love and some aren't. And every single response and experience is 100% valid. Some women responded with things like "standing up for less privileged women" which I thought was a really important one.
I love all the people you've involved in this music video: I feel like it offers a broad scope of what a woman looks like, which is anything and everything! What inspired this idea and why do you think it's the right one for "Fight Like a Girl"?
WILSN: I wanted to include all of the amazing, talented, smart, beautiful women I'd met around the world because the song is about more than just me and my own experience. Every woman has been through something similar. Like I mentioned before, I was originally inspired by the signs at all of the Womens' Marches happening all over the world. Going to a protest is a form of fighting and standing up for what you believe in so I felt like using sort of protest signs was a great way to portray the meaning and vibe of the song. I had the women all write down a word that they think represents them and their own personal fight for equality, or a word that represents what being a woman means to them in today's society. I gathered the DIY clips myself over about 6 months from women in Sydney, Melbourne, Nashville, LA, Mumbai, Geelong and Point Lonsdale and I slowly pieced the video together. The extra footage filmed was edited by Thomas Groom.
"Fight Like a Girl" follows your Self Titled EP's first two singles, "Do This" and "Home." What's the significance of these signs on the record, and why did you opt to make FLAG the second single?
WILSN: "Do This" was the first single off the EP because for me it outlines why my sound has changed and the fact that I'm doing things my way now. I think it acts as a good introduction to the rest of the EP. "Home" was the second single because I'd just returned from living in Nashville at the time of release and the homesickness I felt was still fresh in my mind, so it just seemed like the natural next single. The EP is self-titled because it feels a lot more "me" than anything I've ever released and to me it signifies the change in my sound.
What is your message to other women in 2019?
WILSN: You're not alone. Your experiences are valid. You are worthy.
What is your message to men in 2019?
WILSN: Listen. To. Women. And make sure you call out any bullshit from your male peers.
For you right now, is it important that you are identified as a female artist in the music industry? Or is it something that's just the part of this song in particular, and not necessarily something you're aiming to be a part of your overall narrative?
WILSN: I think it's so important for women to be visible in the music industry. It's long been a male-led industry and people use the excuse, "There's just not as many talented women out there," but there are… we've just been shut out of the men's club for so many years and not given the same opportunities or platforms. Which means young children and women aren't seeing as many positive female role models in the music industry and therefore don't think it's doable for themselves. And the cycle goes on. Especially in the sound engineer/music production side of the Australian music industry where only 2% of the industry are female.
How would you describe your EP and new music overall? What can we look forward to, from you, in the months to come?
WILSN: When I wrote and recorded my first EP I was heavily influenced by artists like Amy Winehouse and Sharon Jones and the Dap Kings. I'm still really into that music of course and I always will be but I think it's natural to go through phases and evolve, to want to create something different. My upcoming EP is headed down a more pop route, still with soulful vocals and live instruments but mixed with more modern pop songwriting. I'm really excited about it! At the moment I'm touring as Meg Mac's backing singer on her sold out AUS/NZ tour which is a super fun experience. I'll be touring in support of my EP after that!
Stream: "Fight Like A Girl" – WILSN
— — — —
? © Michael Danischewski
:: Stream WILSN ::