KOPPS analyze our relationship with social media and how it affects our real life interactions in their new music video for "Virtual Reality."
— —
It is no secret that social media has become a mediator and even a staple for meeting new people, and interacting with friends or peers. Going out to find a date is now provided by Tinder, flirting is reduced to liking someone's post, and the next step in any friendship or future relationship is making sure you have a mutual follow. Social media gives us the power to create an assumption of someone based on their profile without ever having to talk to them. What happens when we are too fixated with the person on the screen rather than the person behind it? KOPPS' new video for "Virtual Reality" perfectly captures this phenomenon of casting expectations on someone based on their online presence as opposed to their one in real life.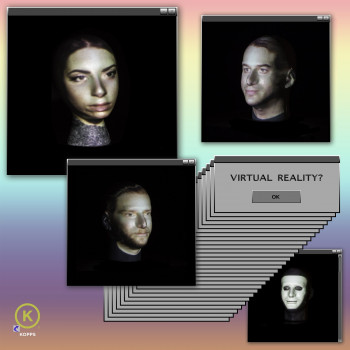 Wake up alone
Reach for my phone
No dial tone
I start to roam
I dig so deep
Get you in front of me
Your two dimensions are three
In virtual reality
Atwood Magazine is proud to be premiering the funky, '80s pop inspired music video for "Virtual Reality," KOPPS' ode to the new age of social media. Led by vocalist Patricia Patrón alongside bassist Kyle O'Hara, drummer Gesture, and guitarist Travis Johansen, KOPPS describe themselves as "CrazySexyCreepy," which is exactly what their sound and latest music video embody. Hailing from Rochester, New York, the band wants to revive the sound of pop music, by "antagonizing" and "revitalizing." They don't want anyone to take them too seriously, and strive to create creepy yet humorous visuals for their infectious pop melodies.
Directed by Andy Koeger and starring Mikaela Ruegg, KOPPS' "Virtual Reality" music video is the story of a girl who focuses too hard on the virtual presence of a boy she recently met, rather than taking the time to know him. As the video goes on, the virtual boy blames their relationship issues on her, and how she is at fault for creating an unattainable image of him.
"Everyone uses the internet to stalk one another- everyone knows it but no one admits to it publicly – and somehow this mutual silence among us has become the 'normal' way in which we gain interest in one another… or even fall in love," Patricia Patrón describes. "We used to fall in love with a person's presence- and now we fall in love with whatever presence they've 'created' online. We are now premeditated versions of ourselves, our personalities impacted by whatever image we have conjured and made to match."
Are you turned on
Or is something wrong?
I dig so deep
Get you in front of me
Your two dimensions are three
In virtual reality
---
The second verse finds Patrón  singing, "are you turned on, or is something wrong?" which suggests that the person cannot read how someone else is feeling through text online. This is one of the major issues of creating a "premeditated version" of someone else, because everyone understands text online in a different tone, just like perceiving the complete identity of someone and their personality, purely based on their photos and text posts on social media. By the end of the video, the girl realizes the destruction she has caused with all these implications, and how terrifying it was to understand that this guy is not the real deal, but rather an image in her head. This visual representation that the music video provides is quite creepy, but is the reality of the danger when social media becomes too toxic.
As Patrón describes: "Real connections are risky and can be frightening, but in this case, the virtual reality of the main character becomes even scarier."
Watch "Virtual Reality" by KOPPS exclusively on Atwood Magazine, and keep an eye out for KOPPS in 2019; their addictive and funky tunes will surely brighten up any day.
Stream: "Virtual Reality" – KOPPS
— — — —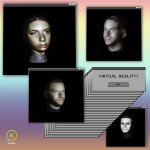 ? © Andy Koeger
art by Evyn Morgan
:: Stream KOPPS ::