Leena Culhane reminds us that the most important relationship we have is the one we have with ourselves in intoxicating new single "Ring the Bell."
Stream: "Ring the Bell" – Leena Culhane
[soundcloud url="https://api.soundcloud.com/tracks/751263262?secret_token=s-rdPba" params="color=ff5500&auto_play=true&visual=true&hide_related=false&show_comments=true&show_user=true&show_reposts=false" width="100%" height="300″ iframe="true" /]




---
They say the year of 2020 is the year to love yourself. This is something we often forget to do as we're so busy loving the people around us; sometimes for better or worse, we're engineered to be kinder to others than we are to ourselves. Whether Leena Culhane is jumping on the 2020 bandwagon or not, her new single "Ring the Bell," is a reminder that if you have and love yourself, everything will be alright.
A soft and deep guitar lick begins the song before Culhane's layered soothing vocals cut in,
Here comes the rebuff
As a twisted confirmation
you don't have the stuff
You never ought to feel
that you're not enough
Cause someone don't see you
For all the reasons they conceive
Are the same that you must leave
You should never have to convince
Anyone to love you
The subtle let present shift in melody to the chorus allows you to feel hope that in rejection and in loss, if you pay attention to yourself, things will get better.
It awaits you here
It is strong and clear
There's a love out in the wide
from the wishing well
And you'll hear the part
That you know by heart
It will call you by your name
It will ring the bell / It will ring the bell
Culhane's harmonization in the chorus are so carefully crafted. Layer upon layer intricate notes, yet never once does it feel overwhelming. It is a masterful production of perfectly placed harmonies that enable us to feel what she wants us to feel.
The song continues on, an effervescent flow of lyric and music, reminding us to take a step back – to be grateful for what we have, and to always remind ourselves of what makes us, well, us.
"Ring the Bell" is the first single off of Culhane's forthcoming, Justin Glasco produced record, entitled Sleepwalker. The craft and care taken in just this one song is so evident – we know the rest will be worth the listen.
— —
Stream: "Ring the Bell" – Leena Culhane
[soundcloud url="https://api.soundcloud.com/tracks/751263262?secret_token=s-rdPba" params="color=ff5500&auto_play=false&visual=true&hide_related=false&show_comments=true&show_user=true&show_reposts=false" width="100%" height="300″ iframe="true" /]





— — — —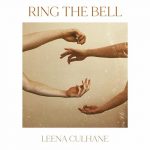 ? © Chris Meissner
:: Today's Song(s) ::
---
:: Stream Leena Culhane ::