'Standards Vol. 1' provides a surreal auditory experience that subverts expectations with its electronic and dark soundscapes, and Rafiq Bhatia spoke to Atwood Magazine on how it came to be.
— —
Not every piece of music is, nor needs to be, an enthralling extravaganza that enraptures. However, if there is one artist and composer who has mastered this, it'd be none other than Rafiq Bhatia. His unique electronic style creates soundscapes that both exhilarate and haunt, and it's this dichotomy that allows for some of the most expressive, stirring pieces of music. This style became apparent on his 2018 release Breaking English, but 2020 is the year where it becomes emboldened in scope and presentation, and it's showcased gorgeously on Standards Vol. 1.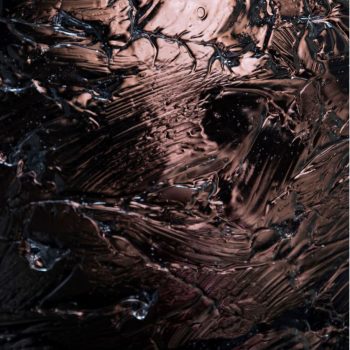 This EP is a collection of compositions that reimagine some of jazz' finest, adding ethereal tones and lilting harmonies that transform each piece into something wholly unique. The EP opens with "In A Sentimental Mood," a composition that brandishes its electronic aspects wells, creating a celestial beginning that turns the brisk original from Duke Ellington into a space of mesmerizing fright.
With "The First Time I Saw Your Face," Bhatia employs the use of Cécile McLorin Salvant to cover the original vocals of Roberta Flack. Flack provided dulcet harmonies that were easy to sway gently to. Salvant goes for a different approach. Her vocals intoxicate as they undulate from high to low, causing this rendition to add a layer of wonderment not present on the original. It's slower in pace, but its impact is just as powerful, if not more so.
Bhatia takes the Ornette Coleman song "Lonely Woman" and proceeds to unravel it in its entirety. Percussion beats and rum machines provide a hypnotic beat that introduces whirring electronics into the mix, making an eerie track from an otherwise upbeat original. The latter half then brings out the saxophones, but the eeriness remains. Though, it's not a bad thing. The feelings this piece evokes are addicting, having listeners wanting it last for a lifetime.
Duke Ellington returns as Bhatia reimagines "The Single Petal Of A Rose." The intensity of the original lives within Bhatia's version, albeit with a darker tone. The additions Bhatia introduces, though, are nothing short of a marvel, having a sincere and beautiful presence that exists throughout the entire duration of the composition. It's ending of Standards Vol. 1, a final goodbye that will leave listeners aching for more.
Rafiq Bhatia went into this project unaware of where it'll take him, but the result is pure majesty. Atwood Magazine recently spoke to Bhatia about the EP's inception and what the process entailed. Get all of the info in our exclusive interview!
Listen: 'Standards Vol. 1' – Rafiq Bhatia
A CONVERSATION WITH RAFIQ BHATIA
Atwood Magazine: To start off, Standards Vol. 1 is absolutely stunning. These reimaginings are extraordinary, and I'm left wondering what sparked the desire to make them? What drew you to these specific songs to reimagine?
Rafiq Bhatia: Thank you! There's a long history among many of the composer-improvisers who have inspired me—Ellington, Monk, Coltrane, and Ornette even, as well as living examples like Bill Frisell, Cécile McLorin Salvant, Billy Hart, Vijay Iyer, Mary Halvorson among countless others—of offering personalized interpretations of often-covered pieces from the past. In addition to the appeal inherent in the songs themselves, having a common backdrop can help us appreciate what characterizes each artist's unique approach.
But honestly, I wouldn't have guessed that I'd ever record a "standards" project even a few weeks before the idea came to me. As my own work has moved in a decidedly more electronic, sculptural, studio-based direction, the idea of tackling something that has historically been so tied to performance and improvisation has grown more and more counterintuitive. But that's part of what was so exciting about the idea when it came to mind. Though surprising, it also had substance: by putting some distance between myself and that world (which has so thoroughly shaped me), I could now see how there might actually be a few worthwhile ideas that I could bring to the table.
It's hard to think about improvisational music without considering the importance of liveness: there's something magical about being musically present in a given moment. But as a person prone to nostalgia, I've always been fascinated by the idea that the energy of that fleeting instant, once recorded, can exist forever. Then, as a filmmaker might, you can re-contextualize it, exaggerating its inherent qualities or imagining what else might be lurking beneath.
Each of your songs on the EP has a distinct sonic flair to them, and they all expertly utilize these brooding electronic soundscapes. How did you tackle the song-making progress with this EP?
Rafiq Bhatia: Each song was approached from a different perspective, but in each case, I applied the kind of iterative, studio-based approach to making music that I've been developing over the past several years. All of them involved some amount of recording/sampling, electronic manipulation, instrument design, etc. In most cases (with "Lonely Woman" being the major exception), I had a fairly clear picture of how I wanted the music to sound going into the earliest recording sessions.
A key aspect of this EP was working with a group of jazz musicians who are doing fascinating and unusual things with sound on acoustic instruments within a more traditionally-recognizable context—Cécile McLorin Salvant, Chris Pattishall, Riley Mulherkar, Stephen Riley, Craig Weinrib. At times, their contributions are rendered in a way that's clear; elsewhere, their presence is completely obscured. But even in those moments, having their sounds so woven into the fabric of the music imparts a certain signature in the sound that I think subliminally ties the music back to the source.
On the subject of the electronics, something Sox Lux also deftly utilizes, what pushed you into this new direction of intense electronics? Does your involvement with Son Lux inspire new ideas for you to follow with your own music?
Rafiq Bhatia: That's actually how Ryan (from Son Lux) and I first met—I had an obvious curiosity about approaching composition from a studio-based perspective and Ryan asked me to start working with Son Lux on account of what he heard in my music. I've learned so much from him, and also from Ian, who also has been playing drums with me live for the past few years.
I find that although your reimaginings are quite different from the original counterparts, the structure of the original songs are still there despite them being two wholly different sounds. What is the process like when composing something that so uniquely combines two styles of music? What were your greatest challenges when composing this project?
Rafiq Bhatia: I'm not thinking combinatorially on a surface level like that, in terms of two styles or ten styles or a hundred styles. It all boils down to approaching every decision much more actively—there are thousands of micro-level decisions that have been made about the music, each with careful consideration in service of what the music calls for and without regard to upholding stylistic principles.
The greatest challenge is always keeping a fresh perspective on the work—the more actively you invest yourself in every one of these aspects, the more you acclimate to the way things sound and the harder it becomes to reset your ears. Breaks are important! Take a walk, let your ears breathe.
It seems you took the biggest departure from the originals with "In A Sentimental Mood." It's an enthralling piece of music, to say the least. What approach did you take when composing this piece?
Rafiq Bhatia: For this piece, I wrote out the first ~50 seconds of the music backwards—that's basically a single time through the main melody. I recorded Chris Pattishall (piano), Riley Mulherkar (trumpet), and Stephen Riley (saxophone) playing that excerpt, super quietly. Then, I took the result, reversed it, and slowed it down to about one-quarter of their original speed. Because it was written out backwards and then reversed, you get Ellington's original melody moving forwards, but the performance is now backwards. At that point, I had the ingredients I needed to build the piece, and I shaped, mangled, and sound-designed it into what you hear on the record.
At quarter speed, everything is under a magnifying glass—the struggle of the horn players' lungs to sustain each note, the way that sound reflects within the cavity of the piano, the subtle communication in every gesture. What were passing moments of tension become long enough to induce hallucinations, while the moments of release stretch into something glimmering and transcendent.
And speaking of that piece, the music video, I feel, is a perfect transition from the auditory to the visual. Did you have an idea of what you wanted the visual to look like? And what did this process look like when making the video?
Rafiq Bhatia: I've been working with the visual artist Michael Cina for many years now—he's designed all of my album covers and we collaborated on a 45-minute visual version of my last album, Breaking English, that toured the past couple of years. Cina has inspired me a lot and there are many contradictions he achieves that I strive for in my own work—it's otherworldly yet organic, meticulously sculpted yet feels alive.
I spent some time explaining a bunch of ideas behind the music and provided visual references to Cina, who looped in photographer John Klukas, and the two of them got to work. I love how it turned out!
Watch: "In A Sentimental Mood" – Rafiq Bhatia
"The First Time I Ever Saw Your Face" is a captivating piece, and Cécile McLorin Salvant does such a wonderful job at accentuating the instrumentation going on. Did you have in her mind from the beginning to work on that song with you?
Rafiq Bhatia: Yes! Cécile is a hero of mine and it was amazing to get the chance to work together. This version was built around the flexibility of her voice and her ability to re-contextualize lyrics and shade them in a way that brings out latent themes that one might not notice otherwise.
With the latter half of "Lonely Woman," the saxophones and jazz tendencies from the original are more prevalent, creating two unique soundscapes on one track. What was your mindset going into the creation of this piece?
Rafiq Bhatia: The philosopher Jacques Derrida once interviewed Ornette and asked him about this piece:
"Before becoming known as a musician, when I worked in a big department store, one day, during my lunch break, I came across a gallery where someone had painted a very rich white woman who had absolutely everything that you could desire in life, and she had the most solitary expression in the world. I had never been confronted with such solitude, and when I got back home, I wrote a piece that I called "Lonely Woman."
On some level, I think I was thinking about the descent into the "sunken place" in Get Out. The melody is unfolding slowly above you, in a way. You can feel that it's there — always there, subliminally — but you're not quite sure exactly how what you are hearing is related to the song. And Stephen Riley is one of my favorite saxophonists—he's from North Carolina, and I would go hear him play when I was younger. He has this sound that feels like it's been manipulated electronically because it's more breath than notes. But that's actually just what it sounds like acoustically, right there in the room.
Now, with "The Single Petal of a Rose," piano takes the spotlight just as the original did. What compelled you to embrace the Duke Ellington piano melodies with this piece compared to "In A Sentimental Mood" which sees less of the piano?
Rafiq Bhatia: Well, there actually is piano all over "In A Sentimental Mood" (albeit backwards and heavily obfuscated), but the substance of your question remains. When we were in college, Chris sent me a shitty practice room recording of himself playing this piece and it was so beautiful that it made me cry. My version is a love letter to Chris' playing—and by extension, to Ellington's original recording—trying to capture that still majesty (as well as the dark intensity of the bridge) in a hyper-realistic sort of way.
Final question for you: What excites you most about your future projects? Any directions, or new territories, you are looking forward to exploring with Volume 2?
Rafiq Bhatia: I can't say too much now, but I've been working on a lot of different projects over the past few years that are going to start seeing the light of day in the next couple of years and I'm really excited for all that is to come. I'm so lucky to have such inspiring collaborators, and opportunities and support to make music on my own terms. More soon!
— —
— — — —
? © John Klukas
:: Stream Rafiq Bhatia ::
---