St. Vincent's MASSEDUCTION is more than an album: Annie Clark creates a jaw-dropping hyperreality drenched in saturated colours and synthetic sounds. The only way to do it justice is to press play.
— —
It is undeniable that St Vincent is a powerhouse. Annie Clark, the woman behind the moniker, might be petite and unassuming, but the character of St. Vincent explodes with joy, poise, emotion, attitude, and rawness. Her music is magnetic and gripping, odd enough to get you intrigued, human enough to make you stay, fantastic enough to leave you in awe. St. Vincent's much awaited sixth studio album, MASSEDUCTION (Loma Vista Recordings), was released on October 13th and did not, by any means, disappoint fans or critics. It is striking, provocative, and beautiful from the first glance at the cover art – a bent woman, shown from behind, in pink tights and a leopard leotard against a red background. It hints at simplicity and minimalism while also being extravagant and unique, a description which matches the album itself.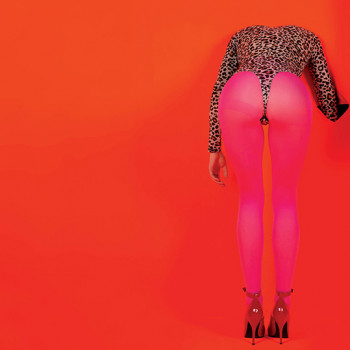 As far as visuals go, MASSEDUCTION's campaign is as good as it gets. It is a hyperreality of highly saturated colours, with elements which we recognize like boots, bums, and bodies co-existing in an artificial way. All music videos released so far have been filmed and created in studios, typically with Clark in some outrageous and colourful outfit standing in front of a different coloured backdrop. On the videos for both "New York" and "Los Ageless", she engages in typical human behaviour like going to the supermarket or the hairdresser, but all of these spaces were created in a controlled environment and though we know what they are supposed to represent, we could never find one of these settings naturally in our world.
The announcement of the album came with a staged press conference livestreamed on St Vincent's Facebook page, where Clark stood on a colourful podium and answered pre-recorded questions. Her poise and grace and the way in which she so naturally interacts with the reality she has constructed shows that the slightly off-kilter world of MASSEDUCTION is her natural habitat. Everything about MASSEDUCTION has been meticulously crafted, controlled, created for our consumption but constantly reminding us that it exists in a parallel reality from our own. This effect is replicated when you listen to the album – you vicariously devour it while simultaneously staring at it in awe. Clark has crafted a delicious feast.
Listen: Masseduction – St. Vincent
---
Opener "Hang on Me" is a slower start to the album. It seems to be the prologue of the story she is about to tell in MASSEDUCTION – she tells us what is at the core of the album: the story of her and a loved one and their extraordinary connection. Clark's voice is the main star of the song, transmitting an amazing conviction as she sings "you and me, we're not meant for this world" in a perfectly-pitched and beautifully fragile falsetto.
Next on the track list is "Pills", the weird, frantic, and addictive chapter one of MASSEDUCTION. Clark delivers the initial two thirds of the song in a robotic way – the humanity that was at the forefront of "Hang on Me" is stripped away by the "pills" she sings about on this song. The song deals with people's, especially Clark's, dependence on, you guessed it, pills to perform the most mundane tasks of one's everyday lives: "pills to wake, pills to sleep, pills, pills, pills every day of the week" Clark's ex-girlfriend Cara Delevingne utters on the chorus.
Listen: "Pills" – St Vincent
---
"Pills" sounds like the soundtrack of Alice's descent into Wonderland – slightly psychedelic, obsessive, confusing, but so enthralling you can't stop listening. It's on the last third of the song that Clark depicts the comedown from the pills as a sentimental call to arms. Gone is her robotic, almost spoken voice, replaced by her melodic singing "come all you villains, come one and all/ come all you killers, come join the war". The slight melancholy of this section of the song is heightened by the lyric which brings it to an end, "Everyone you know will all go away", a haunting slap on the face of a reality we choose to ignore every day.
Title track "Masseduction" is a cynical anthem worthy of carrying the album's name. Dynamic and grand, it features Clark's signature guitar riffs while she analyses and describes those around her before declaring in the chorus "I can't turn off what turns me on". Clark is nonchalant towards the end of the song, singing "Oh, what a bore to be so adored" – you can almost picture her in her colourful corsets smoking a long, thin and hot pink cigarette and rolling her eyes while she says that.
Watch: "Los Ageless" – St. Vincent
---
On "Los Ageless", Clark examines Los Angeles and its culture from afar on the verses delivering stunning images in lines like "In Los Ageless, the mothers milk their youngs", "burning pages of unwritten memoirs". On the chorus, she pulls the song and listener towards herself when she asks "How can anybody have you and lose you and not lose their mind too?". The song's hook, delivered by Clark on her guitar, is hard not to love. It seems that Clark has grown fond of having the end of a song slow down and turn confessional, since "Los Ageless" ends with her speaking and mumbling "I guess it's just me… I try to tell you I love you and it comes out all sick".
Lead single "New York" took everyone by surprise – how doesn't a St. Vincent song feature a guitar? Though Clark's guitar-playing skills are spectacular, they weren't missed on this song in particular. A heartfelt declaration of loneliness, an ode to the city where she spent a large part of her life and to a loved one alike, "New York" is a stunning piece of music. The piano and Clark's voice make the song the equivalent of her baring it all to the listener, a fragility that is interrupted by the punch line: "you're the only motherfucker in this city who can handle me". On MASSEDUCTION, St. Vincent chose to put her other songs on the spotlight, sandwiching "New York" between BDSM-themed "Savior" and title track "Fear The Future" on the bottom half of the album. Still, the warmth the song provides in the middle of a paradise of synthetic and modulated sounds pulls the listener back to a non-saturated reality for the song's two and a half minutes.
Watch: "New York" – St. Vincent
---
"Young Lover" is the closest you will get to a St Vincent song written for the club, and it's perfect. The pulsating beat and explosive chorus veil the song's grim theme – Clark details a "young lover" with addiction issues, describing finding her in "the bathtub", taking pills whose names Clark "can't even pronounce" and the anxiety that this brought upon Clark and their relationship. She depicts a tug of war between her ex-lover's addiction and herself, exclaiming "I wish that I was your drug" and showing her desperation to save this person she loves so much but can't seem to help. Clark's fluctuating pitches, from a rapidly spoken whisper to exclamations in falsetto, also reflect the ups and downs of this relationship. She ends the song pining for her lover, but different to some of the songs encountered on MASSEDUCTION before, there is no change in tempo or sentiment – she celebrates her lover and what they had through song, even if it was challenging at times.
"Dancing with a Ghost", a short instrumental interlude, transports us from the club to a traditional ballroom, where we'll slow dance MASSEDUCTION away.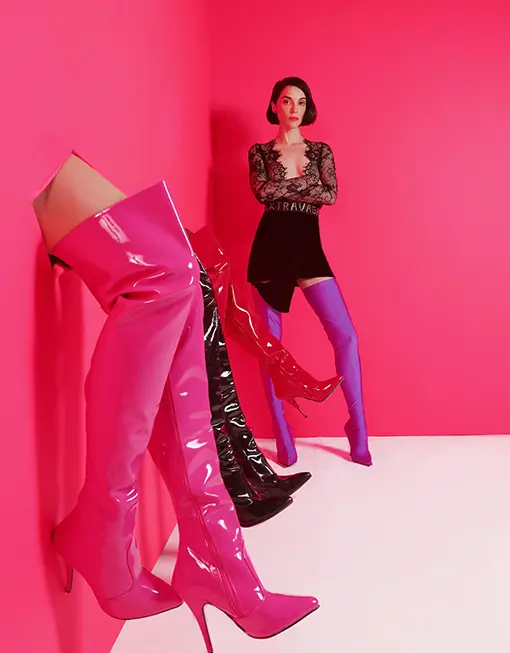 "Slow Disco" starts with a string arrangement, a complete change of tone from the rest of the album – the warmth of analog and pure instruments dims the album's bright lights and turns it into something more tangible. If up until now we were lost in St Vincent's brightly-coloured, weird, and hyperbolized universe, we're now roaming the planet and life we know. Clark is melancholic and lonely in lines like "I'm so glad I came but I can't wait to leave" and "Slip my hand from your hand/Leave you dancing with a ghost", referencing the preceding song. The song slowly fades out with a modulated voice repeatedly asking "Don't it beat a slow dance to death?".
Album closer "Smoking Section" is raw and pure. Clark's voice is unfiltered, raspy, intimate as she exposes her innermost thoughts and tribulations. Her insecurities and hopes take center stage, she flirts with the idea of suicide to punish a lover, says she's uncomfortable in her own skin, but thinks nothing is better than love. The song and album finish with her repeating "It's not the end", a reminder of the humanity that serves as the pillar of all of MASSEDUCTION.
This slow fading ending is like the comedown of a high – everything has been heightened, you've experienced a range of emotions, but the frenzy trickles away and the vague memories of the trip  that remain do not do it justice. The only way to truly re-live what you went through is to consume it again. And so you click play.
— —
— — — —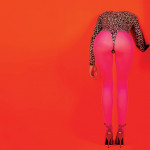 photo © Nedda Asfari
:: MASSEDUCTION – St. Vincent ::
:: St. Vincent Tour ::
2017
10/20 – Olympia Theatre – Dublin, Ireland
10/21 – Olympia Theatre – Dublin, Ireland
10/23 – Ancienne Belgique – Brussels, Belgium
10/24 – Le Trianon – Paris, France
10/26 – Huxleys – Berlin, Germany
10/27 – Tivolivrendenburg – Utrecht, Netherlands
11/14 – The Fillmore – Detroit, MI
11/15 – Egyptian Room – Indianapolis, IN
11/17 – Riverside Theatre – Milwaukee, WI
11/18 – Palace Theatre – St. Paul, MN
11/19 – Uptown Theatre – Kansas City, MO
11/20 – The Pageant – St. Louis, MO
11/21 – The Kentucky Center – Louisville, KY
11/22 – Ryman Auditorium – Nashville, TN
11/24 – Tennessee Theatre – Knoxville, TN
11/25 – Durham Performing Arts Center – Durham, NC
11/27 – The Anthem – Washington, DC
11/28 – Electric Factory – Philadelphia, PA
11/30 – House of Blues – Boston, MA
12/01 – State Theatre – Portland, ME
12/02- Kings Theatre – Brooklyn, NY
12/03 – Kings Theatre – Brooklyn, NY
12/16 – Day for Night Festival – Houston, TX
12/17 – Day for Night Festival – Houston, TX
2018
01/09 – Stage AE – Pittsburgh, PA
01/10 – Express Live – Columbus, OH
01/12 – Chicago Theatre – Chicago, IL
01/13 – Kieit Concert Hall at Holland P.A.C. – Omaha, NE
01/15 – Fillmore Auditorium – Denver, CO
01/18 – The Moore – Seattle, WA
01/20 – Keller Auditorium – Portland, OR
01/22 – Bill Graham Civic Auditorium – San Francisco, CA
01/25 – Hollywood Palladium – Los Angeles, CA
01/26 – The Van Buren – Phoenix, AZ
01/27 – The Observatory North Park – San Diego, CA