Titus Andronicus take a step greater than their usual ambition on upcoming album A Productive Cough's "Number One (In New York)."
— —
Despite its consistent reliance on unflinching honesty, punk is typically narrow within its scope of ambition. Titus Andronicus are an exception. The band's most notorious albums are concept records about the American Civil War and a 90-minute Joycean take on Patrick Stickles' manic depression[i]. Concept albums, especially those that conquer mental health, aren't anything new, but the size is completely unheard of[ii] for a band that would happily play a VFW hall over a moderately–sized venue. The New Jersey punks have opted to stray away from the raucous bangers that helped cultivate a fanbase on their upcoming A Productive Cough, but the first single and opening song "Number One (In New York)" shows Stickles and company are more ambitious but just as dissatisfied and self-reflective as ever.
"Number One (In New York)" – Titus Andronicus
---
Where blurring genre lines is nothing new for Titus, it's incredibly obvious from the moment that "Number One" starts that A Productive Cough is the most expansive Titus album yet. This is barely even a rock song, nor is it the folk that Titus have embellished on. Without Patrick Stickles' voice, this could've been a Billy Joel song, or a climactic moment in a Broadway musical[iii]. Unlike most of Titus' past work, there's a focus on creating a soundscape; it's a piano driven track with texture from woodwinds and guitar[iv]. It's a shame that the upcoming tour is only going to be Patrick Stickles and a pianist, where the band could take an orchestra on tour with them.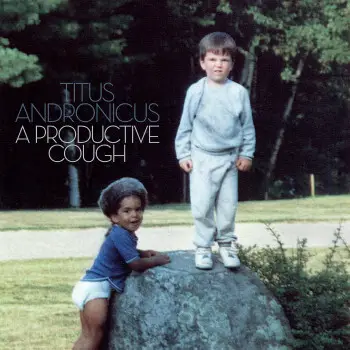 Despite the obvious surface changes, Stickles' lyrics and delivery are in true Titus Andronicus fashion. He sings this like a barroom folk song while slowly building into screams. Titus are the sort of band that wants to occupy both punk circles and the great American songbook, and "Number One" is the first time that both of those worlds merge smoothly. Stickles' tone transitions from attempted sweetness to trying to contain emotion to full on confessional outbursts.
Like he had in an effort like The Monitor, Patrick Stickles peppers his personal diatribe with historical context. He slurs:
Deplorable forces conspire to fire
the lord and to hire a guy
who will try to eat more of the portions
A guy who's more boorish,
a guy who's more selfish,
with elves as his helpers
Hopeless hapless masses are dopes,
they suppose it's the same old rigamarole
that we know, it's as bold as a rodeo
The obvious references to Donald Trump aren't necessarily a punk outrage at our president; they act as a setting for Stickles' narrative. This acts as a better protest song for this, as it's not directly a protest. It's just a showing of how emotionally taxing the past two years have been since Donald entered office. Stickles searches for reasoning in his own existence in a world that has seemingly turned against him:
It's relentless when in the
presence of elegant gentlemen
The villains have taken their vengeance
I regret to say they've collected the evidence
Repent and pretend every entrance
is open to tenants with references
Declare myself president of the emptiness,
say I'm Rembrandt of dancing on the precipice
Eleven years in and trying to stay relevant
But based on what's left
of the remnants of my intestines
I would guess I've ingested the medicine
Yes, I've been everywhere
but everywhere that I've been
I've been out of my element,
even in my own skin
Throughout the song, Stickles seems to question the point in even trying to find satisfaction: "Spent my whole pension improving my penmanship." He sounds like he's on the verge of a breakdown until he finally starts screaming. Even though it's lyrically specific, the addition of the choir seems to show the shared catharsis via exhaustion.
The song is summed up in the last few lines, which are certainly relatable to anyone who gets their release from performance. Stickles has shown his regular emotional state, but he shows that Titus Andronicus and performing are the only places he can comfortably voice these emotions:
I can't begin to think
what I'd tell people back home
So I tell it to the microphone
Like any performer, Stickles is most at home on stage or in the studio. Even though the massive ballads of A Productive Cough may not occupy the same space as The Monitor or Local Business, "Number One (In New York)" shows that Titus Andronicus and Patrick Stickles are just as at home as ever.
— —
— — — —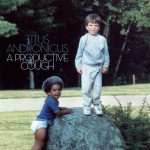 photo © Titus Andronicus, 2018
[i] 2010's The Monitor and 2015's The Most Lamentable Tragedy, respectively.
[ii] The fact that one album is about the Civil War, and it's not even a metaphor for a modern war is the perfect showing of how ambitious these guys are! There are quotes by Jefferson Davis, Walt Whitman, and Abraham Lincoln scattered on this thing! Need I say more?
[iii] When the song reaches its climax though, Stickles performs with the passion of a leading man about to rise from his lowest moment.
[iv] Also, the backup vocals are much more of a choral arrangement rather than the sort of gang vocals you could expect from Titus.
---
:: Stream Titus Andronicus ::
---
:: Titus Andronicus Tour Dates ::
"acoustic" tour w/ Rick Maguire from Pile
03-07 Kingston, NY – BSP Kingston
03-08 Boston, MA – The Sinclair
03-09 Providence, RI – AS220
03-10 Burlington, VT – Arts Riot
03-11 Montreal, Quebec – Bar Le Ritz
03-13 Toronto, Ontario – Great Hall
03-14 Detroit, MI – El Club
03-15 Chicago, IL – Subterranean
03-16 Madison, WI – The Frequency
03-17 St. Paul, MN – Turf Club
03-18 Omaha, NE – Slowdown
03-19 Denver, CO – Globe Hall
03-20 Salt Lake City, UT – Urban Lounge
03-22 Boise, ID – Treefort Festival
03-23 Seattle, WA – Crocodile
03-24 Portland, OR – Mississippi Studios
03-27 Sonoma, CA – Gundlach Bundschu Winery
03-28 San Francisco, CA – The Chapel
03-29 Santa Cruz, CA – Crepe Place
03-31 Los Angeles, CA – Bootleg Theater
04-02 San Diego, CA – Soda Bar
04-03 Phoenix, AZ – Valley Bar
04-06 Ft. Worth, TX – Ridglea Room
04-07 Austin, TX – Barracuda
04-08 Houston, TX – White Oak Music Hall
04-10 Birmingham, AL – Saturn
04-11 Atlanta, GA – Masquerade
04-12 Durham, NC – The Pinhook
04-13 Washington, DC – Rock and Roll Hotel
04-14 Philadelphia, PA – UArts Black Box
04-15 Brooklyn, NY – Murmrr Ballroom