Following up 2013's Of Course You Do, is Slothrust's third and latest release, Everyone Else (10/26/2016 via Dangerbird Records). Abandoning the former album's overall post-emo tendencies in favor of an aesthetic that leans much closer to garage-punk, Everyone Else serves best to show the band's versatility, while remaining true to what has kept them unique since their debut.
"Rotten Pumpkin," the final single from Everyone Else is indicative of that sought-after sweet spot, where a band finally establishes its own sound: A song that tweaks the formula of what has been done so far, but stays just familiar enough to expand what is possible to achieve without abandoning that formula altogether.
Watch: "Rotten Pumpkin" – Slothrust
[youtube=https://youtu.be/YfneLzHRVIo?t=0s]
---
The lyrics here are exactly what you've come to expect from Slothrust: Wild and colorful metaphors convey typically melancholy messages. As the band's sound has developed over the previous two releases, the lyrics have remained a key component of what makes Slothrust, Slothrust.
Reach inside of me
and scoop out my seeds
Rotten pumpkin,
do not waste me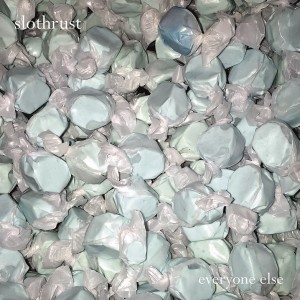 These words are the kind that, regardless of what the song sounds like, you're likely to find yourself mulling over for the next couple of days. But, "Rotten Pumpkin" will be bouncing around your head for more than one reason. It's clear that the band's influences have been greatly expanded, as harmonies and guitar solos that harken back to that sweet, sweet 90's alt-rock are all over this tune.
For Slothrust devotees, "Rotten Pumpkin" will stand as the song that is cited as when these guys really developed their sound. But, because the song does that while remaining close to what made the band great in the first place, it's the perfect jumping-off point for anyone unfamiliar with the band as well.
— — — —
cover: Slothrust © Ebru Yildriz
:: Slothrust 2017 Tour Dates ::
03/01/17 Boston @ Brighton Music Hall
03/02/17 Albany @ The Hollow
03/03/17 Brooklyn @ Rough Trade
03/04/17 New York @ Mercury Lounge
03/06/17 Philly @ Johnny Brenda's
03/07/17 Washington DC @ Black Cat Backstage
03/09/17 Detroit @ Marble Bar
03/10/17 Chicago @ Schuba's
03/11/17 St. Louis @ Duck Room at Blueberry Hill
03/12/17 Kansas City @ Tank Room
03/15/17 Denver  @ Larimer Lounge
— — —