Building upon his previous releases, English singer/songwriter Harry Strange's "Signs" tackles difficult issues in a deeply personal, yet accessible fashion.
— —
Harry Strange's first two releases signalled him as not only a talented vocalist, but also an extraordinarily earnest songwriter. The English artist's unique ability to capture the rawness and all-consuming nature of human emotion is simply unparalleled. His 2017 debut single "Back Around," which has already clocked up over a half million streams on Spotify, perfectly reflects the bewildering duplicity of having disdain for someone while simultaneously being utterly infatuated with them. April 2018's follow-up "Heaven Knows" represented a slight shift towards a more electronic-led sound but still kept affecting, heartfelt lyricism at the forefront. The track explores the painful feeling of wanting to hold onto a relationship while coming to terms with the fact that it's drawing to a painful close.
Throughout his lyricism, Harry Strange manages to express the overwhelming rawness of bewildering emotions in a concise, yet beautifully detailed way – all the while utilizing engaging production to craft a distinct sound that undoubtedly sets him apart from the seemingly never-ending stream of singer/songwriters.
And I will let you let me in
I'll lay them bare my sins
They're dragging me under, dragging me under
And I'm treading water
Stream: "Signs" – Harry Strange
---
Atwood Magazine is proud to be premiering Bristol-based artist Harry Strange's third single "Signs," out everywhere Friday, September 21, 2018. Strange's natural affinity for acoustic songwriters such as Ben Howard and Matt Corby has led him to craft lyricism that effortlessly captivates with accessibility and honesty. Rich in instrumentation, vocals, and lyrics, Harry Strange creates engrossing songs that blossom upon every subsequent listen. He's no stranger to captivating individuals live either, having already played renowned London venues such as Union Chapel and St Pancras Old Church.
You're holding on for peace of mind
You're standing strong all through the night
With the lights down low
Your fingers crossed, your head held high
The tears that linger in your eyes
Just talk to me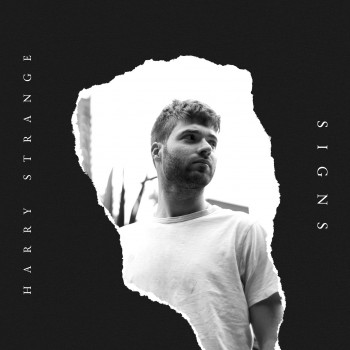 "'Signs' is probably the most personal song that I've released," Harry Strange tells Atwood Magazine. "It explores the struggles of talking openly about one's emotions and the repercussions of not doing so. I know that I'm terrible at sharing my emotions and that definitely has affected me, whether I recognise it or not. I think, especially in today's society, the idea of 'masculinity' plays a huge part in this attempt to hide our true feelings. I've always thought that getting upset or emotional was a sign of weakness, which is so ridiculous and just not true."
And I can feel it sitting on your shoulders
Do you believe your mind would never falter?
And I can see you're slowly growing colder
You're growing older, you're so much colder
Strange adds, "The song came from a time where I could see someone really close to me being crippled by their emotions but decided to keep them hidden. It was my way of expressing that I'm there for them."
I can see the signs
what's on your mind?
'Cause I'm calling out your name,
we're lost on time
And I will let you let me in
I'll lay them bare my sins
They're dragging me under,
dragging me under
And I'm treading water'
And I'll surrender onto you
The things you used to do
Still dragging me under,
dragging me under
And I will remember
"Signs" sees Harry Strange continuing to evolve and expand his sound as he incorporates an increasing amount of electronic elements in his work. This assured, authentic progression facilitates an intensity of emotion which enchants listeners in a truly spellbinding fashion. As the track concludes, one can sense the distressing devastation in Strange's voice. He desperately forces his soothingly assured vocal to soar above the powerfully defiant production.
Stream Harry Strange's new single "Signs" exclusively on Atwood Magazine, and stay tuned for upcoming releases from this promising artist!
— — — —
? © Cory Edwards
:: Stream Harry Strange ::