Atwood Magazine speaks with Britain's Katie Wood about her struggles with agoraphobia, her flamboyant fashion style, and androgyny.
— —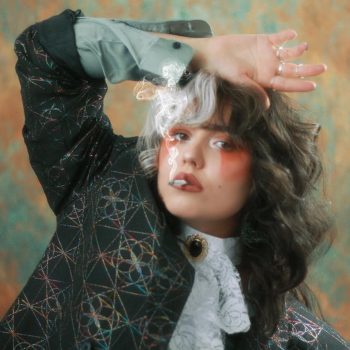 With only two releases to her name thus far, Katie Wood has certainly been taking the industry by storm, carving out a distinct and truly recognisable style, that you won't find anywhere else. The British art/rock artist prevails with the charismatic "Uh Huh Yeah", giving listeners another taste of her quirky flair, while delivering a deeper, more sombre narrative about living with agoraphobia. Hidden among upbeat, jangly melodies and soaring, layered vocals, Wood sings honestly about the disorder with candid lyrics, allowing us to connect with her on a more personal level.
"Uh Huh Yeah" emanates vintage vibes, with the theatrical visuals showing Wood dressed in her signature look of oversized suits, clashing silk shirts and exaggerated makeup. Her ambiguous style gives a nod to the likes of 70's superstars such as Kate Bush and David Bowie. Adorned in silver rings and glitter, the singer has got our attention and we can't stop watching. There's something incredibly intoxicating about Wood, which forces you to hit the repeat button and leaves you begging for more.
Atwood Magazine had the pleasure of speaking with Katie Wood, delving further into her struggles with agoraphobia, her flamboyant fashion style and androgyny.
Listen: "Uh Huh Yeah" – Katie Wood
A CONVERSATION WITH KATIE WOOD
Atwood Magazine: Congratulations on the release of "Uh Huh Yeah". Despite it's undeniable feel-good sound, the song actually speaks about your struggles with agoraphobia. For those who aren't familiar with it, could you tell us more about it and the effects it has had on you?
Katie Wood: Thank you! I am so excited about this release. Agoraphobia is a very complex condition and a lot of people think that it's just a fear of being outside or in large open spaces but it is much deeper than that. I think my experience stemmed from a panic disorder and anxiety that has been an obstacle for me since my teens. It really can be a vicious cycle, the more panic attacks I had in various places due to the fear of feeling trapped then lead me to fear the panic attack itself, and so avoidance kicks in… it may start with not going parties with friends, then not going to the supermarket, then eventually you don't feel like you have the strength to go anywhere. It really changed my life, and I felt like I had to start again, so I want to be transparent about it, I don't want to hold a place for any shame because these things need to be spoken about openly with compassion. I'm living proof that things do and will get better, although it's one step at a time, you have to believe in yourself and trust your life.
Do you have any advice for anyone reading who also suffers with agoraphobia?
Katie Wood: No matter how isolated you feel, you're not alone. Take things slowly and begin to build up your strength again, set yourself doable goals. It could be going for a 5 minute walk everyday for 1 week, or for me it was heading to the shops alone, the more of these tiny goals you achieve the more your confidence will begin to rebuild. I always carry some things with me that help me to keep calm, like a water bottle, something to hold in my pocket and some chewing gum. It sounds odd but all of these things help to ground you and your senses, you're essentially re – aligning the way you receive information and that takes time, so be patient with yourself. I believe in you. You will get through this.
You explained how your video was the result of being in lockdown. Has the current pandemic changed any of your other plans around the release and how have you adapted to it?
Katie Wood: I guess the pandemic has changed everything, but I'm fairly adaptable to staying inside (as you can imagine haha!) It would have been amazing to start performing live to a physical audience but other than that I have been lucky that nothing was too concrete. I'm pretty pleased with how the video turned out considering I'm essentially in front of a curtain in my bedroom, I'm excited for the future because I have many bigger ideas.
You've established a very distinct image and branding. What is the inspiration behind your style?
Katie Wood: It's very focused around my own feelings of power, I knew I wanted to present in a way that makes me feel like the ultimate version of myself and I was just playing around with various makeup ideas (I really don't know what i'm doing) but one day I just put too much eyeshadow on that I ended up drawing all over my cheeks as well and I was like… Oh I like this. I'm obviously a huge fan of Bowie and that era of flamboyance and androgyny, I have always felt close to that in mind so I thought why not bring into the physical.
Post-punk, new wave and glam-rock are all major influences in your music. Do you remember the first time you were exposed to these genres and how have they impacted your songwriting today?
Katie Wood: I remember the first time I properly listened to the cure, I mean I had growing up but not actually got into Robert Smith and encompassed the whole vibe, but it was in a dodgy flat I moved into in London when I was 18, I mean the first day there the ceiling had caved in which isn't a good start. We had a small CD player, one of my housemates really liked The Cure and every night we would just listen to their albums and drink. It was a good time. I think experiences like this, without knowing it at the time… shape the person you become and has definitely influenced my songwriting and relationship with music.
Have the past few months had a positive or negative result on your creativity, and how are you managing to maintain a connection with your fans?
Katie Wood: I think both, I have struggled to come to terms with all that's happening in the world but I don't think anything will ever stop me writing music. It's been great to have more concentrated time. But really I try not to put pressure on myself when creating because it becomes so easy to spoil the moment. I like connecting with people in general so anyone that enjoys my music is welcome to talk to me anytime, I hope that the dynamic between us is only ever equal.
What does the rest of 2020 have in store for you?
Katie Wood: More music, more releases, and hopefully some live performances!
— —
? © 2020
:: Stream Katie Wood ::