The body is a weird and often uncomfortable topic, and many characterize our modern relationship to physical embodiment as an ambivalent one.
David Foster Wallace, in his post-metafictional opus "Westward the Course of Empire Takes Its Way," writes one character, Sternberg, who typifies his generation with his fear that "were he really just an organism, he'd be nothing more than an ism of his organs." And especially in the feminist critical tradition, scholars like Toril Moi and Shatema Threadcraft have tried to confront the strain of somatophobia that characterizes not just some thought their own field, but much of philosophy in general.
We are driven by the conviction that we are more than our bodies, but often at a loss to explain exactly how that works or to explain away the very real feelings of having a body – so we avoid thinking about it.
But not White Lung frontwoman Mish Barber-Way.
Barber-Way's writing on White Lung's newest album Paradise (out now via indie-mainstay Domino) adroitly addresses both the corporeal and in- of human, and specifically female, experience, with complementary musical textures which encompass the blazing, visceral punk for which the band is well-known as well as new experiments with pop melody and more wide-open sonic spaces.
The bodily isn't exactly new terrain for Barber-Way. White Lung's 2014 album Deep Fantasy won praise from critics and fans alike for its personal, feminist-leaning take on issues like body dysmorphia, eating disorders, and addiction. The band reveled in the uncomfortable, giving real consideration to topics from which many would much rather shy away.
And none of that is lost in the new album, but Barber-Way also challenges herself by connecting the body to the more ineffable. Stand out track "Below" provides a perfect example. She sings on the bridge:
You know this means nothing if you go die alone
They'll bury your beauty
Transient living stone
A broken crystal carcass reflects in all the light
I see it fading now but it's so bright, so bright
The song picks up on one of Barber-Way's reoccurring themes, beauty, and attempts to grapple with the way in which its impermanence roots its cultural value. She delves right into the fleeting nature not just of physical beauty, but of bodies themselves, mixing both the pristine and the messily corporeal in the image of a "broken crystal carcass." But the physical exists intertwined with how people deal with it – beauty means nothing if nobody else ("They") experiences it.
Watch: "Below" – White Lung
---
She continues on the chorus:
I want to take it all down
Burn in the waste you have found
I want to throw it around
Back where the sea meets the ground
The chorus is a tremendous hook, and the song in general is one of the most musically adventurous of the band's career. Guitarist Kenneth Williams locks onto a slinky, chiming sound, and reverb on the guitars as well as the vocals gives the tune a cavernous, almost goth-rock sound.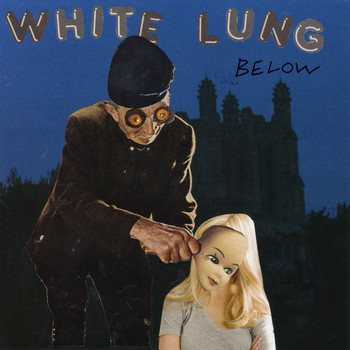 Barber-Way's singing is as melodic as anything we've heard from her, and in fact she describes the song as her "Stevie-Nicks-meets-Celine Dion ballad." The tune certainly seems to pick up on Nick's witch-y vibe, but the more apt vocal comparison probably still remains Courtney Love, whose influence on Barber-Way has been well documented. The Hole frontwoman's smart, impolite lyrical sensibility as well as her intense but tuneful tone remain instructive not just on this track, but on the album too.
Where "Below" expands on familiar thematic territory, many of the songs on the album break some new ground for the band.
Barber-Way, who has a journalism career outside of her music, went into the making of the record feeling drained by the amount personal writing she'd been doing, so she decided to try to get outside herself on some songs. A couple of the more interesting results of her experiment are the tracks "Sister" and "Demented" – both heavy, fast punk-bangers inspired by work she did on female serial killers.
As she explains to MTV.com:
"'Sister' is about Karla Homolka, who was married to a man named Paul Bernardo, and they were known as the 'Ken and Barbie Killers.' They were a young, beautiful couple, but they were both totally deranged. 'Sister' is written in the voice of Karla apologizing to her [murdered] sister Tammy, whose virginity Karla offered to Paul as a Christmas present. The other is 'Demented,' which is Rosemary and Fred West fighting back and forth in their two voices."
The songs make a challenging pair, not only because they offer a new take from the band on the body – its violent end – but also because they address women on the giving rather than receiving end of violence, a narrative for which we have little cultural conditioning. The levels of complexity as well as ambiguity make for songs that seem both of a piece with and an important departure from what the band has done before. The results are simultaneously unsettling and fascinating – some of the most ambitious thematic experimentation going on in indie-rock/punk today.
And while those songs are pretty dark, the record has its sweeter moments too – with characteristically corporeal dimensions.
Listen: "Kiss Me When I Bleed" – White Lung
---
"Kiss Me When I Bleed" is what Barber-Way calls a "fairytale," about "riches to rags and happily ever after because nothing else in this world really matters except love." She sings in the first verse:
Love is a beast now
It rots my teeth now
But he'll chew through the lies for me
He'll suck out your eyes for me
And I do the same
Try to find a more visceral description of passionate love on any record this year – even the title leans bodily. But where White Lung's previous work may have dwelled in the uncomfortably somatic as an important subject in itself, "Kiss Me When I Bleed," – like all the best songs on the album – reaches for larger ideas: love, contentedness, commitment.
Paradise is a thoughtful record, even if that description doesn't seem to quite match its preoccupations with the body. Lyrically, Mish Barber-Way consistently tops her previous work – and much of that from her punk peers – by tying vivid, visceral images to conceptually challenging themes. White Lung's sound too is more wide-open than ever with its pop experimentation. The band has put out their most accessible record yet without compromising the punk edge that makes the group so unique – a real accomplishment.
Paradise – White Lung