Lomelda tend to meditate on ideas. Their first two albums include the same songs. The second is an acoustic version of the first, allowing a new angle to be taken on the same tunes. Their New Year's gift was "With You", a meditation on a car crash.
There shouldn't really be beauty in a car crash. It's an awful thing, really, for a car to veer off the road into the trees. Even if no one seriously injured themselves in the accident, it's the kind of thing that makes you shake your head and mutter, "Oh, no."
Listen: "With You" – Lomelda
---
Meditating usually causes layers of thought to unravel. Being still with your thoughts will reveal what lives at the center, or at least that's the goal, as unwanted as that revelation may be.
Lomelda's Hannah Read sings about what she wishes she was, about whether she is living, and about you. "With You" feels like the product of a long silence after a spinning car came to be nestled safely in the trees. It also feels like trying to take a shirt off, tripping on a suitcase and landing in a laundry basket.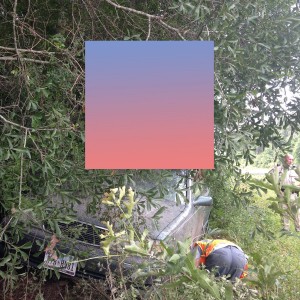 "Could ya tell me if there's any life in me?" Read asks, her casual tone playing against the dire circumstances of possibly being killed by a branch or another driver. The art accompanying the single, a blue-peach digital square placed on an image of a car being discovered in the trees, pushes Read's odd harmony of casual and fatal into further enigma. And for anyone quick to bust Lomelda for faux profundity, the single art also features the ass of a person in a construction vest. The music aims to show the complete picture rather than creating an overly curated arrangement. It plays the immediate thoughts of Read out loud, regardless of how glamorous (or bleak) her circumstances are.
The Silsbee, Texas based Lomelda released their debut album Forever in 2015, followed by an acoustic performance of the album, titled 4E*, in 2016. 4E* managed to hold its own as a distinct album, embracing the strengths of Forever while finding new ways to access the lyrical core of their songs. "With You" sounds like an extension of the sound Lomelda has been carefully crafting, finding a happy medium between sounding in-the-room and studio produced. The feint piano along with the simple yet relentless patter of Zach Daniel on drums moves the track along in a dreamy sort of way.
"With You" plays like a further meditation on the Forever/4E* standout "Columbia River." On "Columbia River," we heard Read pine for simple personal moments like eye contact on a porch swing or sitting side by side on a long drive up north. On "With You", Read gets the long drive up north, it just doesn't go as planned. But the alteration of plans never really seems to phase Read. A quiet resolve lives in these tracks from Lomelda. Although tagging themselves as making sad music, Lomelda avoids giving in to putting out any sort of self deprecating laments. Rather, songs like "With You" sound more like Read getting out of a totaled car with a couple of cuts and a resilient grin on her face.
And I can't tell if I'm right or if I'm wrong
Or if I'll ever be the one with anyone
With anyone
So just tell me if there's any life in me
Somehow I got the feeling you'd be here with me
And I'd be there with you
Read talks a lot about you and me in her music. It gives her songs an immediacy and an intimacy that match well to her musicality. And as she meditates more and more on the idea of you and me, a certain amount of unraveling begins to occur. You and me become more and more interchangeable. On "Columbia River" she wrote about "singing songs that I [you] already know". The distance between you and me blurs. It takes time to achieve a relationship where you begin where I end and I begin where you end, but Lomelda's music makes that goal seem within reach. Lomelda make Me want to spend more time with You.
— — — —
cover: Lomelda © 2017