The Real Zebos soar on their fun, feverish, and feel-good sophomore LP 'no style,' a fantastic psych-soaked feast for the ears that leans in to every moment, takes pride in life's little quirks, and shines in its own radiant spotlight.
Stream: "Running in Place" – The Real Zebos
---
From letting go of their own expectations and learning to trust their gut, to reckoning with social media and record labels, and languishing in a bona fide 21st Century malaise, The Real Zebos' sophomore album is eclectic, excitingly introspective, jam-packed with curios and oddities, and surprisingly – if not impressively – cohesive through and through! A fantastic feast for the ears, no style is a no-holds-barred embrace of creativity and a resounding rejection of the traditional script all at once: Sweet psych-soaked jangle pop simmers and soars on a fun, feverish, feel-good record that leans in to every moment, takes pride in individual quirks, and shines in its own radiant spotlight.
There's nothing like hearing a group of musicians having the time of their lives; no style captures that spirit with a little bit of sonic glitz n' glam and lots of rugged indie charm.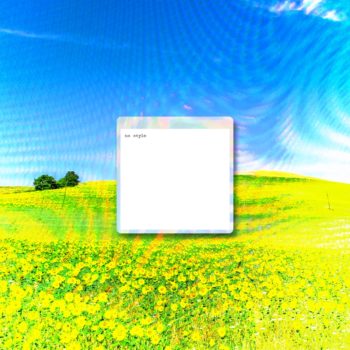 All these people on a first name basis
New kids on the block
I think the neighbors know
I think they're onto us
I think they're calling the cops
I'm never gonna shave
I'm never gonna cut my hair
All the money I could save
And buy a recliner chair
Kicking back like a deadbeat dad
Leather jacket and my stained sweatpants
These days you can't have no plans
I guess I'll live like that
– "Running in Place," The Real Zebos
Independently released September 23, 2022, no style is incredibly stylish in its charged, charismatic, refreshing rejection of contemporary pop templates. The unapologetic eight-track sophomore album from Omaha, Nebraska's The Real Zebos sees them throwing a litany of ideas at the proverbial wall, and finding – to everyone's benefit – that not only do they stick, but they also work well together. Life in the 2020s has been nothing, if not chaotic, and no style gives a soundtrack to that chaos, as well as our inherent journey to find balance, meaning, and purpose within it all. Following 2019's debut album Strictly Platonic., no style finds the five-piece of co-frontmen Connor Brandt and Jordan Gaul, guitarist Jake Strange, bassist George Cooper, and drummer Logan Swander expanding their sound and their scope – essentially evolving from a decidedly youthful indie rock band, into something we can't quite put our finger on.
"With this being our second record, the main goal going in was to a) deviate from the first one and b) keep things open-ended going forward in terms of what our "sound" can be," The Real Zebos' Connor Brandt tells Atwood Magazine. "That's something that I've always struggled with both in terms of music and personal identity – "what is our sound?" or "what is so special about me?" We are just some guys from the middle of nowhere. Rather than view it as a negative, this album was a chance for us to embrace the feeling of a blank slate, and just throw everything at the wall."
"I had this epiphany that it may not be such a horrible thing, to have "no style." In fact, it's far more rare to grow up in small-town-Nebraska than New York City. Maybe it's the lack of that cultural/musical background that makes our music unique."
"We've also talked about how important it is to do a "left-turn" album," he adds. "I feel like I heard Rick Rubin talking about this. On your sophomore record, if you follow the same sound as the first, then you kind of cement yourself into those expectations; and if you experiment further down the line, people will complain that you've lost your way. So it's ideal to establish from the start that you will be changing from album to album. That's what we were trying to do here."
---
Brandt's bandmate Jordan Gaul wholeheartedly agrees with that sentiment. no style is more than uninhibited exploration: It's an explosive embrace of the possibility and potential of this still young and growing band.
"To date we have released collections of songs with such an emphasis on diversity that we sacrificed cohesion, and this record follows suit (or does an intentional lack of cohesion CREATE cohesion?)," Gaul explains. "We plan on this album being the fulcrum in our catalog: One last scatterbrained huzzah before we look to creating (relatively) more focused, concentrated efforts."
"We also wanted to put forward some new sounds that might "transcend" expectations that people might have of a local band, and more specifically, The Real Zebos. Previously, we've released some songs that hinge on being dumb college rock or pop punk, a far cry from the psychedelic-pop tracks you'll find on no style. I think that this album (as well as our prior discography) demonstrates that The Real Zebos can not only compose songs in countless sounds and styles, but also that we can do it WELL. It's been important to me that we identified with our versatility, because I have always found that to be less "boring" than artists that might be a little too congruent from album to album."
The name no style is indicative of that willingness to invent with few boundaries, as well as that embrace of being "uncool" (or whatever the opposite of "having style" is).
"The album title came from the track of the same name – once that song came into fruition it was clear to me how that title and theme could also work for a full album," Brandt recalls. "We have a ton of unreleased material, and as Jordan touched on, we have plans for what those future albums might look like. But "no style" works perfectly to sum up the sound of this album: There isn't one, for better or worse."
The Real Zebos set the tone with album opener "bcuz i can," an emotionally and sonically charged upheaval full of hot passion and raw, dramatic swells of energy. "This song is kind of an homage to that feeling of saying, 'fuck it, I'm just going to make whatever I want, because I can,'" Brandt says. "I wrote about the time in my life when Jordan and I first met and played with the idea of starting a band. Toward the end of my freshman year of college, after having such high hopes that something would change for me, suddenly it was over and everyone I knew was going home. I was feeling very aimless and alone and I didn't know what else to do with my life, so I said, 'Okay, I guess I'll try out this whole 'musician' thing.'"
"bcuz i can" conveys that spirited, unapologetic attitude that winds up being no style's biggest seller: This unbridled enthusiasm proves infectious and utterly alluring as The Real Zebos bring us deeper into their world with every passing track, enchanting the ears a slew of groovy guitar licks, catchy melodies, colorful harmonies, and provocative lyrics. Further highlights range from the buoyant, bouncy "Indie Girl," the smoldering and soulful title track "no style," the ridiculously dramatic (and tongue-in-cheek) "We're All Going Solo," and the churning, frustration-fueled, and smile-inducing "Running in Place."
---
"This changes every day with my mood, but 'Cynical' is the song I could listen to the most," Gaul says on the topic of favorites. "It's very simple and pure, and doesn't waste a second. Other favorite moments include the first couple minutes of the track 'no style,' the freakout climax followed by the somber outro in 'What is My Life?' and all of the verse/pre-chorus vocal melodies in 'bcuz i can.'
It turns out Gaul and Brandt have more than a little overlap when it comes to their personal highlights. "The outro of 'no style' is probably one of my favorite things I've written,' Brandt says. "I've never really felt the need to do a gratuitous outro like that, but it just felt like something that could loop forever. The climax of 'What is My Life?' would also be a favorite of mine. If you can't tell by listening, we love a bombastic outro. Similarly, I love how the outro of 'Simple Love' plays out. Usually I have a hard time finalizing arrangements with too many ideas, but that one just fell into place on the first try without overthinking it."
As for lyrics, he adds, "One of my favorite moments is in "bcuz i can" when I say "they never miss a beat" and the beat drops out. So we're literally missing the beat, get it? Do you get it? Please say you get it. I'm also glad that I snuck "moldy peaches" into a song. "What is My Life?" has some of my favorite lyrics, particularly "slaving away by a broken pull chain lamp" and "resting your hands against a sheet of tempered glass" – both great imagery. Maybe the most relevant to the album is the verse in "no style" – "here's the decisions you have for me / it's either pretentious or mad corny," which details how I was worrying too much about how I would be perceived. I thought, if I make something that appeals to other musicians and music nerds, it will not be accessible to the average person; but if I write a simple pop song, the music snobs will turn their nose up at me. It just felt like a lose-lose situation."
---
Whether they're trying to get a little space and a helping hand, calling out major label subsidiary Fueled by Ramen (for what reason we're still a little unsure), or holding up a sobering mirror and confronting life head-on, The Real Zebos make every second of their sophomore record a moment worth remembering. no style has charm, grace, verve, and drive. It's unapologetic and unfiltered, uncompromising and exhilarating all at the same time. Go into this record with no expectations, and you're sure to have an absolute blast.
"Really I just hope that listeners get a better picture of The Real Zebos, Brandt shares. "Even though it feels like we've been doing this a long time, we still haven't released a huge back-catalog. So I'm just excited to get some more songs out there. What I've taken away from it is to let go of expectations. When we put out our first record, we had virtually no fan base. So now that there are people listening, writing became a whole different experience where I was focusing too much on what people would think of the songs. So it's taught me to let go of that and just make the music that I want to make."
Experience the full record via our below stream, and peek inside The Real Zebos' no style with Atwood Magazine as the band goes track-by-track through the music and lyrics of their sophomore LP!
— —
Stream: 'no style' – The Real Zebos
:: Inside no style ::
— —
bcuz i can
Connor Brandt: This song is kind of an homage to that feeling of saying, fuck it, I'm just going to make whatever I want, because I can. I wrote about the time in my life when Jordan and I first met and played with the idea of starting a band. Toward the end of my freshman year of college, after having such high hopes that something would change for me, suddenly it was over and everyone I knew was going home. I was feeling very aimless and alone and I didn't know what else to do with my life, so I said, okay, I guess I'll try out this whole 'musician' thing.
Indie Girls
Jordan Gaul: BEFORE YOU ATTACK ME FOR BEING A MISOGYNIST: This song was written to be tongue-in-cheek/satire, but there's probably some truths mixed around in there. I'm exaggerating an archetype of universal cliches and personality traits of girls that I personally know. I wrote it to be vaguely controversial, mimicking the arrogant attitudes of some of my indie rock 'n' roll heroes of the mid-2000s.
I initially wrote this song as a joke to tease my friend Joe, who was releasing a song called "Indie Girls" later that week. I made this fake song using his guitar intro and sent it to him, only to realize the track was way too cool to keep to myself. I ended up rewriting his guitar intro, but kept the title and the "Joe" name-drop in the chorus, not only to pay respects to a friend, but because it makes for an ambiguous and mysterious lyric ("Who's Joe? Should we know who Joe is? Is Fueled by Ramen really a subsidiary of Atlantic Records?!?").
We're All Going Solo
Jordan Gaul: "We're All Going Solo" is really six or seven songs in one, emphasizing big sonic changes and transitions throughout. It's an extremely literal track, playing out almost like a gimmicky Lonely Island cut, which lends itself to the music video's narrative. It's about ditching the band forever and pursuing a solo effort, which is a very real fantasy that I have from time to time. This was a more light-hearted way to relieve any tensions/grievances than an awkward band meeting 😉
Even though this song is one of my babies, Connor wrote a verse that's probably the best part of the song (not cool, dude), nailing the track's silly and mischievous tone PERFECTLY. Once he added his section, rounding out the narrative of the climax was a breeze.
Simple Love 
Connor Brandt: I started writing this song thinking about the relationship between social media and personal life. Sometimes it feels performative to post a huge paragraph about how much you love your significant other, when you could just tell them in real life, you know? Like, who is it actually for? So I wrote and released a song about it, which I'm realizing now is also performative lol. I'm a hypocrite!
no style
Connor Brandt: I wrote this song during a time when I was worrying too much about I'm perceived, both in music and in real life; feeling insecure about lacking a strong identity. I tried to let go of all that, just make a song that I want to make, and be okay with whatever that is. This sentiment kind of became the driving force behind the album thematically, visually, etc.
Cynical
Jordan Gaul: This is about as "bedroom pop" as a song can get. I wrote this in my room over a 36-hour period, which feels more honest & sincere than if I had stressed over every small detail for months (as I normally do). It's a humble acknowledgement of some negative qualities about myself of which I am wholly aware, but have difficulty working on or changing. It's probably been the easiest song (IMO) in our catalog to write/record/mix/master, with almost everything coming together perfectly the first try.
Running in Place
Connor Brandt: I hate hate HATE the idea of writing a "pandemic song" – but that's basically what this is for me. I love to go on walks and was definitely doing a lot of that in 2020. It was one of those rare cases where I had the arrangement/structure pretty much figured out in my head before ever sitting down to record. That's the power of a good long walk.
What is My Life?
Jordan Gaul: Being a slow burner that explodes into catharsis, it'd truly be impossible to put this song anywhere on the track list other than the closing spot.
Every lyric in this song is secretly a double entendre, describing two different narratives at once. One of them is about myself throwing it all away to pursue a career in music. Maybe you can try to figure out the other?  It's an extremely rare instance of when I write lyrics BEFORE starting the song, which is probably why it feels more poetic than some of my other efforts. Maybe I should try that more often…
— —
— — — —
? © courtesy of the artist
:: Stream The Real Zebos ::
---