I don't mean to be jealous or envious for anyone here, but FEELS deserved more. That's why I'm rambling about it.
---
I am writing this a week out after Pickathon 2022. I probably should have written impressions sooner, but this is the first chance I've had to really sit and think and reminisce on the music I saw and the memories I made and the people I met. Here on the beach, with Chromatic, listening to Four Tet's New Energy.
Kieran Hebden did not play at Pickathon, and I was not there to cover electronic music as much as I wanted to. What I did see, however, counted as a poignant moment in the career of FEELS.
Pickathon was their last show.
Now I don't know what it is that keeps me from believing there ever will be a last show from any artist. Until they literally drop dead the next night or day or the very moment they step off the stage, it's just not going to happen. But let me shed myself of this sarcastic skin to lend a sincere set of words.
FEELS are the first band I ever interviewed in my nascent career path with Atwood Magazine. During my time teaching English in France, FEELS toured Europe in support of their sophomore showing, Post-Earth.
For fans of Wire, Television, and Gang of Four, it was a darling effort dressed up in scratchy, metallic distortion, car crash sonic simulacra, all to take over the aural space and weave a tale of a post-human Earth. Earth Plus Plastic, as George Carlin once put it.
---
Post-Earth is a world made by societies explicitly engaged in a shell game of trumpery, extortion, and Ponzi schemes.
One wherein consumer-driven dumps mold mountain ranges and steel skeletons rust into Cronenberg casts, effigies of a post-aesthetic, post-interpretive post-apocalypse. They have to imagine the epitaph for the New Ozymandias as no one will be there to give it one.
Anyways, I'm home now and my day at the beach has passed and I am still thinking about that last set from FEELS. Several observations need delineating:
FEELS' career was cruelly cut short by factors so far out of their control just when the deserved laurels were coming. Making rounds in the underground, COVID-19 knocked this band out of the game just as they were reaching form.
The crowd packed the house and while I can't say if the impact of this last set went deep, the Galaxy Barn was a great venue, if a sweaty hot mess as made by the newly cruel Oregon summers.
Despite this, their live show still rips. Even after a year's layover, a four-year interregnum since my last visit and a different rhythm guitarist, the material nor the band have lost their potency.
Watching Laena Meyers-Ionita, Amy Allen and Michael Rudes play and perspire to the last in another tiny venue brought me back to the basement stage of the VOID Club, just off the Rue St. Catherine in Bordeaux. The club was a co-op, sponsored by membership and ticket sales and styled to the nines for punks and metalheads alike.
Framed posters dressed both sides of the hallway entrance, detailing various metal festivals and shows and outfits attended. Stickers from a pêle-mêle of performers plastered above, below and around the bar, served beer and table wine. And to descend the stairway to the stage was to enter the mouth of a localized black hole.
COVID-19 short-wired more than just promising bands. It cut the shoestring infrastructure that made up the independent music industry. And while it wasn't a spectacle, this veritable CBGB in its own right deserved more than the grim fate of sputtering and coughing to the death during an auto-respiratory pandemic.
Pickathon's return counts for an excellent victory for said industry in Oregon. But that's another ramble for another time. And elements were missing from the moment at Galaxy Barn.
The last time I saw FEELS, I bought a band shirt. It looked like a thumbprint with the band's name on the lower right. I should have worn it, but I wasn't thinking. Moreover, the conditions were just that forbidding—one hundred degrees and the combined humidity of more than 50 people put black shirts out of the question.
Still, it frequently does laps in my laundry machine.
---
Another element missing from this final show was Shannon Lay. The erstwhile member and singer-songwriter-guitarist adept previously filled out the band's skillset with nimble fingerpicking and an angelic vocal harmony that played off the huskier riot grrl soprano from Myers-Ionita. Amy Allen could add choral power to the chants, but Lay would enhance them, building beacons across octaves.
And while I had a chance to interview Lay for the story as to why she left, I didn't press. Her answer suggested that the vibes were off for FEELS and on for a solo career. Comparatively, it seemed like the right decision. Signed with Sub Pop, Lay's career has gone swimmingly thus far, with August showcasing her weaver's touch as a folk songstress.
I don't mean to be jealous or envious for anyone here, but her departure was sudden and the juxtaposition is drastic. And I'm still left wondering how the band reacted.
"We were midway through touring Post-Earth. We did a European tour. Then we did a full US tour. And then we had another European tour booked, and she quit." Myers-Ionita obliged an answer.
Simple enough. But it left the band in a tricky state of flux, necessitating the search for a replacement. After the second European tour, the replacement also left, triggering another emergency search. Cole Berliner joined and immediately proceeded to play live.
By early 2020, FEELS had worked out enough material to cut a new extended-player. Subversive Reaction introduces a new sonic for the band. The standout track is still "Trash Island," characterized by Berliner's dry, spoken-word playing off Myers-Ionita's equally dry responses.
---
The drawling duet begets a rapport so tantalizing with potential that I might have to go punch a pillow just thinking about it. But as the pandemic spiraled out of control during their time in the studio, what was supposed to be a heralded return quickly became an unintended epitaph.
Allen is moving into academia for transpersonal psychology with a focus on psychedelic therapy. Myers-Ionita will be working out solo material previously on the back burner. Rudes plans to tour with Matt Reid of Blonde Summer under the name NORMANS. Berliner will be shifting his focus to another project, Kamikaze Palm Tree.
No one in the band had any bad feelings about where they were leaving this project. So I will gladly take up that account. Perhaps gladly isn't the right word. However, the eulogy is certainly more bittersweet than just bitter.
Momentum is such a key component in the context of creative arts. And when an outfit loses the wind, it can be a trick to find it again. Some bands never do. Others turn from an image of success to a desperate bid to keep up. Respectably, the members of FEELS knew when to hang it up after receiving the message.
FEELS were a band that deserved more time, more notice and more chances. But if Pickathon did one thing right, beyond just the revamped stages, excellent art installations and a well-endowed lineup, it let FEELS retire with dignity: a sold-out house, a clear show of skill and hearty applause.
Few can hope for such a last set. I'm just glad this band deserved it and more.
— —
"SUBVERSIVE REACTIONS" – FEELS
— — — —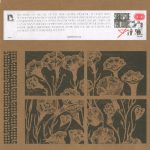 ? © Ben Niesen

:: Stream Dinosaur Jr. ::
---