Vulnerability is strength, as ANNALIA so vividly expresses in her intimate new single "Hold My Breath."
Stream: "Hold My Breath" – ANNALIA
[soundcloud url="https://api.soundcloud.com/tracks/557711919?secret_token=s-daNMy" params="color=%2384a4d4&auto_play=true&visual=true&hide_related=false&show_comments=true&show_user=true&show_reposts=false" width="100%" height="300″ iframe="true" /]
---
Got the butterfly's point of view; what'd I get myself into?
The more I grow, the more I come to appreciate the fact that positivity is a very, very special trait. Few people naturally see the good in everything; in fact, so many of us go about weighed down by the bad in ourselves and our surroundings. What if we stripped all of that away, so that we could highlight our deepest truths without the ache of pain or sting of regret? Vulnerability is strength, as ANNALIA so vividly expresses in her intimate new single "Hold My Breath." Flirting with euphoria, ANNALIA invites us to indulge in our emotions; to embrace the full spectrum of feeling and bask in those depths, rather than hide or shy away from them.
Atwood Magazine is proud to be premiering "Hold My Breath," ANNALIA's feel-good lead single of 2019. Her first release following last October's "Cycles" (which has since racked up over 40,000 streams), "Hold My Breath" finds ANNALIA making 2019 a year of restart and renewal; of finding the good in situations and celebrating not just the world's love and joy, but also its potential.
Atwood Magazine last covered the Los Angeles-born artist in 2016 around her debut single, remarking, "ANNALIA's edge and female prowess shine through "STRANGERS." It's the perfect debut single for an artist with a bright future, who won't let anything or anyone stand in her way." At that time, ANNALIA was based in Nashville, and her introduction offered an anthem for all those "who have felt the pain of love and soldiered on." In the ensuing years, ANNALIA has released a steady stream of singles and her debut EP Wavelength (May 2018), all of which highlight her songwriting strength and flexible, emotive vocals.
"Hold My Breath" is the latest exemplar of her talents, but it is by no means her first. Emerging out of a stream of muffled keyboard chords, ANNALIA sings the familiar experience of a relatively fresh breakup. She soaks in the smells of her ex, and while it seems like she's spiraling out, she's really just letting herself go and indulging in her emotions.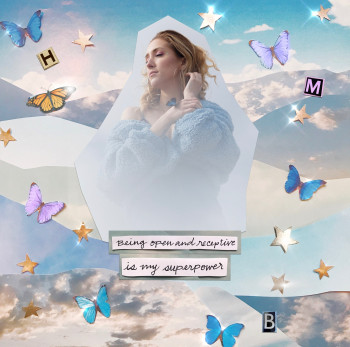 Pacing the room
Still smells like you
Gotta keep myself entertained
You're messing with my brain
Got that butterflies point of view (uh oh)
What'd I get myself into?
Painted grey got me anxious
But honestly I'd stay here for ages
ANNALIA is open and honest with herself, cogent that the way she feels isn't necessarily the way she would have wanted to feel – but that's alright; that's how it's going to be – and while she might fall from cloud nine and hit the ground, maybe she'll stay up high as well.
"'Hold My Breath' is about taking a chance on believing that you deserve greatness and the vulnerability of the plunge into the unknown," ANNALIA tells Atwood Magazine. "While we mostly hear the phrase "I won't hold my breath," this song puts a positive spin on the saying; hoping that the first spark will be long and lasting, while also acting as a reminder to think the best of people."
In the interest of indulging in fresh starts and new beginnings, ANNALIA's newer work focus on the brighter side of life. Her lyrics in "Hold My Breath" inspire hope and excitement, especially as she works her way up to a chorus full of joie de vivre:
Dancing on the edge of change
You could do some damage babe
If you didn't wanna stay around
Baby I
Hold my breath
From the second we met
I've been hanging in the clouds
Don't bring me down
Hold my (breath) / Hold my (breath)
ANNALIA says, "My upcoming singles will all be centered around positive thinking, correlating a positive affirmation with each song so that you can bring it with you wherever you go that day. For "Hold My Breath," I fell in love with the phrase "being open and receptive is my superpower," (words by Natalie Albert). Writing, singing, and releasing this song were all a way for me to express the sentiment of openness and allowing good things into my world. I want this song to be a reminder to my fans that vulnerability is strength! I believe it whole-heartedly and hope to be able to encourage others in that. Some might say this song will leave you, holding your breath…. for the next one…. soon soon, I promise."
A bright spark of light, "Hold My Breath" turns an otherwise poignant and dark situation into one full of potential — even if that "potential" doesn't lie in the apple of the subject's eye. ANNALIA — who is open in her art about struggles with anxiety and depression — offers an alternative interpretation of the rawest circumstances, and in doing so she provides a safe space for all of us to let go, and just be.
Stream "Hold My Breath" exclusively on Atwood Magazine!
Stream: "Hold My Breath" – ANNALIA
[soundcloud url="https://api.soundcloud.com/tracks/557711919?secret_token=s-daNMy" params="color=%2384a4d4&auto_play=false&visual=true&hide_related=false&show_comments=true&show_user=true&show_reposts=false" width="100%" height="300″ iframe="true" /]

— — — —
? © Sara Kiesling
art © Kerry Krogstad
:: Stream ANNALIA ::