Maneuvering young adulthood and explosive popularity, AJR's Ryan Met unpacks the band's new album 'Neotheater' and what it is that's made the alt trio of Met brothers so sensationally relatable.
— —
The come-up hasn't slowed AJR's momentum: The wildly popular trio's latest album Neotheater (released April 26, 2019 via BMG) balances simple youthfulness with a deep sense of self awareness. Atwood Magazine recently spoke with Ryan Met, who plays in AJR alongside his brothers Jack and Adam, about the questions their third album seeks to answer, an analytical fanbase unafraid of vulnerability, and the never-ending trove of creative ideas that seem to appear out of thin air for the Met brothers.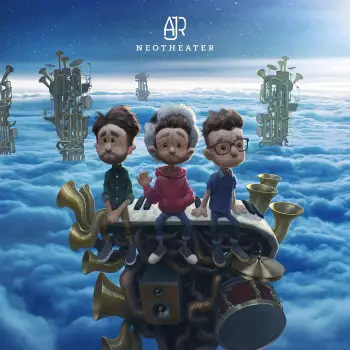 Met cites the fans as one of the main forces behind AJR's ever-growing body of work.
Between himself appealing to the more introverted crowd, who often identify with the more self-conscious and considerate lyrics, to those who are more drawn to Jack Met's boisterous anthems, together AJR inspire tremendous dedication. The dichotomy of these personalities shows through their writing, giving way to tracks that are as catchy as they are lyrically inquisitive.
… We extrapolated this fear of being afraid to peak in life and of graduation and wanting to look forward to things, as opposed to experiencing them.
In our conversation with Ryan Met, we covered everything from AJR's claim to fame – producing their music from start to finish right in their living room – to how Neotheater builds on The Click, to their experience working with Rivers Cuomo and more. Find AJR on the Neotheater World Tour this fall!
I gotta go so much bigger
So everybody's proud of me
Welcome to the Neotheater
Won't everybody take their seats?
And I'll be next up forever
'Cause I don't know what's coming next
I know I gotta grow up sometime
But I don't think I'm ready yet
– "Next Up Forever," AJR
A CONVERSATION WITH AJR
Atwood Magazine: I wanted to start by asking about "Next Up Forever," since it's the first track on the album. How would you describe the feelings in that song now that you're on your third album and have quite a big following?
Ryan Met: So our last album, The Click, ended up doing really well and had a bunch of platinum singles on it. And when something like that happens it messes with your mind a little bit. You kind of go back to this feeling, like, should we copy ourselves? How do we get into that frame of mind that gave us this fanbase? We realized about halfway into the album process, let's not try to copy The Click. Let's not be mimicking ourselves and create a gimmick out of our sound. Instead, let's come up with something totally new that surprises people and that you can't really compare to The Click. That's more exciting for us and that's more exciting for everybody and we're pushing the music industry forward a little bit. So "Next Up Forever" is us grappling with that feeling, of being scared of creating this thing, we want this next phase to be successful but we don't want to peak. We want to look forward to even more success, and so we extrapolated this fear of being afraid to peak in life and of graduation and wanting to look forward to things, as opposed to experiencing them. "]
And you guys are really young, so it makes sense that The Click was more about growing up and maturing, do you still feel like that's one of the bigger themes on Neotheater as well?
Met: We're all in our twenties, and yeah we try to write our songs about the feeling of trying to hold onto some kind of childhood while being forced to be an adult and act grown up. So that struggle is definitely prevalent on The Click and on Neotheater.
From listening, your music is often very introspective and self conscious and self aware, do you think that targets a specific audience of people? And is there something you want your fans to get out of that type of music?
Met: It definitely targets a specific type of person. It's never been our goal to appeal to as many people as possible, because I think often when you try to appeal to as many people as possible you're watering down really unique music in the interest of getting your numbers up. Our goal, like you said, is to be as introspective as possible and to appeal to the people in the world who are equally introspective and actually think about what they're feeling, and not just mindlessly dance to a song. I think we get a lot more fulfillment hearing fans' reactions and hearing their deep analysis of lyrics that we wrote. We tapped into this really unique fanbase that happen to be pretty intelligent and introspective.
I think we get a lot more fulfillment hearing fans' reactions and hearing their deep analysis of lyrics that we wrote.
Going back to what you said before about not wanting to copy The Click, what was the significance of doing a sequel to "Turning Out," a pretty introspective song, on Neotheater?
Met: I wrote "Turning Out" part one about a relationship, and the relationship ended, and I wrote "Turning Out Pt. ii" as the sequel to that relationship. And I thought it was really important to tell the next chapter of that story and connect the two songs that way. It's essentially a breakup song, but more than that it's a breakup song looking inward questioning what love is supposed to be. We see it in movies, and TV shows, and people walking down the street, but why am I not feeling what I'm supposed to be feeling? So that was the second chapter, and probably on the next album we'll do a "Turning Out" (part 3) and hopefully that'll be a happier chapter.
I really like that. "Birthday Party" also stands out in the way that you poke fun at things going on in the world right now.
Met: It's so hard to write anything political, people are so sensitive to when they're being preached to and just tune out. It's so easy to just be cheesy and preachy. For us, it's really hard not to comment on politics just because we're humans out in the world and we watch the news and it's everywhere. For us to not talk about politics would be dishonest, like putting on blinders, so we tried to come up with interesting ways to make social commentary. We made "Birthday Party" from the point of view of a newborn baby that is innocent and naive and doesn't really know how bad things can get and how cynical people are. We wanted to write an ironic twist on it.
Speaking of your writing process in general, is it just you, or all three of you?
Met: Jack and I write the songs, and produce the songs. We've been writing together for almost ten years and we've gotten into this really great flow where if one person feels really strongly about something, the other person trusts them. And I think you can only get that in finding a partner that you really respect and have written with for a long time. But in general I'm a little bit stronger with lyrics and Jack's a little bit stronger with melodies. And we boost each other in the stuff that we're weaker at.
Outside of writing, how would you say you guys balance each other out?
Met: I think between Jack and I, he tends to be more outgoing, and he tends to- in the best way possible- want more attention on him. And I tend to shrink back a little bit and observe people more. So I think that part of our personalities is a yin and yang, and that translates into the writing. He tends to write more of the social songs like "100 Bad Days," he came up with that concept. Just bigger, relatable, social ideas. And I write more of the introspective emotional songs.
I know you guys are known for handling all of the production and being a DIY group, has that gotten challenging as you've gotten bigger, or is it still really important to you guys to continue no matter how big you get?
Met: We don't have any plans to change. We're not really against having cowriters, we've just done it together for so long. It's been just us sitting in our living room, so it would feel weird to bring in a big top 40 writer and have them suggest ideas and then we say no- I don't know. We just see it as this weird, awkward thing. But there's no shortage of ideas between the three of us, so when the day comes that we run out of ideas we'll bring a co-writer in.
I know you worked with Rivers Cuomo of Weezer a while back, how was that experience?
Met: Very cool, I think that was the only feature we've ever had on an AJR song. We've looked up to Weezer for so long: Their aesthetic, the honesty, the quirkiness in their music. It was cool seeing how Rivers Cuomo writes, he has an Excel document that he's had since the '90s. There are hundreds of different rhyming schemes and hundreds of pages of different two syllable rhymes and three syllable rhymes… When he writes he basically just drags rhymes into the lyrics sheet and creates sentences that kind of make sense. It's a very scientific way to write, so exactly the opposite of how we write. Really interesting.
Moving forward I know you have some festival dates coming up and then the tour this fall, are you planning to play into the "theater" part of Neotheater and create a lot of visual fanfare?
Met: The tour is going to be kind of insane. We conceptualized the tour the same time as writing the album because we wanted it to be one whole cohesive piece of art. Kind of like when you listen to a Broadway show soundtrack, and then you see the show. That's the feeling we wanted, where people would get really comfortable with the music and then come to the show and get these visuals and the animation and the crazy effects we're gonna have on stage and it's gonna click. And people are gonna get it, and understand, oh that's the story they wanna tell. The Neotheater World Tour is in the fall through North America and Europe, and it's very intrinsic to the whole piece of art.
That's awesome. Last question is who are your biggest musical influences, and do you think your answer to that question has changed since you started making music?
Met: Definitely our favorite band of all time are the Beach Boys. Pet Sounds is our favorite album of all time. Just the way they're able to create nostalgia and have so much diversity in their music, and have such complex chord changes, but yet still so catchy and simple and learnable. We've always really respected that, to be complex and yet understandable enough for anybody to sing along with it. As we've grown, different genres have embraced us throughout our career. For a long time we were really just in the pop lane, and kind of felt weird there, like do we really belong here? And then a few years ago the alternative genre really just embraced us. And we started getting a lot more alternative radio play and realized oh right, we don't belong on the pop charts. We really belong on the alternative charts with the more experimental bands. So that's when we started getting inspired by a lot of these great alternative bands like Weezer, 21 Pilots, Panic! at the Disco, bands like that.
— —
— — — —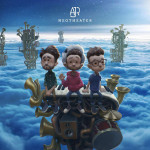 ? © 2019
Neotheater
an album by AJR
---
:: Neotheater World Tour ::
Sept. 20 – Council Bluff, IA – Stir Concert Cove
Sept. 26 – Los Angeles, CA – Shrine Expo Hall (Tickets)
Sept. 28 – San Francisco, CA – Bill Graham Civic Auditorium
Sept. 30 – Seattle, WA – Paramount Theatre
Oct. 1 – Portland, OR – Theater of the Clouds
Oct. 3 – Salt Lake City, UT – The Great SaltAir
Oct. 5 – Morrison, CO – Red Rocks Amphitheatre (Tickets)
Oct. 10 – New York, NY – Radio City Music Hall
Oct. 16 – Detroit, MI – The Fillmore
Oct. 18 – Columbus, OH – Express Live! Amphitheater
Oct. 19 – Indianapolis, IN – Indiana Farmers Colesium
Oct. 20 – Grand Rapids, MI – 20 Monroe Live
Oct. 22 – Minneapolis, MN – The Armory
Oct. 23 – Madison, WI – The Sylvee
Oct. 25 – Kansas City, MO – Uptown Theater
Oct. 26 – St. Louis, MO – The Pageant
Oct. 27 – Oklahoma City, OK – The Criterion
Oct. 29 – Dallas, TX – The Pavilion
Oct. 30 – Austin, TX – The Moody Theater
Oct. 31 – Houston, TX – Revention Music Center
Nov. 6 – New Orleans, LA – The Fillmore
Nov. 8 – Orlando, FL – Hard Rock Cafe
Nov. 9 – Tampa, FL – Yuengling Center
Nov. 12 – Atlanta, GA – Infinite Energy Center (Tickets)
Nov. 16 – Boston, MA – Agganis Arena
Nov. 19 – Buffalo, NY – Shea's Performing Arts Center
Nov. 21 – Washington, DC – The Anthem
Nov. 22 – Pittsburgh, PA – UPMC Event Center