'Tilt At The Wind No More', the latest album from Andrew McMahon in the Wilderness, is a study in making songs with a variety of tonal differences coexist beautifully on one record.
'Tilt At the Wind No More' – Andrew McMahon in the Wilderness
---
Encapsulating a person's first 40 years of life can't fairly be done without looking at how they've spent that time.
Suffice it to say, Tilt At The Wind No More, the newest release from Andrew McMahon In The Wilderness beautifully captures that roller-coaster ride for the recent member of the 40 year club. Released March 31, 2023 via Nettwerk Music Group, the album puts words and melodies to 20-plus years as a touring recording artist, over 17 years of marriage, parenthood, nine full-length albums, overcoming critical illness and so much more.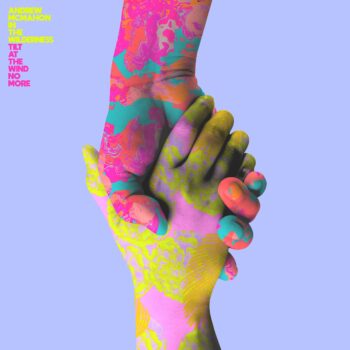 "I wanted to take these very grounded concepts about growth and about getting older and try to pull some wisdom out of my experiences and put them into this music, but to still have it have buoyancy," McMahon tells Atwood Magazine. "Even if the topic was heavy, there's a brightness in the palette, musically. I think it's a seminal record, but you never know about these things sometimes until years past. I think there are records that I thought fell on deaf ears that now are peoples' favorite record and those I didn't expect would take off and all of a sudden came out of nowhere."
Songs like "Skywriting" and "VHS" check all the boxes for energetic, dancy live performances that we've come to expect at an Andrew McMahon show, and they are very opportunistic in allowing artist and crowd connections.
Then, all at once, there's this beautiful downshift into very reflective songs like "Built To Last," which McMahon admits was written very much in-the-moment as a sort of purge of fantastic emotions.
"Whatever came out was just whatever was in my subconscious and I finished it and was like: This is done. I'm not going to turn it into a pop song. This is meant to be what it is. "Built To Last" is one of the songs I feel closest to, because I sort of subverted my pop intellect to say, this is true the way it is."
---
Doing a compare/contrast of Tilt At The Wind No More against all of the other albums in McMahon's discography, it's evident that there was a push towards uniqueness.
The bedrock of this album is truly an homage to things like love, relationships and visceral life experience.
"With Upside Down Flowers I think I had intentionally made something more organic and didn't really push the envelope sonically and it was a little more roots-based rock'n roll record and so I was kind of ready to kind of get into the adventure of the next thing and sort of push the palette. I knew whatever I wrote was going to be coming out in my 40th year on this planet and more than two decades into my career and half a life on the road, so it became important to me that lyrically the songs were rooted in understanding that journey."
Anyone familiar with Andrew McMahon in the Wilderness in a live setting knows that's when he and his band are very much in their wheelhouse. Songs like "Cecilia And The Satellite," "Fire Escape," and "High Dive" electrify and get crowds up off the floor.
So, on the latest album the pace of the live show promises to not only bring high-energy moments, but also more reflective and vulnerable ones.
"Songs like 'VHS' and 'Skywriting,' those are gonna stand the test in a live setting," McMahon says. "But I'm excited to do tunes like 'Built to Last' and 'Nobody Tells You When You're Young' and see how it is to really ramp the dynamic down in the set and sing words that for me are really cutting and bring people to that place."
"I played "Little Disaster" for [my producer] Tommy English and he was like, "Who recorded this?" I explained it was Jeremy Hatcher, who is a world class producer/engineer who worked on Harry's House and the new Lizzo record. Jeremy came in the next day and next thing I knew we were locked in the studio for three months."
I can feel you in my heart
Like an ocean
I let you drive my car
I'm never looking back again
And everything I have
No I would never need
As long as you are here
As long as you can see
That even when I'm hiding
Yeah I still believe
That hey now, we'll go on living
After all the smoke and ribbons
Can't fight the time
It's marching on
Hey now, it's all forgiven
Good luck and bad decisions
I'll write the words if you sing along
---
So many of McMahon's meaningful lyrics and references also come out of his time spent battling and eventually beating leukemia, which is what prompted him to start the Dear Jack Foundation in 2006.
One of the foundation's most unique features are its Breathe Now Retreats, where patients, survivors, and their significant others or caregivers enter a complete environment of healing.
"It's something I'm super proud that we do with Dear Jack, because I don't think anyone's really doing it. It's so they can come and be with other people who are going through it and realize they are not alone. It just sort of facilitates the community and puts them on a healthy footing, getting back to life."
While by no means is McMahon done creating and won't be for many years (thankfully), Tilt At The Wind No More feels like a culmination of a lifetime of experiences and learning.
It manages to capture such a myriad of feels: Celebration, growth, love, pain, forgiveness and just about any other facet of the human experience. Since the release, many of his long-time aficionados have been heard to say they think it's his best work to date.
Andrew McMahon in the Wilderness is currently touring the U.S. in support of Tilt At The Wind No More in intimately-set venues and nationally-renowned music festivals.
— —
— — — —
Connect to Andrew McMahon in the Wilderness on
Facebook, Twitter, Instagram
 © Lindsey Byrnes
:: Stream Andrew McMahon in the Wilderness ::
---