Atwood Magazine is excited to share our Editor's Picks column, written and curated by Editor-in-Chief Mitch Mosk. Every week, Mitch will share a collection of songs, albums, and artists who have caught his ears, eyes, and heart. There is so much incredible music out there just waiting to be heard, and all it takes from us is an open mind and a willingness to listen. Through our Editor's Picks, we hope to shine a light on our own music discoveries and showcase a diverse array of new and recent releases.
This week's Editor's Picks features boygenius, BAILEN, The Beths, spill tab, Nuovo Testamento, and Chessa Rich!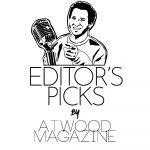 ---
boygenius' hard songs hit hard, and their soft songs hit even harder: With the release of the band's debut album the record today, the full weight of Phoebe Bridgers, Julien Baker, and Lucy Dacus' combined strengths is crystallized in twelve achingly raw, intimately vulnerable, and deeply cathartic songs that break us down, only to build us back up again.
Emotionally charged and unapologetically visceral, the record is a soul-stirring, heartrending gut-punch; the trio of celebrated songwriters seamlessly blend their respective indie folk and indie rock roots into a breathtaking, inimitable journey that only they could create. the record's songs explore the intricacies of human relationships and different forms of love, connection, and intimacy; unabridged introspection, observation, and vivid imagery blend together as boygenius explore what it means to love and be loved; to let someone into your world, and in turn, to be let into theirs; to be not only an individual contributor in this life, but also a part of a greater whole.
"It feels good to be known so well; I can't hide from you like I hide from myself," they reflect in the comforting "True Blue." "I don't know why I am the way I am, not strong enough to be your man," they lament in the soaring, cinematic "Not Strong Enough," a personal favorite.
"I'll give everything I've got, please, take what I can give; I want you to hear my story and be a part of it," they declare in enchanting three-part a cappella harmonies on the album's enchanting opener, "Without You Without Them." "And I love you I don't know why… I should have left you right there with your hostages, my heart and my car keys. You don't know me," they exhale in the hauntingly heavy, gut-wrenching finale, "Letter to an Old Poet." "I wanna be happy; I'm ready to walk into my room without lookin' for you… I can't feel it yet, but I am waiting." Each of the record's twelve songs is a powerful piece of poetry manifest through resonant music that hurts in the best, and the worst, of ways.
boygenius' music gets under the skin; every song is a wound, the sonic scar of a life lived. Parts of the record are warm and wonderful, whilst others are cooler and painful to the touch. Yet whether you're smiling wistfully, laughing joyously, or (more than likely) crying your eyes out, boygenius' debut album captures an undeniable, beautiful slice of our shared raw humanity.
"Nothing Left to Give"
by BAILEN
"I know I'll make it out of this alive, so don't stop me from trying to enjoy the ride," Julia Bailen sings at the top of BAILEN's soul-stirring third song of the year. "Gotta keep from burning out before I hit my stride." A sense of urgency, intimacy, and raw determination radiates throughout "Nothing Left to Give," the latest single off the sibling trio's long-awaited sophomore album Tired Hearts (due out May 5 via Fantasy Records).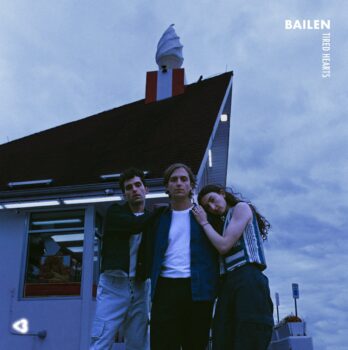 I know I'll make it out of this alive
So don't stop me from trying to enjoy the ride
Gotta keep from burning out before I hit my stride
Ride it out, It's all a matter of time
It's just a laundry list of little pills that I have tried
Keep your head straight,
don't waste your time looking behind
Following the release of title track "Tired Hearts" and lead single "Call It Like It Is" earlier this year, "Nothing Left to Give" (released April 11) is an uplifting mantra of perspective and perseverance: To keep her head above water in a period of emotional deluge, Julia Bailen wrote a resounding reminder, to herself and all who listen, that things pass; life goes on; that we will make it through even the darkest times in our lives.
"'Nothing Left to Give' came from feeling so overwhelmed that you no longer care if everything goes wrong," the BAILEN vocalist says. "The song is a mantra to help me crawl out of a depression hole, to help me clean my room for the first time in a while, call a friend when I need to talk, or keep an overwhelming day in perspective, even when it feels like you won't survive it."
The band hit their stride in the song's cathartic, soaring chorus:
I got nothing left to give, but that's ok
It's just a little less to lose when you're losing your way
running on empty
just to make it through the day
and I only have myself to save
Baby I could be brave enough to say
I only have myself to save
Together with her brothers Daniel and David, Julia Bailen delivers an inspiring, dreamy indie pop soundtrack to inner strength and staying power, faith in oneself, and trust in the process. Laden with BAILEN's signature three-part vocal harmonies, "Nothing Left to Give" is a spirited anthem of hope and passion; an enchanting beacon of light shining for all those stuck in a rut, caught up in themselves, or trapped in toxic cycles of their own design. There's something soothing to hearing someone else admit, "I'm losing ground and I'm losing my mind, but I'm not one to give up without a fight. I wanna live, I'm sick of trying to survive."
As easy to fall for as it is to sing along to, "Nothing Left to Give" is a surefire guarantee that we'll be keeping close tabs on BAILEN as they gear up for Tired Hearts' May 5th release.
I got nothing left to give, but that's ok
It's just a little less to lose
when you're losing your way
running on empty
just to make it through the day
and I only have myself to save
Baby I could be brave enough to say
I only have myself to save
"Watching the Credits"
by The Beths
In the end, aren't we all just watching the credits to find direction in our existence? The Beths' new single is a sonically charged eruption of existential reflection and reckoning; a charismatic and charming indie rock song exploring life through a movie director's lens, and further using that as a metaphor for our own sense of purpose, meaning, and identity. Released March 28th via Carpark Records, "Watching the Credits" is simultaneously tons of fun, and absolutely head-spinning: The kind of song that provokes us, even as it powers us through the day.
Press play on the rest of the day
Hurry up and wait for your next scene
Not great
Couldn't keep my face straight
And I know very well that it's
'Show and Don't Tell' on the big screen
When all of the lines you've learned are
bleeding on the cutting room floor
There's no star on the door
Good God!
Who are you making this for?
"For a long time, I didn't really like watching movies, but I did like learning about movies," The Beths' lead singer and songwriter Elizabeth Stokes tells Atwood Magazine. "Podcasts, articles, YouTube videos, behind the scenes clips, critical analysis. I'd read the Wikipedia plot synopses instead of watching the movie though. I've since got over this weird behaviour (mostly) and now consider myself a 'movie person' who enjoys actually watching movies."
"My relationship with music has gotten strange over the last few years," she continues. "I think now that it's my job, I associate it with work, which is something I don't love. Maybe I was drawn to absorbing content about a creative medium that had some things in common with music, but didn't feel so existential. Making a movie with hundreds of people seems like such a huge herculean effort compared to making an album with your band. Long story short, I think I blurted all of that absorbed content out into this quite silly song. We recorded it as part of the 3rd album, but swapped it out last as it didn't feel like it really fit."
Stokes hits her stride in a feverish, rousing chorus aching with passion and earnest, exhilarating enthusiasm:
I spend all day putting out fires
Listening to choirs singing
The soundtrack blaring
And I spend all night
Cutting up edits
Watching the credits to find direction
In my existence
Originally intended for The Beths' critically acclaimed third album Expert In A Dying Field (released in September 2022), "Watching the Credits" feels like the cherry on top from a band that have consistently dazzled us over the past five years. It's also the perfect teaser ahed of their forthcoming world tour (you read that right!), which starts in late May in the UK and will bring them throughout Western Europe, before they take the US by storm all summer long and well into the fall; they've also been tapped to open for The National, and later for Death Cab For Cutie and The Postal Service on their sold-out Give Up & Transatlanticism 20th Anniversary Tour.
2023 promises to be The Beths' busiest year yet, and if you haven't yet hopped on the bandwagon, give "Watching the Credits" its due attention – and then promptly find your concert tickets here (I swear this isn't spons*red cont*nt). Even when they're just having a good time or goofing around, The Beths manage to tap a well of deep emotion and raw energy that leaves us dazed, dazzled, and absolutely enthralled.
It's just a story I don't quite believe
Full of plot holes and constant monotony
Who's going to root for this unlikeable lead?
Not them, not me, not likely
Maybe it's something we can fix in post
Or we can get take after take
'til the cows come home
Shut the door
I'm feeling overexposed
Now they all know
All of the tears you've cried but
You can't quite make it happen on cue
The pain never comes through
Good God!
When you're needing it to
I spend all day putting out fires
Listening to choirs singing
The end is nearing
And I spend all night cutting up edits
Watching the credits to find direction
In my existence
spill tab's "Window" is easily the coolest, silkiest, and suavest song I've heard all year. Released March 29 via Arista Records, the artist's first solo release of the year (following her irresistible grunge pop anthem with Matilda Mann this January) finds singer/songwriter Claire Chicha shaking off the bedroom pop label once and for all, and asserting her four-year-old music project as a singular artistic endeavor not bound by genre, style, or any other box one might attempt to put her in. Feverish and raw, churning and charged, "Window" is a visceral upheaval from depths unknown, driven by a heavy, pounding rhythm section and searing, effected vocals that resonate with their own form of fiery overdrive.
I get used to ignoring
Closing the door and opening yours
Since you've been clueless and honest
I wouldn't know the first thing
to say to you when you're here
I'll push away like I did
when I had you clear
It's the crux of the nature
to crave what is not near
"I was listening to a lot of Talking Heads around the time we started this song, so I think a bit of that influence is for sure in there," Chicha explains. "Mostly my producers Wyatt, Austin and I just had a good time crafting something that felt dynamic and ever changing. I love the idea of someone scrolling through the song and wondering how these different vibes exist together."
I think I'm done, I think I'm done
Having to hold your hand and keep you over the water
I think I'm done, I think I'm done
Having to hold your hand and keep you over
A wondrous, wide world unto itself, "Window" is the latest single off spill tab's upcoming new EP, out this May. Seductive, unapologetic, and irresistibly sleek, it's a shape-shifting fever dream of captivating sound that promises to leave our ears – and our hearts – all hot and bothered in three minutes flat.
Open up the window by my bed
Hoping you'll come crawling in like back then
Open up a window in my head
I'm hoping you'll infect me like you did back thеn
Did back then
I'll push away like I did like whеn I had you clear
It's the crux of the nature to crave what is not near, oh-oh
I think I'm done, I think I'm done
Having to hold your hand and keep you over the water
I think I'm done, I think I'm done
Having to hold your hand and keep you over
Love Lines
by Nuovo Testamento
It comes as a bit of a shock to learn that Nuovo Testamento are not some relic of the 1980s, but in fact a product of the here and now: The Los Angeles and Bologna-based trio delivers a singularly stunning Italo disco sound soaked in synths and cool darkwave influences that warm the ears, enrich the soul, get our feet moving, and start our hearts pumping. Nowhere does this ring truer than on the band's brand new sophomore album Love Lines, a dreamy and dance-ready half hour of cinematic seductions all about leaning into (and surviving) life, embracing love, and deepening our connections. Released March 3rd via Discoteca Italia, the follow-up to 2021's debut album New Earth sees Chelsey Crowley, Andrea Mantione, and Giacomo Zatti dwelling in a sonic space that feels inevitably nostalgic, yet equally of the here and now.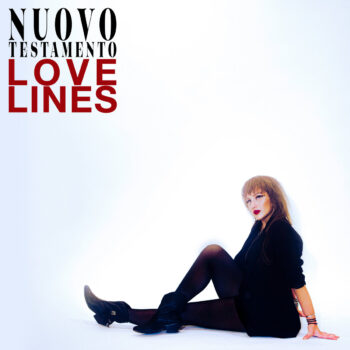 From the pulsing, provocative title track "Love Lines" to the pure heat of "Heat," the stunning synth work on "Wildlife" and the churning rhythms of "Perfect Storm," there's a lot to love on Love Lines – but one unavoidable (and undeniable) standout is the album's lead single "Heartbeat," stunning rush of emotion-infused dance-pop that aches with intimacy, intensity, urgency, and yearning.
I've made it out alive
Through the long dark night
Lonely little light
Dreamt of this once or twice
I think I have arrived
Almost like being alive
I'm feeling oh so lifelike
Cause I'm in paradise
"'Heartbeat' is about the joy of survival," Nuovo Testamento explain. "It comes off as a sweet, light song, but really it's about making it out of a dark time and all of the beauty and love that you find waiting for you on the other side. Although it's a really personal song, it's seeming like an apt representation of what a lot of people are feeling right now – so in some small ways it's become an expression of collective celebration. It just felt like an appropriate message to come out the gate with. Also, we figured we might as well kick the door down with a straight up pop song."
"Heartbeat" is also a powerful representation of Nuovo Testamento's overall artistic identity. "Our music has always walked a fine line between light and dark," they explain. "We're still doing that but in a different, less obvious way than before, and 'Heartbeat' felt like a great example of that new balance."
(Now when) my heart beats – heart beats fast
I can imagine that it's gonna last
Heart beats – heart beats fast
I finally see that I've made it back
Heart beats – heart beats fast
I'll keep on dancing
Like it's gonna last
Heart beats – heart beats
From the song's soft, subtle beginnings to its propulsive, immersive chorus, "Heartbeat" proves an irresistible thrill through and through; from the melodies, to the lyrics, to that unrelenting beat and the sheer heat of Chelsey Crowley's vocal performance, it's the tune that keeps on giving – and it's a perfect representation of the power, the passion, and the synth-soaked wonder awaiting listeners on Love Lines.
Nuovo Testamento hope their listeners take away a sense of joy from this song. "Folks on this side of the line don't often acknowledge the inherent power of pop and dance music, and we're loving playing with that. Also, writing both New Earth and Love Lines has been an exploration of shameless authenticity and being bold. We've gotten a lot from that and, if that resonated with anyone else, I'd be very happy."
"Paper Heart"
by Chessa Rich
Chessa Rich's debut album opens in a moment of intimacy in motion. "I want to put myself in your space, be there so I know you well," the North Carolina-based singer/songwriter and multi-instrumentalist sings, her heart open and arms outstretched, ready to make a meaningful connection. "See what you see, move where you move; point to where I am from where you stand, point to where you're going." A colorful and captivating introduction if ever there were one to be made, "Paper Heart" is a radiant entrance to a record brimming with reflection and release – not to mention a fantastic opening statement from an artist fast on the rise. Taken off Rich's freshly released LP Deeper Sleeper (out now via Sleepy Cat Records), "Paper Heart" sets the tone with compelling lyrics set against an alluring alternative/indie pop backdrop full of pulsing beats and silky, smoldering synths.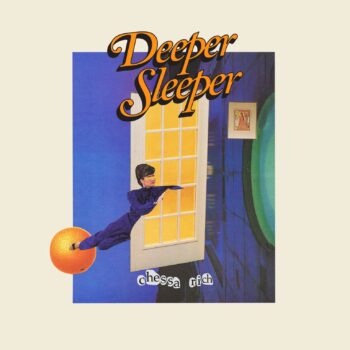 I read your signs and all of your letters
Finding them all on my own
Lines on a map you draw
Just to show me all of the places you love
Obviously you gave me directions
from where you are
Turn by turn I feel
1, 2, 3 do you know me?
"I started writing 'Paper Heart' on a writing retreat in Little Switzerland, NC at the end of a warm pre-pandemic summer," Chessa Rich tells Atwood Magazine. "I was alone in a cabin for a week with no cell service or internet, just working on songs and walking around in the woods. I was trying to crank out a lot of raw material on my first day there; trying to lay down rough sketches of as many tunes as I could. I had this cool melody (what ended up being the 'Paper Heart' chorus melody, or at least what I consider to be the chorus) and wanted to shake it up a little, so I opened a book that was on the coffee table in the cabin and started singing a melody along to whatever words were on the page I opened to."
"Some cool stuff started happening, and this idea of giving someone directions to somewhere in your hometown came up. I was thinking about how it feels when someone you really love is showing you around one of their favorite places for the first time. I think you learn so much from someone based on what they focus on and what stories come up. I always feel so much closer to people once they've shown me their stomping grounds. I wanted 'Paper Heart' to open the record because I think the people who know me and my music will really be surprised to hear a song this explicitly dancey and energetic right off the bat. I had already chosen the singles, which didn't include 'Paper Heart,' and I think it's so cool to open a record with a song no one's heard yet. I wanted people to be stunned and hyped about the rest of the record from track one."
I crossed a border
Turning your corner
I want to take you on
Maps write a secret passage you made us
You are taking me on
Climbing the highline
Down to the garden
Finding the place where you are
All of the while you're taking your time
You're drawing my paper heart
Enveloping, invigorating, and refreshing, "Paper Heart" is an instant standout off Deeper Sleeper – it's the kind of song that lifts off the page and ensures we listen to Chessa Rich's record all the way through. Get lost in the warmth and wonder of this vivid, intimate, and expansive escape.
The only kids in town
Running through dark tunnels underground
Leaves shining lightning back at us
And we're ready to throw it down
Walking through this park
You're drawing my paper heart
Walking through this park
You're drawing my paper heart
— — — —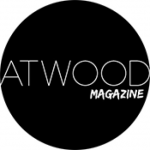 Editor's Picks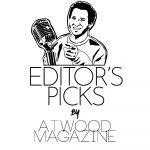 ---