Canadian singer-songwriter Amelie Patterson expands on her approach to music with "The Patient Kind", a disco-infused song about the longevity of instinctive connections.
— —
Listen: "The Patient Kind" – Amelie Patterson
Instinctive connections don't tend to be a regular occurrence but when they appear you sure do feel them. There will be a tugging at the heart, a fluttering of excitement, a break in the cloudy mystery of life giving you some brightened clarity. It could be about a person or it could be about a goal but either way, despite how speculative you may be at first, the signs deep down inside will still persist.
You moved so smooth I was mystified
You charmed your way through all of my friends
I knew it too, you weren't satisfied
Heart and head will battle to the bitter end
Atwood Magazine is proud to be premiering "The Patient Kind", the new single by Alberta-based singer-songwriter Amelie Patterson (out 31 May, 2019). Patterson released her debut album Roll Honey Roll in 2016 and a previous music residency at the Banff Centre combined with her growing behind-the-scenes collaborative spirit has earned her the inaugural poet-laureateship of Banff National Park. "The Patient Kind" is the first in a series of new releases that sees Patterson exploring wider influences, expanding on the folkiness of her debut.
An instant groove drives the song forward, deliciously shiny but not ostentatious. It's someone joyfully dancing in a sequin dress, their movements natural and released on impulse; It's social gatherings, relaxed but lively. Synths add a glow throughout and a slinky bassline sets the rhythm, harmonising with Patterson's soulfully toned vocals.
"'The Patient Kind' is a song about meeting someone and immediately knowing that you have a connection," Amelie Patterson tells Atwood Magazine. "We don't always meet people at the right time and 'The Patient Kind' is about being unapologetically confident in what you like and playing long game. It's about saying "it's alright if the timing is off and you aren't ready for good love, I've got the time and I'm the patient kind." This message is made clear from the start and the lyrics being set in at a party, a sociable and unreliable environment, heightens the assumption of fate.
You showed up late to the party
Your tie on straight and a bottle of wine
I knew it wouldn't take all that much from me
To ask you for your number or if you wanted mine
I guess that you could say that it was fate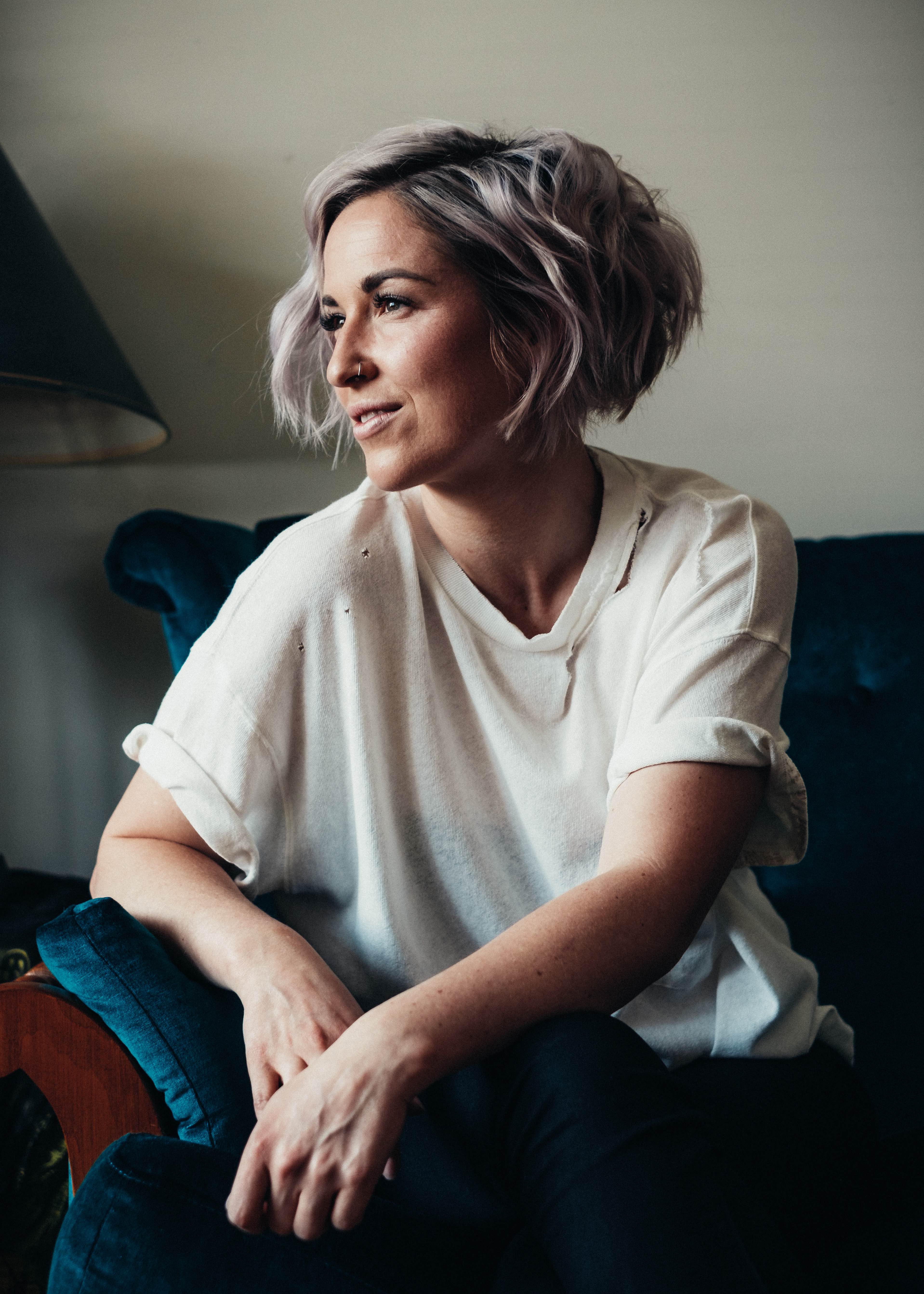 The new chapter in Patterson's musical career is taking the form of a project called The Playlist. Divided into three volumes released song by song over the span of a few years, its intention is for each song to encompass a different social and musical moment. Volume 1 will be unveiled over the course of a year, merch designed by independent Alberta artists distributed alongside it at gigs. With "The Patient Kind", Patterson collaborated with Emily Beaudoin whose mystical watercolour illustrations of home in the Rockies have been translated into two hands with crossed fingers, one a simple black and white and the other in streaks of red and blue. Sharing on Instagram, Patterson wrote: 'I had so many ideas falling out of my face and so many hectic barely explained images that Em finally said "Am. What are the 3 things most important to you about this project" and I said "That I'm proud of it, that I'm scared of it, and that it's genuine." She said "that sounds like heart, head, and home" so we used the symbolism of bold colours, crossed fingers, and we added topographic maps lines as a call out to the Bow Valley.'
I guess that you could say that it was fate
Pulling on the strings of love and hate
I guess that you could say it was the wine
Mixing in my mind
If you need more time, I don't mind
I'll be here when your heart is light and free
And if you see more time, oh I'm the patient kind
Baby it's the same to me, baby it's the same to me
If representing a particular moment then "The Patient Kind" can be seen as leaning more towards disco pop with a sprinkling of the 80s, the sound complementing the lyrics which allude to seductive drama and a longstanding optimism that will likely eventually lead to nostalgia. There's still a bluesy ambience that was present in Roll Honey Roll, demonstrating how Patterson's approach to music has evolved to bring in new concepts and styles.
Although described as being about an unapologetic confidence, there are lyrics in "The Patient Kind" that suggest a lack of certainty- 'I guess you could say that it was the wine mixing in my mind', for example, and 'Are you friend foe or lover, are you enemy?' But these are part of the process, the action of being patient and allowing that innate connection to take its shape. The frequent use of the words 'I guess' feels like the casual, shrug-of-the-shoulder kind. It's as though we don't have to think too much about it. At the end of the day, these things- that feeling of fate- guides us along, encouraging us to feel the rhythm with a sparkly sense of ease. 
Stream "The Patient Kind" exclusively on Atwood Magazine!
Listen: "The Patient Kind" – Amelie Patterson
— —
? © Sebastian Buzzalino
:: Stream Amelie Patterson ::