Meet Andrew Cushin, Newcastle's most promising rising musician, whose buttery vocals and moving lyricism might just make him a star.
Stream: "Memories" – Andrew Cushin
---
The EP is a lot more electric driven, there's so much energy to it, and it will be great live. One of the songs is probably the most radio-friendly track I've ever done, and it will be the next single. It's really indie. Like, fuck genres, but it's really indie.
Nestled in the Leicestershire countryside in the heart of England, music fans can find 110 Above Festival, a small, intimate event with the capacity for just 1,000 revellers and a reputation for showcasing the best in indie music. With such a reputation and stellar line-up, Atwood Magazine headed to the event for a weekend of musical bliss and a catch up with Newcastle's finest up and coming star, Andrew Cushin.
The brazen Geordie songwriter and guitarist is the perfect example of the musical calibre at 110 Above, and following his captivating set, there's no question as to why his rise to success has happened so swiftly. "This is the first indie festival we've done as a band ever; guitar music goes down great here! It was just so good to see people singing the songs and see everybody's faces," Cushin says excitedly. On stage, Cushin is a dominating yet likeable force and seemingly born frontman, but it's not just his down-to-earth persona that has drawn fans to the charismatic musician. His voice is smooth with an immediately identifiable twang, and his lyricism cuts like a knife. So, the fact the talented artist didn't even consider a career in music until he turned 18 may come as a surprise, "I never wanted to be a musician, and I never wanted to play the guitar. I always thought everyone with a guitar was really seedy," he reveals.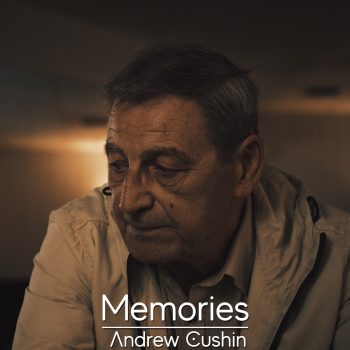 So many times, you hear the story of the bored council estate teen who turned to music when there was nothing else to do. But, rather than playing the guitar, this working-class kid was happier playing football and wreaking havoc with his friends by pinching shopping trolleys — good and proper childhood pastimes. "I was born on a council estate, and I was really working class. So I used to play football with my pals and steal people's washing off their lines. I was grateful that I grew up like that instead of sitting inside." Reversing the typical roles, it was only when Cushin's family moved to a new neighbourhood that he became bored and picked up a guitar, "I went from being out with my pals to just sitting in my house all the time. My dad always had a guitar around, and when I was 16, for whatever reason, I picked it up, and I started teaching myself." He continues, "But, I still didn't want anything to do with music. I was playing football for semi-pro teams, and I thought, 'This will do me!' But I was fucking skint, and I'm incredibly bone idle. That's when my mam got me my first gig," he confessed, "Which, of course, she'll never let me forget."
Then 18, Cushin revelled in the idea of being paid to play his guitar, "50 quid for a few songs? That'll do me," he laughs. But, of course, his performances have progressed from there, and instead of playing covers at small local venues, he's supporting Pete Doherty on tour and recording with Noel Gallagher. "You're name dropping, not me," he quips coyly in reference to the accomplished musicians. "I try not to think about it too much because when you take away Noel Gallagher, the musician, you've got Noel Gallagher, the father and friend. I don't see Noel as the musical genius he is anymore. I see him as a mentor." With continuing nonchalance, he recalls a recent conversation with the 'Holy Mountains' singer, "My amp blew in the house a few months ago, which might mean nothing to a lot of people, but to a guitarist, it's a kick in the bollocks. And I didn't know what to do, but the first person I rang was Noel, and he talked me through the settings and told me how to fix it. That's when I thought, 'You're more than just a musical genius to me, you're a mentor.'"
At this stage, it becomes clear that Cushin is a no-frills character, and it's likely this unfazed attitude that has allowed him to work so closely with music's greats, including a recent tour with The Libertine's Pete Doherty. "It's a similar thing with Pete. I don't have to tell you about Pete Doherty, he's a legend, but the headlines aren't great. So, I was under the assumption that I'd be gigging with Mötley Crüe. But he's so well-spoken and down to earth. After the first gig, when I came off stage, he said, 'What the fuck? Was that your voice?' He was so impressed to the point that he invited me to play a song with him on the last night of the tour," He adds, "All these people are brilliant."
While it's impressive that the organically grown songwriter has attracted the attention of such big names, he's now ready to embark on his first headline tour. With dates spanning across September and December, Cushin is noticeably excited about the prospect, but there's nothing that thrills him more than headlining Newcastle's Boiler Shop, "I can't wait to play the Newcastle show. It's going to be outstanding. 1,200 people and sold out — I can't wait." If there's anything to note about people from the North East, it's that they're very passionate about the North East, and rightly so. Newcastle and its surrounding towns have long enjoyed a rich musical history, but in recent years the area has been storming the scene. "There are a few people who are doing incredibly! There's a band called The Pale White who are phenomenal, and they're playing the same Newcastle venue as me. Then there's Sam Fender, who's had amazing success, and now The Pale White and I are nipping at his heels. What's even better is that no one is arrogant enough to think, 'Well, I want to make it, so I'm the only one that can.'' He expands, "I think we're due it in Newcastle now. Manchester has had its time, and Liverpool has had its time for a long time. There's no-one making shit pop music in Newcastle either; it's either indie, rock'n'roll or it's soulful." And, adding with his unshakable charm, "It's a great accent too."
---
With an upcoming tour usually comes new music, and Cushin isn't about to disappoint. During our conversation, he reveals that his debut EP will drop at the end of summer.
"It's pretty under wraps, and I haven't officially announced it, but I did mention it on my Instagram. Four brand new tracks are coming, and I think it's going to be great. But as long as it makes me some money, I couldn't give a flying fuck," he jokes raucously. He also promises that with the EP will come bigger and bolder sounds, "The first two singles I put out have brilliant vocals on them, but they were just demos really. Then, we did 'Where's My Family Gone' with Noel, and that was a step up in production. After that, we released 'Memories,' which was the first time I'd used strings. So, the next thing was, 'We need to get an electric guitar'."
After that revelation, Cushin's writing took a charged turn, "The EP is a lot more electric driven, there's so much energy to it, and it will be great live. One of the songs is probably the most radio-friendly track I've ever done, and it will be the next single. It's really indie. Like, fuck genres, but it's really indie." However, the upfront songwriter clarifies that it's only once he has finished writing a song that he begins to question its radio potential or live sound, "I always think about that after, otherwise I'd never finish it. I'd put too much pressure on myself and start to chop and change things. I think my best and most successful songs kind of fall out of the sky." He adds, "If you're going to sit there second-guessing yourself, you might as well put the guitar down and do something else." Adding suspense to our conversation, Cushin begins, "I'm going to give you an exclusive now," he reveals, "One of the songs that I wrote specifically for the EP is called Runaway, and that will be out soon."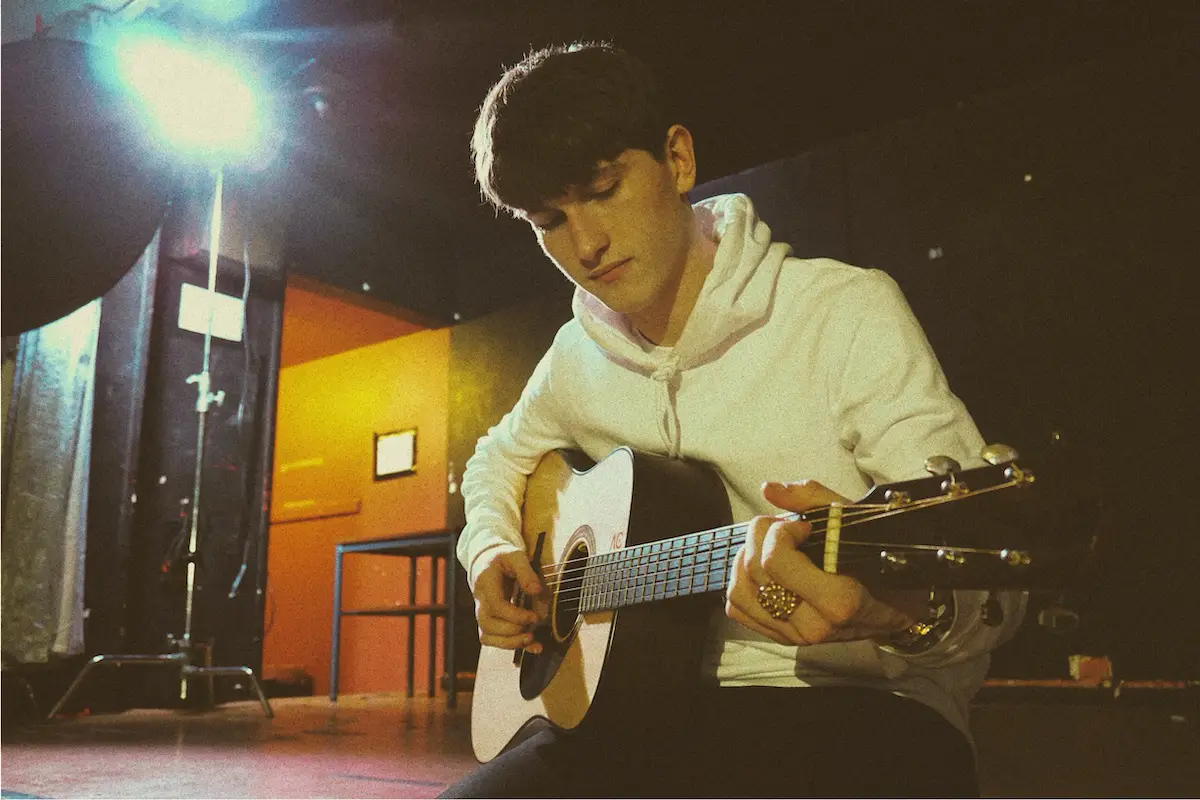 After only two years of gigging and without even releasing his debut EP, the already accomplished musician has carved himself a firm spot in the music industry. And so, the next two years are sure to be saturated with success for Andrew Cushin. But what does the rising star hope to achieve?
"I would like to think that I'd have played at Newcastle Academy, that I'll have an album on the way and that we've built up the following enough to be selling out 4,000 or 5,000 capacity venues. I'm also hoping Mike Ashley has left Newcastle and I've grown a beard."
— —
Stream: "Memories" – Andrew Cushin
— — — —
? © 2021
:: Stream Andrew Cushin ::
---