Nashville singer/songwriter Briston Maroney's latest single "Freeway" is an intricate, and slightly angsty, folk anthem.
Stream: "Freeway" – Briston Maroney
---
I always write with the mindset of if I get passed a guitar at a party where everyone's just a little wine-drunk
Nashville-based artist Briston Maroney is truly one of a kind: A songwriter as earnest as he is talented, with a knack for making the personal and the mundane feel deeply relatable. From growing up playing music with his friends in Knoxville, TN and many Nashville DIY shows, to landing major festival slots and touring across the U.S, and Europe with bands like Wallows and Liz Cooper, Maroney's steadiness has garnered him more than a million thoughtful listeners each month.
Since 2017, Maroney has released an EP every year, each packed with songs both intimate and raucous, that you can easily find yourself in if you're open to do so. Furthermore, most of Maroney's songs come with unbelievably beautiful music videos directed by his long-time collaborator and friend, Joey Brodnax. And thus far in 2020, Maroney has released two more intricate and memorable singles, the introspective "Deep Sea Diver" and the dream-filled, slightly angsty "Freeway," with a chorus perfect for belting in a crowded room (once it's safe to do so, that is.) Both singles are leading up to Maroney's much anticipated debut full-length record, due out in 2021 via Canvasback Music.
Recently, Atwood Magazine got to chat with Briston Maroney about his quarantine hobbies, latest music recommendations, his upcoming debut album, and all about the making of his latest single, "Freeway." Read about it in our conversation below!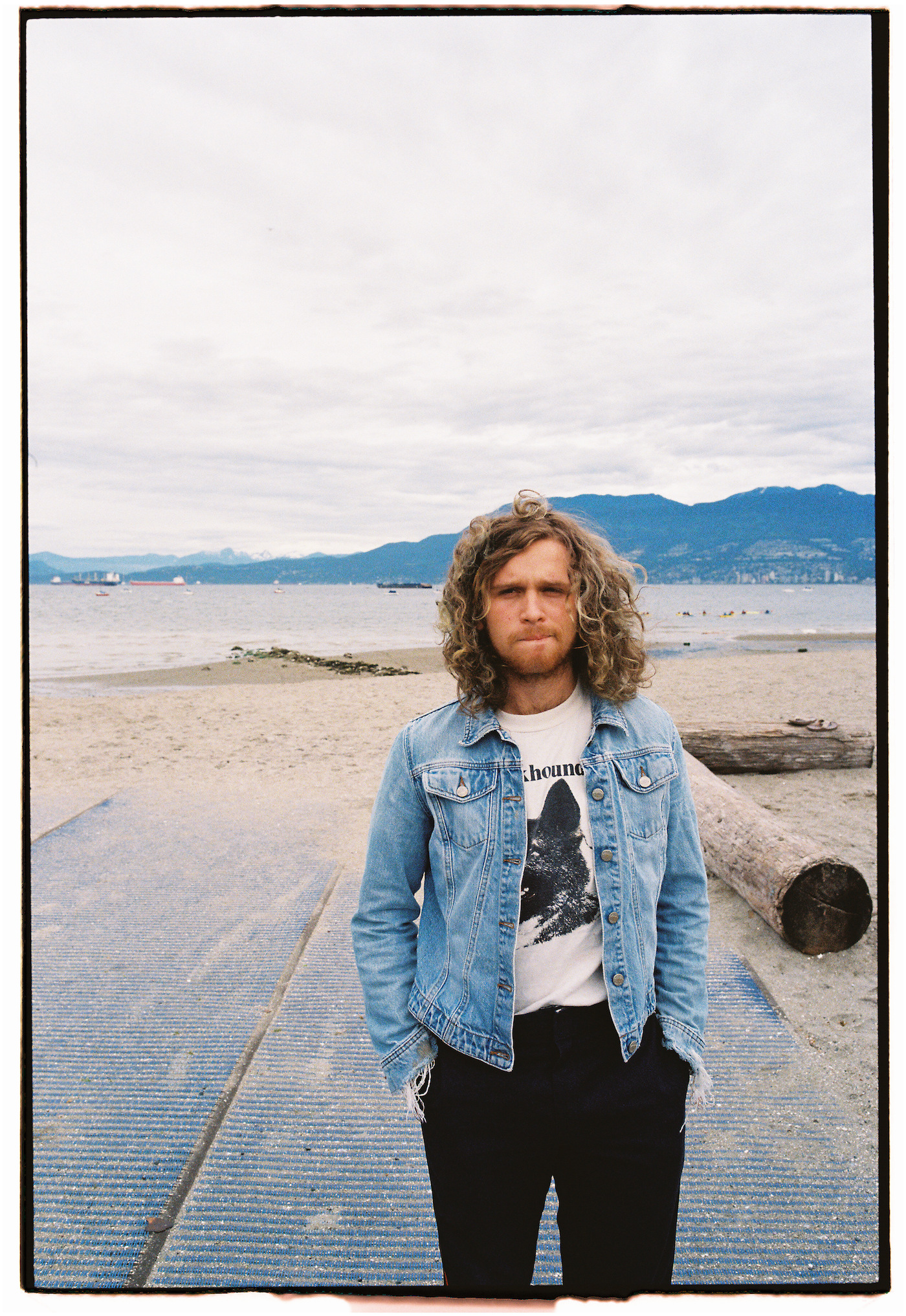 A CONVERSATION WITH BRISTON MARONEY
Atwood Magazine: Briston hello! First of all how are you? What've you been up to during this weird quarantine season?
Briston Maroney: Hey! I've mostly been here in Nashville, and I was with my family in Knoxville [for a bit.] I have somehow managed to stay really busy during this time. There were a couple months where I wasn't busy at all, and got into weird, random things to consume my time. Like jogging! I've been kind of discovering for the first time what it feels like to have some sense of normalcy as far as being home a lot, and learning how to enjoy that.
That's really great; I know you're typically on the road a lot. It's nice to be able to slow down. Congrats on releasing "Freeway!" How did this song come to life?
Briston Maroney:  It's one of the older songs that just worked its way up. We tried to record it a few other times, and just couldn't get it where we needed it to be. But I finally figured out how it was supposed to sound with John [Congleton], who produced the record. And I've done this a couple of times, but I wrote "Freeway" during a prime stage of angst. There was a party at our house and I was so mad that there were people having more fun than me, so I went into my room during the party and wrote it *laughs*, and then I just walked back out.
That's amazing. I can kind of hear the angst in the chorus. Like it's not pop-punk, but it kind of reminds me of that.
Briston Maroney: Amen! Pop-punk is not a dirty phrase *laughs*.
Oh pop-punk is the greatest! I saw you challenged listeners to record and post covers of "Freeway" ahead of its release. What has it been like to listen to those?
Briston Maroney: It's completely twisted my brain. It's crazy! To have heard this song thousands of times in the recording process, and to hear people say the phrasing just a little bit differently and do their own take, my brain's like, "what is happening?!" But it's been so cool. I've been amazed by how many people have done it. Like, that's a hard thing to do. I'm pumped a lot of people have been brave enough to try it.
Totally. That's so hard to have never heard a song and just decide how you think it goes. Has anyone come close?
Briston Maroney: There have been a couple people who have come eerily close to it. But the scarier ones are the people who have done it better than the actual song. I'm like, "Well, shit" *laughs*
That's such a cool project though. And the music video for "Freeway," is beautiful – the colors are insane. Can you tell me a little bit about what inspired the location and concept of the video?
Briston Maroney: Yeah, those colors are mind-blowing. So much of [the colors are] pretty close to what we filmed, like it really looked that way. We shot out in Maine for the majority. All the stuff out on the water, the rocks, and the mountains, was all shot near Acadia National Park, which is one of my favorite places in the world; it feels divine.
So the video is part of a chronological [series.] We're trying to tell a story with all of the videos we're doing, so this was a section where this character is quite literally traveling across the country to a certain place. So we wanted to lean into that and be pretty on the nose. We wanted it to be a travel video, a kind of surreal version of what traveling really feels like. We wanted to romanticize what it feels like to move, and what better way to do that then go the most surreal, dreamy, beautiful place on earth and get in a freaking boat?
Totally. I know you've worked with Joey Brodnax on pretty much all your music videos, and they're all so special. I've thoroughly enjoyed watching them over the years. How did that collaboration start?
Briston Maroney: Thank you so much. We met in Knoxville, TN, when I was still in high school and Joey came through on a tour where he was filming acoustic sessions across the country. He filmed one for one of my friends and had a couple extra hours in Knoxville. They told him about me, but I was still in school. So I literally left school and went to meet Joey in Downtown Knoxville and we filmed a session.
A year later when I moved to Nashville, I found out we had a lot of mutual friends. I moved into a house with my friend, Ethan (Ethansroom), and Joey happened to live there too. Our rooms were right next to each other and we started filming stuff all the time, and that has not slowed down in four years.
There was a party at our house and I was so mad that there were people having more fun than me, so I went into my room during the party and wrote "Freeway."
That's so special. Visual components aside, your songs tell stories in and of themselves. This is kind of a general question, but what does your songwriting process typically look like? Are there any major influences you pull from while writing?
Briston Maroney:  I think it's 100% influenced by my experiences of sharing music with people in person. I always write with the mindset of if I get passed a guitar at a party where everyone's just a little wine-drunk, and I want to use that moment to show who I am to these people who are willing to listen in a vulnerable state. Like, I think we all have that within us to need that moment of having a song hit us.
And I think a lot of songwriters do this, but when I'm writing a song, I think of how it would feel to play it at a certain place. I always imagine playing [the song] at the Tennessee Theater, but I also imagine sitting on a stool in a friend's kitchen just playing it on a guitar.
Ah, that's really beautiful. I noticed you've released an EP every year since 2017. Which is impressive! As time's gone on, do you have a favorite song or project you've worked on?
Briston Maroney: I'm honestly super stoked for this [upcoming] record.
I'm excited to hear it! How long have you been working on the debut record?
Briston Maroney: It's weird to track timeline wise, but we finished recording in February. So it'll be around a full year from then, that it'll be released. Whoa that's crazy! But some of the songs were written when I was like 19, so it's been [in progress] a long time. I mean, every first album is.
They do say you have all the time in the world to make your first album.
Briston Maroney: Yeah, you have your whole life. Twenty-something years!
Truly. I know you usually tour a lot, but since that hasn't really been possible in 2020, are there ways spending more time at home challenged you as an artist? Or have you found any unexpected inspiration?
Briston Maroney: Sure, there's definitely been some inspiration that I otherwise wouldn't have found. A lot of it has just been on a human level, just being inspired by the simplicity of living and the day-to-day. And I've been challenged in a way that I've really enjoyed. When everything first locked down, I was really scared that this might be the moment I realize I'm a complete fraud, you know what I mean? I think a lot of musicians probably went through that. It was like, if I can't tour and if I'm not constantly around people telling them I love music, do I love music? But I was really lucky to find music is what kept me sane during this time.
That's great; I'm glad you've leaned into making music this year. Ok, I have one last question: are there any artists or albums you've been listening to lately that you might recommend to our readers?
Briston Maroney: Ooh! My partner's record came out at the beginning of this year, her name's Samia. Have you heard her record?
Stream: 'The Baby' – Samia
HAVE I heard it! It's so beautiful, truly one of my favorites from this year.
Briston Maroney:  No way! There's nothing like it. So I've been listening to Samia's music. And renforshort, she's awesome and super sweet. I'm still completely obsessed with the Clairo record, and the new Slow Pulp record, "Moveys"! And one more- Tomberlin's new EP, "Projections," is so good, through and through; it feels like reading a book.
Stream: "Freeway" – Briston Maroney
— — — —
Connect to Briston Maroney on
Facebook, Twitter,
? © Hudson McNeese 
:: Stream Briston Maroney::