Bad Rabbits' "Ain't A Crime" is a revisiting of high school sexuality, roller skating, and the balance between being gentle and fierce.
—
There could be a desire felt towards someone that on the inside is so heated, but on the outside is disguised by a cool casualness. This is what "Ain't a Crime" by Fredua Boakye, Sheel Davé and Salim Akram, AKA Bad Rabbits, is like: The colorful synths and swaggering bass that currently define the band are layered with lyrics that border on desperation.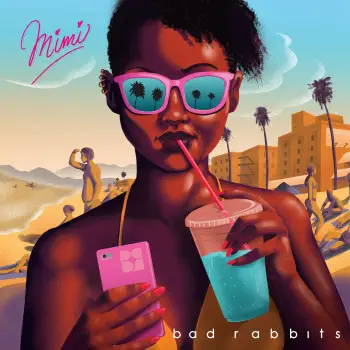 Body like an ocean
Rocking back and forth the emotion
I know that I'm coming back
To you at night
Even when I'm acting a fool
Atwood Magazine is proud to be premiering the video for "Ain't a Crime," the fourth release off Bad Rabbits' latest album Mimi (released August 9). From the clapping beat that starts the song to the synth-led groove that permeates thereon, there's a laid back energy that encourages the listeners to kick back and soak up the good times. The single, like the rest of the album, focuses on a fictional character named Mimi, who is sexually confident, spontaneous, takes selfies in random places, and drinks Starbucks lattes with pride.
In other words, she's an embodiment of modern clichés. The lyrics, however, are open to interpretation: Are they from the point of view of Mimi to other people? Or from one of her admirers / lovers to Mimi?
Baby won't you sit right there
Just chill
Why can't you just
Show me your love
your love
It's through Bad Rabbits' "Ain't a Crime" music video that the song and its narrative really come alive. While in the previous tracks she is subject to attraction both lyrically and visually, being brought simple gifts like flowers and chocolates in "Dollars and Change" and battling with office sexual harassment in "F on the J-O-B," the accompanying video to "Ain't a Crime" has more of an in-depth focus on Mimi's personality and emotions.
Directed and animated by Lazers Lab, it's a throwback to Mimi's adolescence in 1996 when mobile phones weren't the sole medium of communication. It begins with a view outside her high school in Miami, cutesy giant clouds paired with the sound of streaming rain, then cuts to the classroom where her and a grungy friend are sat bored at their desks passing notes to one another. After school Mimi is stood by the entrance with a guy she flirtatiously encourages to hand over his varsity jacket, as though in a true declaration of being in a relationship, before she jumps into her friend's car and lights a cigaret while said friend attentively watches with a sad longing.
"Mimi seems to be a bit manipulative with her sexuality according to some of the lyrics on the album. We wanted to show Mimi on the cusp of developing that trait- when she innocently discovers the attraction that she has on both men and women," Bad Rabbits tell Atwood Magazine. "The video also alludes to her nature of being both gentle and fierce in her coming of age."
At the roller rink they go to, the two end up bonding in a mutual state of magical affection, seemingly falling together from amongst the stars, sharing a kiss in the process. The concluding scene is Mimi strutting back out into the rain, self-assured and promiscuous maybe.
With Lazers Lab's touch, animation that has the vibrancy of a modern comic strip and flow of an American coming of age movie or teen drama, "'Ain't a Crime'" becomes a soundtrack to lust, jealousy, sadness, amusement, and newly found confidence. The video is set in torrential rain, indicating perhaps the monotony of teen life, but the song itself is sun-filled.
"Remember being in a roller rink and holding hands with someone you had a crush on in high school, while listening to Bel Biv Devoe, TLC, and Montell Jordan? Also remember never having the opportunity or the guts to hold hands with someone you had a crush on at the roller rink?" Bad Rabbits ask. "This song will bring those feelings back. It's that song you can play for your auntie that smokes loud with you every Thanksgiving."
There's a classic R&B and funk feel that runs through the Mimi album, a sound that recalls the danceability of their 2009 debut EP Stick Up Kids more than the dark, hard rockiness of 2016's American Nightmare (an album which saw them tour with the likes of Taking Back Sunday). It's unapologetically sexy and Mimi the character is the personification of this sound. Having graphics, in the form of cover art and videos, intensifies the storytelling aspect that music can have.
Stream "Ain't a Crime" exclusively on Atwood Magazine!
— — — —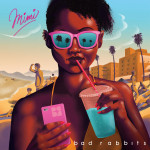 ? © Steve Osemwenkhae
:: Stream Bad Rabbits ::