Basement discuss the evolution from their formation in 2009 to their fourth studio album 'Beside Myself' and current tour with The Pixies and Weezer, a decade later.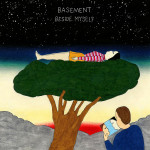 — —
It started with booking their own shows in a stagnant scene in the UK and touring in dilapidated school buses in the US.
Basement was the product of isolation at university and an ache to reunite friends. "We just thought it would be a really good excuse to keep in touch and have a reason to meet up," says frontman Andrew Fisher, sitting on a comfortable couch in front of a window overlooking Broadway, New York, a couple hundred feet from Times Square. What began as friends seeking reunion and solace for their seclusion turned into a band that would be playing Madison Square Garden with the Pixies and Weezer in a week or so.
"We started as something to keep everyone tight when everyone was at universities, and it was like a passion project," explains Fisher, who attended university about two hours from his hometown of Ipswich, where he and his friends were used to congregating. "[Two hours] doesn't sound like anything in American terms, but in English terms, it's like you're moving to a different country." The geographical distance separating the friends was like borders instilling alienation within each of them, especially because of the attachment they felt toward one another. Basement was the key that unlocked their sense of belonging, just by existing as the unifying force.
Because the scene in Ipswich was emphatic on punk but not as much on alternative or hardcore, Basement made their own shows happen and helped other bands as well. Their shows raged in the upstairs of a pub, which they rented out for cheap or even free because it meant the bar downstairs would get some business. "I was content from day one," says guitarist Alex Henery. "Obviously, like, dream stuff was like, 'Oh, if I could play America,' but that felt like insane. That didn't feel possible." Getting signed to Run For Cover Records was a turning point for the band that opened up a myriad of opportunities. "It's interesting how things slowly become possible and things you didn't think were possible are possible."
Basement's first tour in America was two weeks split half and half with Daylight — now Superheaven — and Such Gold. "It was just across the east coast," recalls Henery. "It was like, you know, VFW halls, very small venues, like maybe a hundred cap room." The memory is almost ridiculous to them, playing obscure towns in Pennsylvania, New York, and a couple of other states. "Such Gold had this like — what we thought at the time was a pretty decent school bus conversion with wooden bunks built in — thinking about it now, it was a death trap and it was terrifying," recounts Fisher, laughing. Nine people were either shoved into Such Gold's school-bus-death-trap or Daylight's van with a sofa and a bunk, and everyone would be sleeping at the house of whoever offered. With Daylight's van having no AC, no inside paneling, and no windows, Fisher says, "It was awful," but is quick to laugh and counter it with, "but it was amazing!"
It was at the end of a phone call when their manager casually mentioned the possibility of sharing a stage with the Pixies and Weezer.
"We were talking about something else… and he was like, 'Yeah, anyway, before you go, there's something else that might or might not happen, I don't know: we hopefully are getting an offer through for Weezer and the Pixies,'" says Fisher, appearing to still be lingering in disbelief. "And we were like, 'What?' and it came through. People bring it up and I don't know how to react to it!" Fisher struggles to figure out his own response to the whole thing — "Not embarrassed, that's not the term. I just — I don't want to talk about it, because maybe it's a case of I don't want to jinx it or maybe it's not really real." I talked with them the 28th of February, and the first day of tour was the 8th of March — ten days apart — yet reality had not settled in for them.
The band's fourth studio album Beside Myself was unveiled in October 2018, the second since they signed to Fueled By Ramen. It is palpably laden with introspection, with the title, the album art (a body in a tree lying down, and someone in the corner looking into a mirror and seeing two faces), and the themes presented in the lyricism. The introspection isn't necessarily new for Basement — one of their most famous lines is, "I hate myself and that's okay," off 2012's Colourmeinkindness, an album drenched in these statements about the self.
"I really only ever write from my own perspective and about things that happen to me," says Fisher. "[Beside Myself] might be the most reflective [album], because I was constantly thinking about how I was feeling while I was doing the songs, whereas a lot of the other stuff is about a moment or an experience, but this is more kind of ethereal."
Instead of dissecting a memory in poetic, vague terms, the band confronts current turmoil head-on, unsparingly. "It was a lot of like digging in, a lot of finger pointing at myself, kind of judging myself."
In "Be Here Now," the chorus poses, "I lost myself in the moment, why can't I just be here now?" conveying the trouble endured trying to get out of your own consciousness and exist outwardly. The music video portrays a wedding gone wrong when the groom disappears and ends up in the ocean, then in a boxing session, then in the woods, then in city streets. Basement is able to vivify the idea of being stuck in your thoughts and getting tossed to different mental destinations, and they especially emphasize the feeling of disappointment and frustration that follows. This track was Fisher's admission to himself and anyone who listens, and it's his attempt at coming to terms with it.
---
The focus on introspection wasn't a predetermined plan for the album. After all of the songs were written, the band was ruminating on possible titles based off of the existing themes in the lyrics. "Someone mentioned something about — wouldn't it be good if sometimes you could just remove yourself from your head and look at what you're doing from an outsider's perspective, and then you can judge whether what you're doing is or isn't right," explains Fisher. "That's one way of thinking about it, and I remember Alex saying that you could be beside yourself with joy or sadness… it's open to interpretation."
It's not so much of an idea as it is an entire philosophy. Judging yourself from your own perspective is a timeless struggle that's been pondered for centuries, especially because of the ways in which it can determine your moral compass. "I have my own laws and court to judge me, and I go to them more than anywhere else," wrote philosopher Montaigne in the late 1500s, who recommends that we have our own laws and court to instruct us when to "pat ourselves on the back" and when to "punish ourselves."
Beside Myself is essentially Andrew Fisher's court trial, and he's both the court and the accused.
Basement have come a long way. Even if they're playing stadiums in 2019, they've been content since 2009, doing simple things like playing bars and making merch. It doesn't matter who they're playing for or where they're playing — Basement are passion, friendship, energy, and introspection. They're also scheduled to co-headline a tour with Nothing in May, where they'll be returning to intimate venues after performing to tens of thousands of people. It's a chaotic path that Basement are on, and, as far as we know, it's never-ending.
— —
— — — —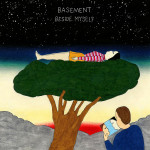 ? © Mitchell Wojcik
:: Stream Basement ::
---
:: Basement Tour Dates ::
with Weezer & the Pixies
3/8 KFC Yum! Center – Louisville, KY
3/10 Colonial Life Arena – Columbia, SC
3/12 Madison Square Garden – New York, NY
3/13 Bell Centre – Montréal, Canada
3/14 Times Union Center – Albany, NY
3/16 Foxwoods Resort Casino – Mashantucket, CT
3/17 Royal Farms Arena – Baltimore, MD
3/19 Schottenstein Center – Columbus, OH
3/20 Van Andel Arena – Grand Rapids, MI
3/22 FedEx Forum – Memphis, TN
3/24 Enterprise Center – St. Louis, MO
3/26 Sprint Center – Kansas City, MO
3/27 BOK Center – Tulsa, OK
3/28 Wells Fargo Arena – Des Moines, IA
3/30 Xcel Energy Center – St Paul, MN
3/31 Veterans Memorial Coliseum – Madison, WI
**with Teenage Wrist || *with Gouge Away
5/1 – Richmond, VA – The Broadberry**
5/14 – Philadelphia, PA – Theatre of Living Arts **
5/16 – Boston, MA – Royale**
5/17 – Buffalo, NY – Rec Room**
5/18 – Pittsburgh, PA – Mr. Smalls Theatre**
5/21 – Atlanta, GA – Masquerade/Hell*
5/22 – Nashville, TN – Exit/Inn*
5/24 – Chicago, IL Metro
5/25 – Indianapolis, IN – The Citadel*
5/26 – Detroit, MI – The Majestic