Big Thief fulfills our longing for intimacy and touch in the form of a melody with 'Twin Hands.'
— —
After two years of absence, the Brooklyn based band Big Thief started the last year of the decade by releasing the celestial album U.F.O.F, which has been followed by its "earthy twin," their brand-new record Two Hands. As the expression "earthy twin" suggests, Two Hands is a very simple album that feels very intimate. Listening to its sound and its sensitive lyrics feels like being intimately touched by another human being. Whilst U.F.O.F has a magical celestial feeling, Two Hands is reminiscent of the unique Big Thief magic.
Listen: 'Two Hands' – Big Thief
---
All the songs feel like they have been recorded live, like a living room jam session. In the end, Big Thief's magic is not about flawless perfection, it is about intimacy. The past decade has been all about change. Humans have massively changed. What has changed the most is the way we communicate with one another. Our priorities, living life through your own personal bubble, putting a filter over everything, working until you burn out. What resolved out of this new-born culture is the craving for something real, for intimacy, and that is exactly what Big Thief is delivering us with this album: An intimate message, a human touch in form of a magical melody.
The record is opened by the song "Rock and Sing" which has deep metaphors in it, critiquing how humans tend to prioritise technological contact over human contact nowadays: "Hand me that cable, plug into anything, I am unstable, rock and sing, rock and sing". Our phones are our mental extension, charged by cables, and once they run out of their limited battery capacity, we start to feel unstable. The cable does not charge our phones, it charges our feeling of security. Everything is now happening on our screens. Sometimes we live so intensively through our own filter that we forget the real world which goes beyond scrolling through someone's feed.
Listen: "Not" – Big Thief
---
The first track is followed by "Forgotten Eyes," a song that touches on a fast-paced lifestyle, feeling lost in this world, and the deep desire to be loved. The highlight of the album is a song called "Not," a six-minute-long grunge-inspired piece. Influenced by modern lifestyle and the hunger for more, something bigger and better, "Not" shows how unsatisfied humans can be in times of overload and the fact that nothing on earth will ever be enough. It is a very physical song; you can feel the craving for basic human desires and physical touch. The closing track of the album, "Cut My Hair," portrays to the listener an intimate childhood scene where the mother cuts her children's hair in the kitchen. It closes the album in a full circle, the circle of life, with the burning desire for intimacy and being alive.
With Two Hands, Big Thief zooms into those details of everyday life with their magic and their intimacy. It feels very real, human, and rare. The lyrics, combined with the melodies, sung by singer Adrianne Lenker, have a very authentic and raw characteristic to them. With this record, Big Thief is bringing intimacy in the form of a melody to us, providing everyone with warmth when they feel like they are alone in this chaotic world.
— —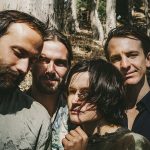 ? © 2020
Two Hands
an album by Big Thief