Amidst emotional turmoil and musical unrest, otta's intoxicating voice ably anchors the poignant debut EP 'after it all blew over'.
•• •• •• ••
A piano chord drops into place and a quiet hum meanders around it. otta sounds relaxed, but she commands your undivided attention. "Near enough a woman, if not there already," begins after it all blew over, a debut EP which lives up to the aspirational maturity of its creator. After only one or two minutes, it is evident that the debut EP is not simply that of another plaintive pianist, but that the Finnish-British singer-songwriter has no interest in jumping through genre-defining hoops. after it all blew over is classically soulful, yes, but on otta's own terms.
'after it all blew over' – otta
"Near Enough A Woman" begins in straightforward yet genuine fashion, a reflection on the difficulties which come with growing up. otta's voice is immediately close and captivating, sharply in focus, with fuzzy pianos and soft tones in the background. Little electric echoes pass like distant car horns, and otta then pauses before exhaling a relieved "oh" and a flickering line about her mother's advice. There is an uncomfortable anguish in the lyrics, yet her raw London accent sweeps you along irresistibly.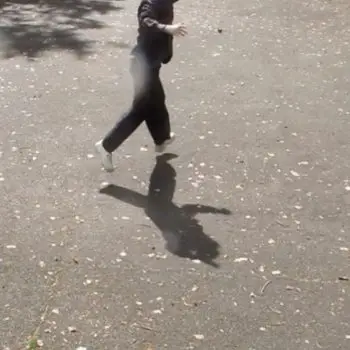 The vocals are unblemished and youthful, the pianos spare and laid-back, and yet it feels like otta has the weight of the world upon her. "Near Enough A Woman" is rooted in the piano, which allows the addition of the electric moments to transport the song elsewhere. Coupled with a slightly distorted vocal section in the middle of the track in which otta sounds like she has moved further from us, this contrast between the analogue and the digital showcases a performer who is seemingly caught between two times and places. otta's relationship between her past self and her current tests is evoked in the stops and starts of the opening track, which started out so smoothly, yet changes pace and becomes more fragmented.
Second track, "small hours", is more romantic than its predecessor, but no less fraught. otta delineates the significance found in the details of a night spent with a partner, and the minutiae of the morning after. Delivered in an informal aside, otta initially suggests a hopeful desire:
I tidied my room last night
With the thought
that you might wake up here
Morning coffee is supplied, and her lover rests, but a graunching electric guitar intrudes on the intimate scene. As in "Near Enough A Woman", otta's use of pace and tone set the emotional scene like a sudden deluge in a Hollywood film. otta lets her pauses do a lot of the talking, smartly sowing doubt and ambiguity in her lyrics as a result:
I try to adjust to the
feeling of you next to me,
cause you're so warm
I'm used to sleeping alone now
On the face of it, the warmth of her partner is a positive addition to her life, yet the atmosphere otta has nurtured in fact hints at uncertainty, and discomfort both physical and emotional. "small hours" is an ode to difficult romances, stylishly littered with bedroom vignettes. The guitar continues to scrawl tellingly on top of otta's words, which become deeper and more revealing as the track progresses. By the end of "small hours", the façade has slipped. otta wryly combines the words "come back" and "scumbag"; the same thing was subtly at play at the very beginning of the song, but evades detection on the first listen. We are ultimately left in little doubt that the relationship is a troubled one.
---
after it all blew over is half self-reflection, half-break-up, each element inevitably triggering the other and vice versa. "Near Enough A Woman" and "small hours" demonstrate each respectively, whilst "THE OTHERSIDE" is perhaps the most explicit exhibition of both in one song: Throughout much of the track, there is a refreshing, upbeat quality, embedded most effectively by lively keys and jazzy drumming. While on "small hours," the instrumentation undermined otta's warm lyrics, here it seems to elevate and illuminate her uneasiness.
Indeed, there is a disquiet throughout after it all blew over which is especially present on "THE OTHERSIDE"; otta is seemingly at a crossroads between two versions of herself and her EP is a map of sorts, sharing both where she has been and where she is going. About a minute in, she asks "do you remember me?", whilst cymbals shimmer as if triggering a dream-sequence or flashback, to be witnessed in the third person. On "THE OTHERSIDE", otta swaps imperceptibly between observing others, and reflecting on herself, as she lyrically blurs her own crisis of confidence with the relatable circumstances of those around her.
It's late and I'm in two minds about this
I'm trying to tap back into who I was back when you
Would tug my mouth from both sides
Maybe I was like them once,
But now I'm sitting on my ones
Trying to find three reasons why I should move on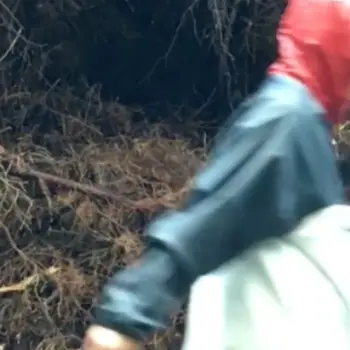 "THE OTHERSIDE", in title and content, is a candid thought experiment of sorts, as otta imagines life from two perspectives, her "two minds", either side of her current limbo. Moreover, she again uses lyrical ambiguity and instrumental tone to show, not tell: the aforementioned lightness of the music supplies a progressive optimism which her lyrics do not immediately reveal. It is not, for example, revealed whether her mouth was moved "from both sides" into a smile or frown. Yet, the growing musical and vocal confidence throughout "THE OTHERSIDE", coupled with a defiant "do you remember me?", stresses otta's desire to reclaim herself and positively move on.
In spite of the acrimony which she hints at in "small hours", otta departs on a positive note. Final track "after it all blew over" serves as a prologue of sorts, a repetitive line under the events of the EP, but not before otta's amicable and grateful farewell to her ex-partner, "Everything You Wanted". If "THE OTHERSIDE" represents the decision to finally end things, "Everything You Wanted" is the de-brief before the inevitable distance.
As the title suggests, the track is a hopeful and generous parting gift. Delivered with a combination of lyrical directness and musical consistency which stands out on the otherwise fissured after it all blew over, "Everything You Wanted" is tender and frank. The temporal theme remains in part, with otta ruing missed opportunities, yet what marks out the song from those before is that one feels she now knows to look ahead. She is no longer seduced by the past, but knows she is better as a result of it, and that it is better to leave it behind:
you inspire me to be the best I can
And now no bitterness stands
"Everything You Wanted", coupled with the extended outro of "after it all blew over," provides a certain end to a largely fraught EP. Though clusters of electronic sounds and vocal distortion threaten to overrun the end of "Everything You Wanted," they are kept at bay, and do not emotionally warp and distort the track as they did earlier on in the EP.
As after it all blew over concludes, otta's voice and music are one, her decision made, and her future path chosen.
— —
'after it all blew over' – otta
— — — —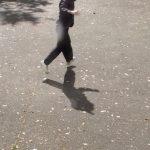 ? © Lara Laeverenz
:: Stream otta ::
---