Much of what is known of the light electro-folk artist Mappe Of is a mystery. To start, the identity behind the larger-than-life sound is unknown, except for the reference of "he." The start to unravelling the enigma that is Mappe Of may begin, unbelievably, with just one man capable of producing a universe full of seemingly neverending sounds by his lonesome.
Mappe Of has freshly released two songs off of his upcoming debut album A Northern Star, A Perfect Stone to be released July 28 via Paper Bag Records. Today's Song, "Cavern's Dark," captures what Atwood finds surreal and encouraging about the newly birthed artist.
Listen: "Cavern's Dark" – Mappe Of
---
The track begins with beautiful solo guitar, framing the single to be an indie-folk, acoustically-driven track. As masked vocals are added, the song begins to take a new life, residing somewhere between raw and heavily-produced, a unique balance between computer electronic and backyard acoustic. As the production picks up with a heavier production base, the guitar is only amplified, preserving this unlikely combination and framing it as a creative escapade into unmarked musical territory.
The concept itself is not foreign to folk music but more times than not, when masked with dreamlike vocal editing and foggy synthesizers, all instrumentals, real and produced, follow suit. The goal to create a delicate, electronic cloud of a song overtakes production design and mystifies every element. "Cavern's Dark" takes a different path by preserving a nearly untouched, real instrument as the root of the track and gracefully placing sonic elements as added touches rather than the concept base.
Mappe Of describes his sound as "ethereal avant-folk," and there couldn't be a more fitting description. The acoustic elements make for a seemingly tangible, grounded audio base, yet the vocals and built in production add a feeling of complete detachment, a surreal, unearthly serenity that can only be described as a sound that's truly heavenly.
The track is extraordinarily contradicted in sound: it feels human, yet mysteriously of another form.
"Cavern's Dark's" counterpart release, "Nimbin," captures a different, yet equally strong, perspective on Mappe Of's audio design style. The track focuses on the folk aspect, with another strong base of finger-picking, this time amplified only by clear, front-and-center vocals. "Nimbin" plays in the likes of a Mumford and Sons song, while Cavern's Dark takes a path similar to that of Bon Iver or The Japanese House. The difference between the releases proves Mappe Of's ability to stay true to classic modern-folk, while still brave and skilled enough to tackle advances in the genre and ultimately form a name for himself out of fresh creativity and tasteful design.
Listeners may not know much about the face behind the songs, but it can be assumed that A Northern Star, A Perfect Stone is a title to watch for from these previews, promising to be a truly remarkable and innovative collection. Said to draw from experiences, both personal and removed, the full set is bound to be as diverse lyrically as it will be style-wise, leaving listeners entertained and blissfully questioning each next turn, just as they are now with the attention-demanding mystery that is Mappe Of.
— —
:: pre-order A Northern Star, A Perfect Stone vinyl / digital ::
— — — —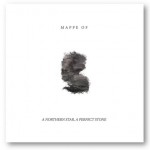 cover © Paper Bag Records