RIYL: Young the Giant, Arcade Fire, Best Coast, Real Estate
There's a certain sweetness to the ability to turn up a song, close your eyes, and drift into a daydream. Whether you're stuck inside under artificial lights or basking in the warmth of the sun, Beach Tiger's song "Mind Make" is sure to whisk you out of the everyday and into a fairy tale – if only for a moment.
Listen: "Mind Make" – Beach Tiger
---
Released in early February, "Mind Make" is at once a love song and a lullaby: Soothing and vibrant, its gently rocking piano melody instills a layer of nostalgia for greener pastures, while percussive hits brighten the verse like dewdrops shining in the early morning sun.
Essentially, "Mind Make" embodies the quintessence of summer.
Based out of Charleston, South Carolina, Beach Tiger rose out of the ashes where Clemson folk rock band the Tarlatans once stood. Sporting three out of the Tarlatans' four founding members – lead singer Taylor McCleskey, bassist Eric Mixon, and drummer Blake Shorter – Beach Tiger offers a distinctively indie rock/pop sound dripping with warm, feel-good psychedelia influences. "Mind Make" follows four months after Beach Tiger's debut single "Just Woke Up" introduced the group's new identity  and musical direction – meaning that "Mind Make" is only the second song to come from Beach Tiger so far.
And what a song it is: Dreamily swirling in colorful reverb and bouncing along with a head-bob friendly beat, "Mind Make" emits the kind of positive charm that can only come from song. McCleskey's vocal has a cheerful, easy lilt, and he carries those emotive qualities with him into an infectiously catchy chorus line, singing, "I just want to make you, make you / I just want to make your mind." Indeed, he has made our minds and then some.
"My muse for this song is my wife, Lindsey," McCleskey told me. "It's about our story, but I like it because it's a pretty universal love song. The guy just wants to make up the girl's mind that he is the one for her. My wife is a conservative kindergarten teacher who never imagined she would fall for a boy with long hair, skinny jeans, and wore tank tops at shows/dates. She took some convincing [laughs]." Sincere emotions drove this song's creation, and that sincerity flows vividly through McCleskey's voice.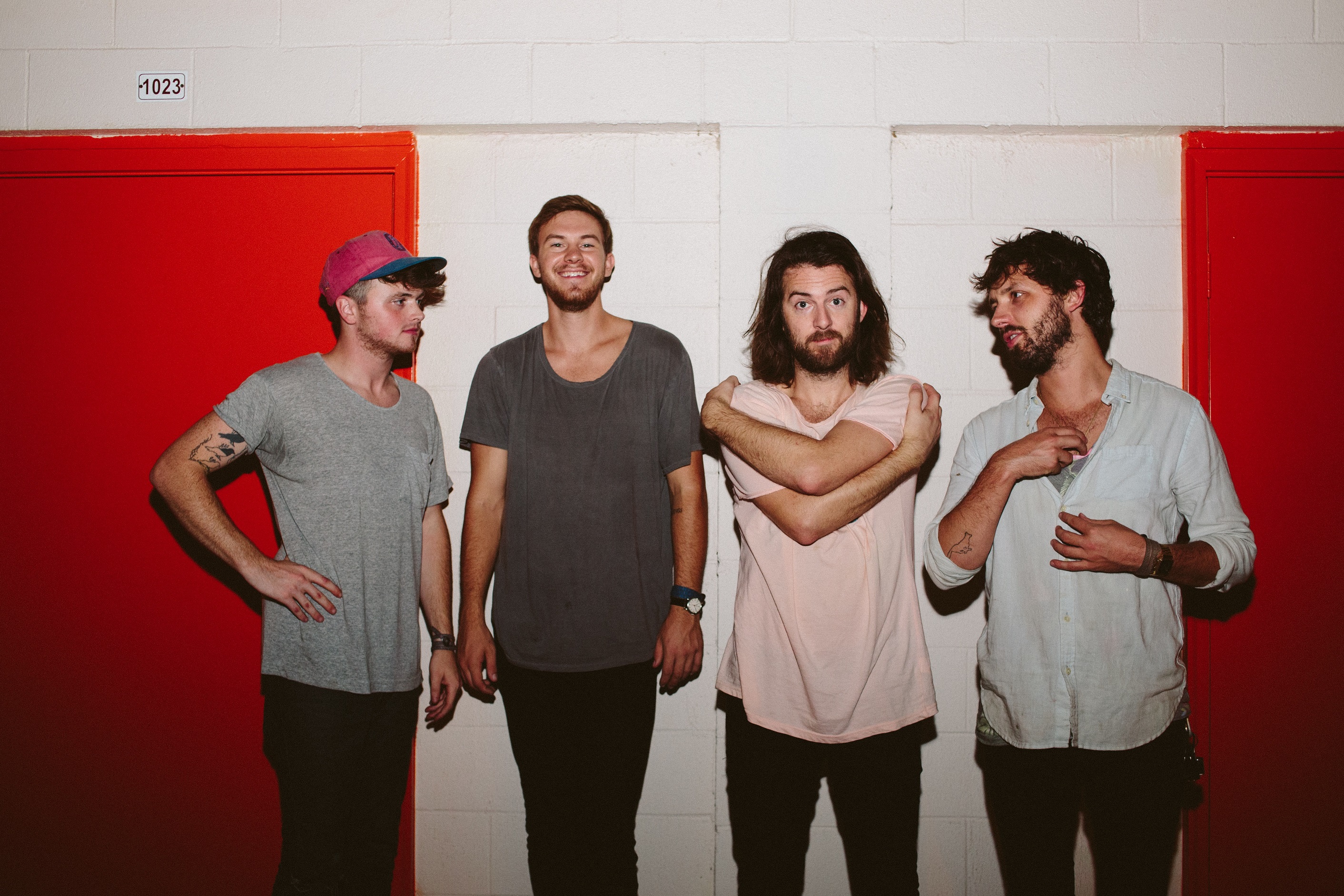 In email exchanges early last month, McCleskey noted to me how "Mind Make," being the love song that it is, was perfect for the then-upcoming Valentine's Day: "I dig it because it's all about letting life happen freely – without forcing it. Too many times I tried to force love. I met Lindsey when I was solely concentrated on my band. I didn't want a girl, and then BOOM she came into my life. The bridge is all about once that person finally does come into your life… work your butt off to keep them around."
That was just after the song's release, when it was a relatively unknown sound bite. In the transpiring month, "Mind Make" has garnered over 11,000 listens on SoundCloud – an impressive number for the still-fresh act, made all the more noteworthy when one considers how Beach Tiger's debut single, "Just Woke Up," has racked up a smaller number of listens in a much greater time frame.
'Mind Make' is simply… Hey, ain't life great.
Listeners are flocking to "Mind Make," but that isn't much of a surprise. "'Mind Make' is lighter in attitude. The production is more plush and soft feeling," whereas "'Just Woke Up' is an in your face, from start to finish type of jam that tackles some deep, dark underlying content," says McCleskey. "'Mind Make' is simply… Hey, ain't life great." No doubts there.
High above the balance beam
Up on the silver screen
Inside my future dream
Clear from ruby red
Back lit and candle spread
Hang on to what you said
Perhaps that mystery ingredient giving "Mind Make" its delectable flavor is Beach Tiger's genuine passion: This song comes from a place of honesty and innocence. The music and lyrics are completely in sync with one another, allowing McCleskey and co.'s love – for another, and for their craft – to shine through.
Let yourself slip into Beach Tiger's embraces, and join Atwood Magazine in watching Beach Tiger grow over the coming year. We expect big things, and cannot wait for what's to come! As for now, we will continue to pump "Mind Make" on repeat, basking in the warmth of a lover's psychedelia-tinged dreams.