The musical equivalent of a comforting hug, For Tuesday's intimate indie folk reflection "Grow This Garden" featuring Emorie finds catharsis in the calm.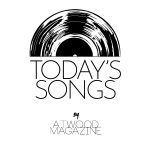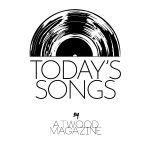 Stream: "Grow This Garden" – For Tuesday, Emorie
---
The musical equivalent of a comforting hug, For Tuesday's new single is a stirring reminder to breathe; to relax; to let go and just be. A warm and intimate indie folk reflection, "Grow This Garden" ft. Emorie finds catharsis in the calm, inviting us to bask in a moment of space and solitude, warmth and wonder. In our easily-angered, all-too-busy daily life grind, music like this can be not just an anchor, but a kind of salvation; a reminder that there's more to life than whatever you're focused on right this instant.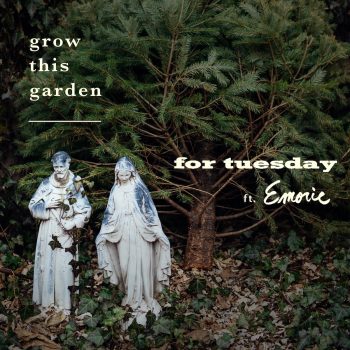 I didn't want to go that morning
I'd be content to wile the hours away
But class is cancelled just for the day
we're going to the city, to help in whatever way
All the way in we're singing
La la la la la (x2)
Down the alley of a city row-home
Stands the figure of the toughest man you ever seen
He hands me a shovel and he says hello son
We're gonna work to dig us a garden today
All through the day we're singing
La la la la la (x2)
Released February 22, 2022, "Grow This Garden" is a raw and radiant reverie. Following January's top-of-the-year single "Again," this song is the latest teaser off For Tuesday's forthcoming EP closer than a brother – not to mention an inspiring, resonant wash of music that seems to drench listeners in emotion, only to wring us out and hang us up to dry all in the space of four lilting, profound minutes. It's a powerful and particularly meaningful release from For Tuesday, the eclectic indie rock project from singer/songwriter, multi-instrumentalist and producer Mark Ferris. Teaming up with Nashville indie pop artist Emorie to foster a space of inner growth and emotional release, the artist delves deep into his own Christian spirituality as he navigates the throes of modern life.
"This is the story of a profoundly impactful encounter Emorie and I had with a remarkable man," For Tuesday tells Atwood Magazine. "Naed was a devotee of the Catholic Worker Movement, living intentionally in poverty to work charitably within his impoverished neighborhood. A single day with him inspired us to strive for the kind of love and mercy he gave to others, love which he attributed solely to the grace of God, the "tears of amazing grace" which watered his beloved community garden. This is our humble eulogy in memoriam of him. His voice can be heard singing a favorite hymn with us at the end of the track, recorded stealthily by me on the actual day which the song is about."
everybody on the block is living in a bottle
Living on a loan or dying at the barrel of a gun
The man with the money's got no money for you
There's no food to eat and there's no job to do
And all through the day we're praying
Grow this garden lord (x2)
Lacking a traditional chorus, "Grow This Garden" teases itself out through a series of majestic verses that ebb and flow like the ocean's tide. Both artists sing gently over a soft finger-picked acoustic guitar pattern, and beyond that lies a visceral wash of sound serving as the soundscape's evocative base. The texture isn't clear, yet it isn't hazy either – just as For Tuesday's emotions seem to be figuring themselves out along the way.
"I've been holding onto this song for literally nine years," the artist shares. "The story in the song is an experience that I had back in spring 2013 – I wrote a draft of this song back then, but never really got it off the ground. In 2020 when I started For Tuesday and was really getting the songwriting back in gear, I pulled the song idea for Grow This Garden back out. it was right after Biden was declared the victor in the 2020 presidential election, January 6th happened, and I was feeling extremely disillusioned seeing a lot of so-called Christians both online and IRL not only support a profoundly immoral and un-Christian man (Trump), but also go so far as to advocate for or defend people who were involved in violently marching on the US Capitol on Jan 6th."
"Needless to say, I was not only disillusioned, but I was deeply disturbed in my spirit. I had a terrible night's sleep and woke up with a nagging feeling I couldn't quite pin down, like, what do I do with the heavy feeling that so many people of my own faith have diverged so far from my understanding of what it's all about? I decided to go for a walk that evening at sundown to clear my head – it was a cold winter day but the sun even as it was setting felt nice so I decided to keep walking towards the sun down different streets and alleys as it was setting as if it would give me the clarity I needed. I muttered a prayer along the lines of "maybe I can make sense of all this at the end of this last sunny street." Like a pot of gold at the end of a rainbow. I kid you not, just as the shadows started to fall at the end of that final street I walked down, that song idea from 2013 popped back into my head."
The focus of the song, Naed, serves as a sort of guiding light for this soothing song. "In my mind, this man was perhaps the most prime example I had ever seen of what my faith is really about when lived out truthfully. He was the perfect antidote to the disillusionment I felt in others of my faith I was seeing in the world at that time. He intentionally devoted himself to poverty with a quiet, loving humility, and spent every day extending the free gift of mercy and care to others."
All of a sudden the thunderclouds gather
There is a sound of abundance of rain
He said the Lord's favor is upon us
He's blessing us with his tears of amazing grace
Soaking wet in the living room
We're singing hallelujah
Tender love is taking root
Singing hallelujah
Whatever your troubles, let "Grow This Garden" be your respite and release. For Tuesday and Emorie have created with this song a safe space of tranquility and serenity, where we can reconnect to ourselves and recenter our minds on what matters most. Achingly intimate and tenderly sweet, this really is a musical hug for all who need it, and even those who don't.
— —
Stream: "Grow This Garden" – For Tuesday, Emorie
— — — —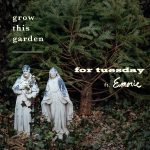 ? © 2022
:: Today's Song(s) ::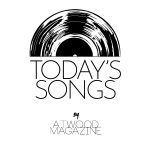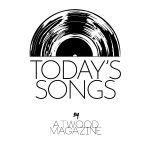 ---
:: Stream For Tuesday ::