hot like chili, dripping like some honey…
? ? ? ?
It's hard to not fall for SAGE's seductive "Cherries." A "song about kissing" per the artist, "Cherries" introduces a sultry electro-R&B energy with charisma, spunk and sass that keeps us grooving along with SAGE long after the song has ended.
cherries
Got my tongue all twisted up
No ordinary
Sweet like sugar
Wet like cotton candy
Cherries, cherries, cherries
Listen: "Cherries" – SAGE
---
Atwood Magazine is proud to be premiering "Cherries," the latest single from 15-year-old singer/songstress SAGE (formerly Sage Boatright). Debuting under a new name with a fresh attitude, SAGE wrote the new single with Myah Marie Langford (Britney Spears), working with hit producer PJ Bianco (Nick Jonas, Demi Lovato, ARIZONA) to craft a vibing, edgy pop song that captures "all the aspects of [her] overall attitude and sound."
"'Cherries' is a perfect representation of my attitude and sound – you'll listen to this song and know it's about me," SAGE says. "I wouldn't say it falls short anywhere necessarily, but I think I'm a complex person with lots of different emotions — so I have a lot of variety in my music and lyrics. Cherries is just depicting one of those 'personalities!'"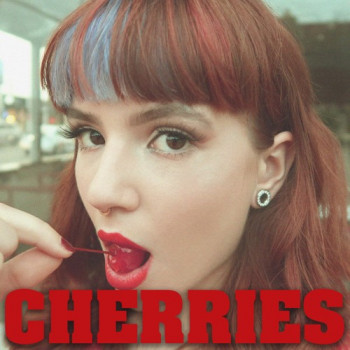 You've been away so long
Don't keep me waiting long
Just put your hands on my hands on my body
You got me so damn sprung
Dunno is right or wrong
I know you're all i want
Just put your hands on my hands on my body
Ch ch ch cherry bomb
"Cherries" recalls the sex-positive, boundary pushing singles that put Katy Perry and Lady Gaga first on the map in the late aughts, a notion with which SAGE agrees. "[The song] sends total "I Kissed a Girl" vibes to me. Maybe it's the "cherry" similarity, but I was definitely channeling my inner KP while writing this. The lyrics makes me feel sexy af and the music accompanying it makes me want to dance — so hopefully everyone feels like that too!"
Powering SAGE's euphoric self-empowerment and is a bombastic, complex-flavored synth pad that hits us like a sharp, cool knife: Smooth yet biting, it forms an exciting bed from which the artist (quite literally) singes her heart out.
I like the taste of you
Tell me tell me
all that you wanna to do
Is have my lips on lips on you
About her sound, SAGE says we have internet radio to thank. "I stumbled across the r&b / indie vibe on accident in mid-2014 on an app called 8tracks — I'm always craving new music so I downloaded it so I could easily discover new music. I found a playlist full of The Smiths, Grouplove, Tame Impala, FIDLAR, Catfish and the Bottlemen, and Arctic Monkeys. I've also always been in love with MJ and The Weeknd, so I meshed the two genres together and boom…"
Meanwhile, the 15-year-old's lyrics give the mind some extra delights. "My favorite aspect [of the song] has to be the little metaphors, especially "hot like chili, dripping like some honey." I don't know what it is about them; they're simple, but complex at the same time."
Cherries
Got me wrapped around around your finger
Go'n get married
Hot like chili
Drippin like some honey
Cherries, cherries, cherries
A memorable introduction that sets the stage for more anthemic singing, euphoric dancing, and general ecstasy, "Cherries" is the sweet n' sultry debut for an artist we won't soon forget. Fans in the Los Angeles area can catch SAGE performing this month, December 17, 2017 at The Mint LA (link here). SAGE's quest to become "queen of edgy millennial pop" is only just beginning, but it's clear she's got what it takes to make an impact.
? ? ? ?
photo © Angelo Kritikos