Atwood catches up with London-based Cosmic Strip about their debut EP "Heavenly," the final frontier, and creating the perfect spacey video at Kew Gardens.
— —
It was Lester Bangs who noted something along the lines of the fact that the most impressionable listening experiences happen when listening alone, letting the music create "vast scenic bridges and angelic choirs in the brain."* Though it's unlikely he had anything like Cosmic Strip in mind while writing that and is probably rolling over in his grave, screaming at me for writing this, that sentiment is one that's able to capture the feeling of listening to the London outfit's new EP. Swirling and cavernous, it's a world that exists on its own, entirely inside your mind: your headphones or speakers are just a transportation device to get you there.
Originally solely Camella Agabalyan's project, Cosmic Strip has expanded to include a revolving cast of musicians since she first came onto the SoundCloud radar about two years ago. Over the years, Cosmic Strip has come to resemble something out of a dream, outer space, and your subconscious combined; dreamy, alien, and somehow slightly familiar on a deeper level.
The name helps: it references Agabalyan's favorite Serge Gainsbourg song and is a nod to her French roots (she grew up in Paris), as well as Cosmic Trip, which she told Giglist earlier this year is meant to signify the overall "sound, look, and feel" of the music she creates. Which it does.
And Cosmic Strip is at top form in their debut EP, Heavenly (self-released 8/31/18). It's the fitting reflection of all Agabalyan's hard work and experimentation with sound. To date, it's the most refined, detailed and exciting output Cosmic Strip has released to date. It's not just something to listen to, but an five songs to get lost in. If you had to slap a genre on it, you could call it shoegaze under the misnomer of dreampop—not that it matters, as you're too busy being transported to outer dream-space to notice.
Listen: Heavenly – Cosmic Strip
---
The first track, "Heavenly," was actually a late addition to the EP, but it turned out to be just what it needed. Big, thrilling, and uplifting, it eases us into the world of Cosmic Strip, where Agabalyan's dreamy vocals help to carry us heavenward.
"Sugar Rush" takes a darker form, with a little bit of Bowie-esque sprinkled in the intro. "I wanted to write a song about the feeling of addiction whether it's sugar, love, a drug, whatever your voice is," Agabalyan stated. "I personally really connect to dreamy, druggy songs like Air, My Bloody Valentine, Beach Fossils, Slowdive, The Jesus & The Mary Chain, etc., so I wanted to inspire myself from that feeling but also show the darker side of addiction that you might not always get from those types of songs." In turn, "Goodbye" blasts off from all that with its lighter tilt and spacier instrumentals.
As a sign of the times, "Echo Chamber" reflects on many aspects of the world we've left, instrumentally, but can still come crashing back the second we rip out our headphones. Looking at the ways social media acts as an echo chamber for affirming our curated versions of life to our detriment, the song is also reflective of the not new, but certainly prevalent egomania and yes-man-ness that prevails in current politics. Though it's cosmic enough to zone out to (and complete with a music video that'll blow your mind), "Echo Chamber" works on both a personal and societal level, encouraging us to think deeper.
Heavenly wraps up, fittingly, with "Welcome to the Cosmos," a seven-minute journey into space. Despite the music existing on a recording, in your headphones or speakers, you can hear the sounds of new galaxies revealing themselves as you hurtle along. Agabalyan outdoes herself on each new sonic layer and detail until the hazy end.
After returning from the space trip that is listening to Heavenly, Atwood got the chance to catch up with Cosmic Strip about the EP, the final frontier, and what it takes to create a perfect spacey video at Kew Gardens. Take your protein pills, put your helmet on, and read on below!
MEET COSMIC STRIP
Atwood Magazine: First of all, congratulations on the EP! Thanks to Soundcloud, I've been listening to Cosmic Strip since you released your very first tracks. It's been quite a journey since then, hearing you refine and deepen your sound and yet keep it so unique. What's that journey been like, growing Cosmic Strip from the ground up with a revolving cast of musicians, to releasing your very first EP?
Camella Agabalyan: Oh thank you, that's so nice to hear. It's been quite a journey indeed. I feel like I'm in such a good place now as I've grown so much as a writer, but also at looking outside of my vocals and guitar and how to grow a band together into a much bigger sound. I have such a close-knit group of musicians now I can rely on, who understand me and my writing and can be great collaborators that I feel stronger as Cosmic Strip now more than ever.
Space and the cosmos figure into quite a bit of your music. For you, what is it about the final frontier that fascinates you most?
Camella: I've always been a dreamer, and the fantasy of another world is a representation of that feeling at its fullest. Music to me is about taking you to another dimension and it's always been important to me that, sonically and visually, you felt like you had been transported somewhere else. It's been interesting watching the world getting back into the space race again. Just like in the '70s, you will notice that people do look at the final frontier when you live in darker times in our own world. It's a sad time we live in but an exciting one for the future.
I've always been a dreamer, and the fantasy of another world is a representation of that feeling at its fullest. Music to me is about taking you to another dimension and it's always been important to me that, sonically and visually, you felt like you had been transported somewhere else.
Personally, I hear a bit of David Bowie's 'Blackstar' in 'Sugar Rush.' Much like that song, listening to 'Sugar Rush' is like stepping into another world. Can you talk to us about your typical songwriting process: that is, how do you go about constructing the dreamscapes that characterize your songs?
Camella: Layers. I think my hearing is overdeveloped because I always complain about the lack of hearing the tiniest sounds in the mixing and mastering of the songs that probably no one would care about. And I'm constantly adding more and more layers to the songs to the point where I'm told we have to stop but I could always add more if I could.
Originally, 'Heavenly' wasn't on the EP, correct? You wrote it and added it earlier this year. What was it about the song or your mindset that shifted in order for you to not only make the song part of the EP, but rename and structure the EP around that song?
Camella: Yes, you're right. "Sugar Rush" was originally going to be the lead single for the EP and the title of it too. I wrote "Heavenly" at the start of the year and I felt like it summarized the feeling of the EP perfectly. The song is so bright and sparkly too, I also really wanted it to be at the forefront of the work I was presenting to people who didn't know anything about Cosmic Strip.
The music video for 'Echo Chamber' is insane. It's like being inside a kaleidoscope: my compliments to Charlotte Patmore, I love her work. Can you tell us about what it was like shooting at Kew Gardens with her? How did you come to pick there as a location?
Camella: Charlotte and I were putting mood boards together and we came across the Hive at Kew Gardens and thought "what if…?" We never imagined we would ever be allowed to work there. But they were extremely helpful with us considering we didn't have a lot of budget, but they let us use the space for an hour on a very early and very cold Friday morning. It was just me and her and her camera, and we were so lucky as the sun came out just as we were finishing so we ended up with some really beautiful visuals.
Watch: "Echo Chamber" – Cosmic Strip
---
While we're on the subject of videos and film...if your music was a full-length feature film, what would the trailer look like?
Camella: I always try and present my work visually and sonically as if it were made for feature films so that would be a dream come true to work on something like that. I think the trailer would be a mixture of several genres – kaleidoscopic mind-bending concepts interlaced with futuristic scenes with a sprinkle of flowers, glitter, pink and blue hues, beautiful clothes. All shot on film, obviously. I get bored quite quickly, so it would have to be something that showcased all the different aspects of Cosmic Strip.
You're now off on tour to support Heavenly all over the UK. What's been your favorite show or venue to date, where are you most excited to play in next, and which venue would be your all-time dream venue?
Camella: Our favorite show this year was our EP launch at Sebright Arms. We covered the room in glitter curtains and balloons and we had all our friends present and we had some amazing bands play with us that night, too. I'm really looking forward to next year as we plan to do an even bigger tour and play more festivals, which we love doing. A dream venue would obviously be somewhere really special visually like Eden Sessions.
Watch: "Heavenly" – Cosmic Strip
---
What are your go-to tracks when you're all on the road together? What new tunes should we all be spinning now?
Camella: We all have very different taste[s] in music but we can all agree on the greats, so we listen to a lot of David Bowie, the Stones, the Beatles, the Doors, etc. Bowie especially is a big one for all of us.
In terms of new music, we're lucky in the UK to have such an exciting music scene for bands and artists that my advice is to just go out there, go see live music and support your local scene, there is great stuff everywhere.
— —
— — — —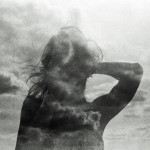 ? © Charlotte Patmore

*Bangs, Lester. "Psychotic Reactions and Carburetor Dung."
Originally published in Creem, June 1971.
:: Stream Cosmic Strip ::