Earthen, honest, and powerfully emotional, Chance Peña's aptly-titled 'The Inevitable' EP is a raw, riveting reckoning with our world and ourselves.
for fans of Hozier, Lewis Capaldi, William Fitzsimmons, Jeff Buckley
Stream: 'The Inevitable' – Chance Peña
---
Chance Peña's new EP is more than a confrontation with time and fate; it's an embrace of life's full spectrum – a recognition that there's no good without the bad, and the best we can do is be content with who and what we have, when we have it. Earthen, honest, and powerfully emotional, Peña's aptly-titled The Inevitable EP is a raw, riveting reckoning with our world and ourselves.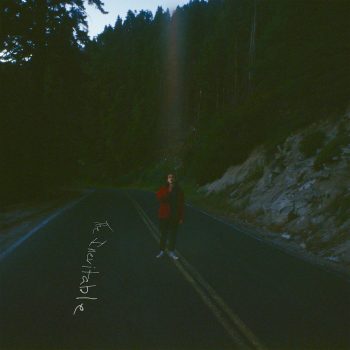 Sunlight on our minds
Wondering what comes after
We finally close our eyes
Will we stop running from disaster
Your heart's beating faster now
There's no fighting this alone
And Though we must go without
The joy that has always held our hand
Through all the pain and doubt
I made it safe and sound my friends
I'd do it again, beginning to end
– "Though We Must Go Without," Chance Peña
Atwood Magazine is proud to be premiering The Inevitable, Chance Peña's provocative new four-track EP (independently out September 18). Since debuting on The Voice in 2015, the Tyler, Texas born and Los Angeles-based Peña has cultivated his artistry into a singular craft defined by breathtaking vocal work and equally compelling lyricism. The Inevitable follows 2019's anxiety & mixed emotions EP, as well as his summer single "Drown" and a collaborative song with Jake Knox and Bipolar Sunshine, "Changes" (released in August).
Immediately recalling soulful folk pop artists like Hozier and Lewis Capaldi, Peña brings The Inevitable to life with majestic guitar work and sweeping, soaring vocals. "Though We Must Go Without" opens the record; a Hozier lookalike track, the song is full of fresh folk energy and a driving pull forward. Peña sings alongside his guitar's gentle, unassuming licks, and together voice and stringed instrument rise and fall with grace.
The following songs round out Peña's musical tapestry: "Frequency" is another groovy, soulful indulgence with heavy bass notes and a soothing, airy atmosphere. "if you're feeling lonely" is a heartfelt, downtempo outpouring of the soul that arrives to our ears like an outstretched hand. Finally, closer "Rise" is a fiery track of inner resilience and perserverance; of human strength and the will to go on, no matter what obstacles are in our way. "I will rise, feel so alive. I will run, I will fly, I will fuel the flames inside," the artist sings steadily, his voice a bastion of confidence and self-knowing.
Perhaps that's what these four songs are really all about; that transition from self-discovery to self-knowing, that we only experience from consistent deep dives and life's endless barrage of tests.
"The Inevitable, four songs about four inevitabilities in life," Chance Peña explains. "Trials we'll all eventually have to work through or cope with. Choosing what you let affect your headspace, letting go of what you've known in order to embrace the imminent turning of pages, rising above the weight that seeks to sink you, and being content with the life you've lived after it's over."
If you're feeling lonely I will come around
Listen to me closely, don't you're down
Cause if you're lost, you know me
I will pull you out
Oh if you're lost ohhh
 
My baby no, I don't think I could ever forget
That special song from when we drove from Dallas to Denton
I'd take it all over success and fame and these women
I'd trade it all, ready to fall but
 
LA fucked around and took the boy out the state of Texas
LA fucked around and took the boy out the state of Texas
But you can't take the state out of me
– "if you're feeling lonely," Chance Peña
A 20 year-old singer/songwriter/producer, Peña is a bright talent with a promising future. Most recently, he co-wrote the lead single from John Legend's new album Bigger Love, "Conversations in the Dark" – yet it is Peña's own work – an upheaval of the soul, a steady thud of the heart – that resonates deepest at this moment. Stream The Inevitable exclusively on Atwood Magazine.
Stream: 'The Inevitable' – Chance Peña
— — — —
? © Trong Hoang
:: Stream Chance Peña ::
---